Pattern Description: "MISSES' JACKET AND PANTS: Fitted, partially interfaced lined jacket with welt pockets and flaps, princess seams, front inset button closing, two-piece sleeves with button vents. Semi-fitted pants with front fly closing, side front pockets and below waistline fit with button carriers." I made the pants.
Sizing: 4-18. I made a 12
Fabric Used: Stunning Italian RPL in Ecru from Gorgeous Fabrics (of course!) Wow – this is one of the very few times I actually get to sew with a current fabric!
Needle/Notions Used: Stretch 75/10 needle, Metrosene poly thread, Pro Tricot Deluxe interfacing from Fashion Sewing Supply, buttons and zipper from my stash.
Did it look like the photo or drawing when you got through? Yes
How were the instructions? I don't normally use the instructions, but I have been doing so much hand sewing lately that I needed to brush up on the fly insertion. I was really impressed. The instructions for the fly were definitely the best I have seen in a while. Bravo Vogue!
Construction Notes: I cut this pattern along the size 12 lines, but I changed the back crotch line to be an "L" shape rather than the standard Vogue "J" curve. I find that modification gives me a better fit and minimizes any saggy-baggy-butt look. DH likes to call these my "a$$ hugger pants". Hey, he likes them!
The other change was at the pockets. This pattern calls for a faced pocket.
The instructions have you sew a French seam for the pocket curve. With this fabric (actually, with anything heavier than a tropical weight wool or similar), that puts more bulk at the hip and side seam than I wanted. So instead, I just stitched the pockets and facings together in a regular seam and trimmed the allowance with my pinking shears.
Likes/Dislikes: I wanted to make these pants in time for the trip to Chicago. Hey, speaking of which, did you see the post I did on the fashion show for Threads Online? I didn't have time to finish them for that, but I was determined to have them ready to go for Easter. And by gum, at 9 this morning I was putting the final hem in!
What I really like is that these hit me in a very comfortable place. They are slightly below my natural waistline, but not too extreme. I can sit in them and not worry that I'll show anything that would embarrass my children. This fabric is really, really comfortable, and has nice stretch and recovery, which is good when you're going to brunch. I think these are really a classic pair of pants. It's a shame that they are discontinued, but you can still buy them from the Vogue website, so if you want a great pair of pants, this is one to check out.
Would you do it again? Would you recommend it? Yes and yes!
Conclusion: Great pants! Here they are on me this morning. I'd been wearing them for a while, so pardon the wrinkles. Front:

And back:

Oh, and after brunch, I finally finished the Chanel Jacket! I was a wee bit short on the chain trim, so when DH was in New York this week I asked him to stop at M&J and get me one more yard. Gawd I love that man! BFF was hosting the brunch, and she was amused that I showed up with a sewing kit. While she did dishes (I'm a hell of a friend, aren't I?) I sewed the chain to the jacket. Here it is in its entirety on Shelley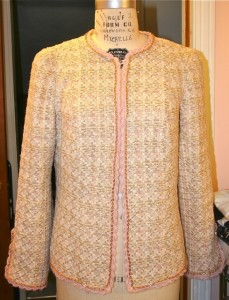 Happy Easter, Happy Passover, Splendid Spring, Amazing Autumn to those Down under and….
Happy sewing!