I don't have too many TNT patterns, but the Ann Tee from StyleArc is one of them. I really love the lines of this pattern. I like the open neckline that isn't too low, the ruching at the front that hides a multitude of sins, and that I can make it in less than three hours from start to finish. The fact that we share names is pure coincidence. I decided to make another one yesterday from a 4-way stretch fabric. This one is sold out, sorry, but you can see Other 4-Way Stretch Fabrics Here at Gorgeous Fabrics.
Because of the stretch in all directions, I went at the construction a little differently. I pinned from the hems (bottom and sleeve) to the notches where the ruching begins, then I measured the halfway points between the notches on the front and back, and placed a pin there. I stretched the fabric and placed several pins between, so my gathers would be evenly spaced:
I then basted the side seams, stretching the fabric as I did to baste the gathers in place.
I did the same when I serged the side seams, then I removed the basting. Ta daa! No need to apply elastic or do gathering stitches.
Obviously this only works with a knit that has stretch in both the crosswise and the lengthwise grain. But it's easy and it saves some time, so why not? Here's the top on Shelley. I'll wear it tomorrow.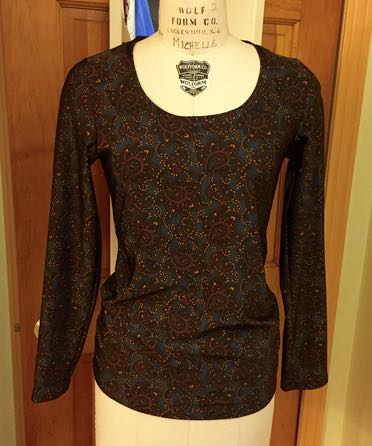 Now for your PSA.
Folks, I had a minor FML moment last week. A couple of weeks back, I had my semi-annual mole check with my dermatologist. I have a family history of melanoma: my sister had one removed 25 years ago, and my brother has had two removed in the last several years. That on top of my own diagnosis of breast cancer 6 years ago means that they watch me like a hawk. There was one mole on my right outer thigh, that I had "noticed" about a month ago. It was slightly scaly, and irregularly shaped. I thought it might be a keratosis, but my dermatologist did a biopsy on it, just to be sure.
Well, I'm glad. Because the pathology came back and, you guessed it, early stage melanoma. Very early stage. In fact, it appears she got the entire thing when she did the biopsy, but we need to go back and get margins. The biggest bummer for me is that because of where it's located, I'll have to forego spin and barre classes for about 4 weeks.
This isn't as scary to me as the breast cancer was. I've always believed that with my family history, it was a matter of "when", not "if" and it's the reason I'm so fanatical about putting on sunscreen each and every day. The truly sucky thing for me is that, unlike my sister and brother, I was never a sun worshipper! Aint that a kick in the head?
Melanoma is one of the deadliest cancers, but it's entirely curable if you catch it early. Please, please, PLEASE, check your skin on a regular basis. If something looks "different" to you, get it looked at by a doctor. And wear sunscreen! I use physical sunscreens (titanium dioxide) because they are less harmful to coral reefs than chemical sunscreens (I'm also a SCUBA diver) and because most dermatologists, mine included, prefer them to chemical sunscreens. I have two brands that I like: Elta MD and Avene. NAYY to either, but I use them every day. Even my kids are devotees.
So please, check your skin, and if you see something that doesn't look right, please get a doctor to look at it. I want you all to be around for a very, very long time!
Ann