Ho ho ho and Happy Holidays to everyone! Tomorrow is Christmas, and for you procrastinators in the bunch, we set up an unheard-of special at Gorgeous Fabrics. Today only,
Get 10% off Gift Certificates!!!!
That's right. Today only, until midnight eastern, you can save 10% off gift certificates. Just enter the coupon GC10 at checkout, and we'll automatically deduct 10%. WOWZERS!!!
And here's a quick tutorial on how to send a gift certificate. It's really easy. First, add the gift certificate (available in any whole-dollar amount you wish) to your cart.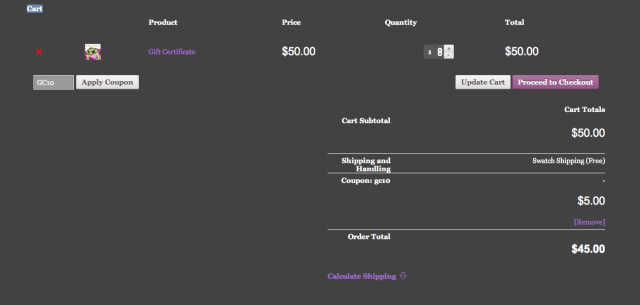 Enter the coupon code in the box at the left side of your screen and then click on "Proceed to Checkout".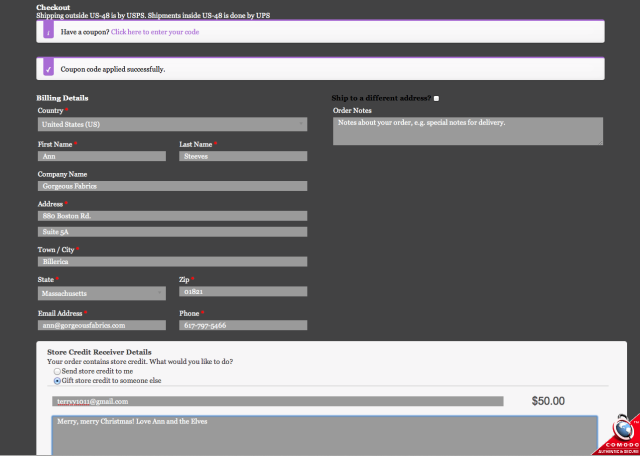 At the bottom of the checkout screen, you can opt to either send the gift certificate to yourself, or to some other lucky recipient. If you're sending it to a lucky duck, just enter their email along with a message, and voila! The gift certificate will be in their inbox before you can say "Eggnog!"
Have a very Merry Christmas, Happy last night of Hanukkah, Fabulous Festivus, and a Splendid Whatever.
Affectionately, Ann and the Elves