This. Is. HUGE!!!
Yes, that's right – you can now purchase Gorgeous Fabrics in half-yard increments! People have been asking for this, and believe it or not it was a thornier problem than we first anticipated. But my most excellent web developers kept at it and were able to make it happen!
It's really easy. The minimum purchase is 1 yard. After that, in most instances, you can use the up and down arrows on the quantity field to add half-yards. Here's an example, using our majorly fabulous Fanciful Floral Stretch Cotton Twill: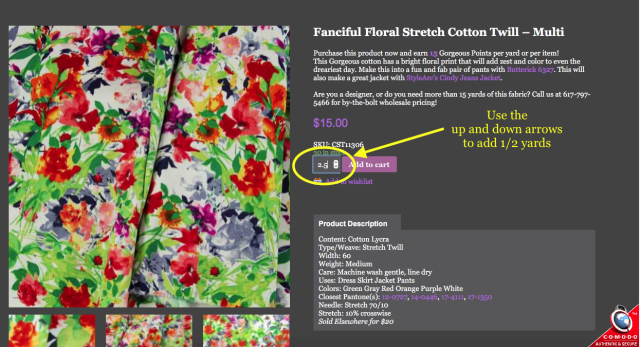 There's a minimum purchase of 1 yard. 1/2-yard increments are available on fabrics in the Wovens, Knits and most of the Specialty Fabrics categories. 1/2 yard increments are not available for Panel Prints, or for items in the Leather/Suede, Muslin/Notions, or Clearance sections.
Isn't this great?? I'm so excited, and I hope you are too! So come check it out:
Please let all your sewing friends know, too. This is big big big!
Happy sewing!