Pattern Description: From StyleArc's website: The culottes are back!! The pant that appears to be a skirt is the hot new trend, we just love it! The angled front pleats become part of the pockets creating an interesting and flattering design. The waist band is shaped and sits on the natural waist. This is the most comfortable pant/skirt that you will wear this season. For that luxurious evening look just lengthen the leg; or try them in Lurex.
Sizing: 4-30, I made a 10
Available as a PDF? Yes, through their Etsy shop
Fabric Used: Japanese Satin Finish RPL that's sold out, sorry, from Gorgeous Fabrics. You can find fabrics that work for this pattern Here.
Machines and Tools Used: Pfaff home machine, Juki home serger, Naomi the Naomoto, Ironing board, sleeve board (I really want a pants board now!), Tailor's ham.
Needle/Notions Used: Stretch 70/10 needle, silk organza selvages, invisible zipper, Pro Weft Interfacing from Fashion Sewing Supply, hook and eye.
Tips Used during Construction: J? or L?, Anything by the Pressinatrix, Sewing Invisible Zipper by The Sewing Divas
Did it look like the photo or drawing when you got through? Yes
How were the instructions? Typical StyleArc, so they are fine if you know what you are doing. If you are hesitant or a newbie, just keep a good sewing reference handy for the parts you don't understand and you'll be fine.
BUT – I do want to make one little point that I almost overlooked, so hopefully this will help others.
Step one in the instructions tells you to cross the pleats over the CF seam by 3/8″ or 1 cm.
Looking at the drawing it was really tempting to cross them over to the notches, which were about a half inch further away fron the CF, so do be sure to mark where they are going.
It will probably be very helpful to mark the different pleats (A, B, and C) with different colored basting thread to make it easier to match.
Construction Notes: I made my usual adjustments to the waistline (½ inch off each side seam and 1 inch off the CB seam). I also changed the crotch curve to more of an "l" shape. I used Els' foolproof invisible zipper method, which doesn't leave a bubble. I finished all seam allowances and raw edges with a 4-thread overlock.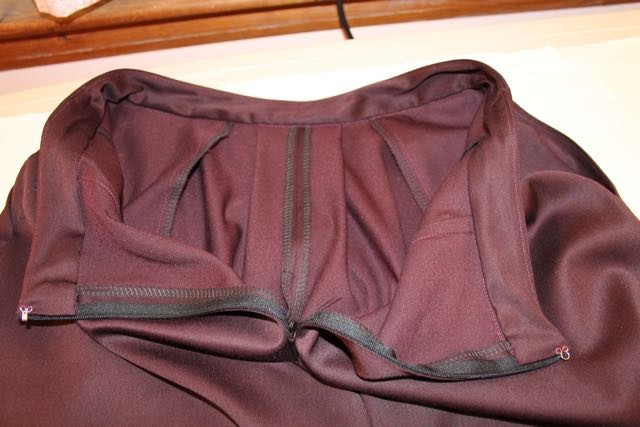 I stitched the facing and the hems by hand over my lunch hour.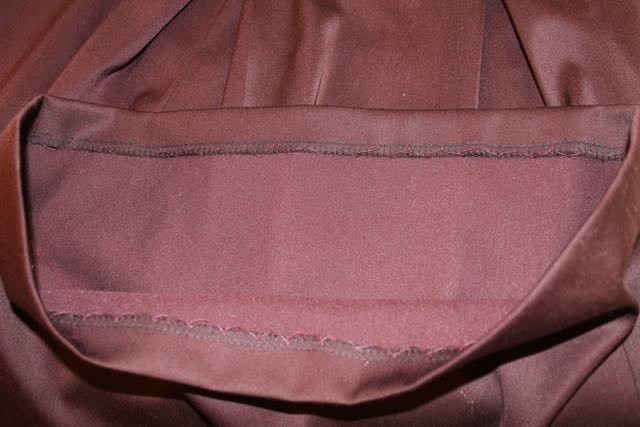 I am not crazy about my finishing of the back waistband/zipper, but I couldn't get a decent picture of it in the light I had so you'll just have to believe that I can do better next time. The CB of the waistband is okaaaay, but not quite there – there's a wee bit of a pagoda wing, even though all the stitching looked straight, :/. Here's a picture of the inside: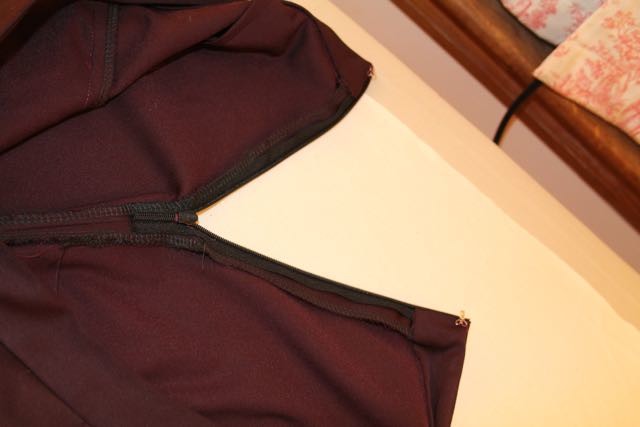 Well it will do for the wardrobe plans I have for it.
Likes/Dislikes: I really like the pleating, and they make my waist look slightly smaller, which is a great thing. But here's the bottom line. I know culottes are all over the fashion bloggers scene, and these are a very good rendition, but I'm not sold on the whole concept. Maybe it's just too hot to wear them right now. Maybe I need to style them with Docs or high heeled boots and a blazer. Maybe. But if this is your jam, I say go for it.
Would you do it again? Would you recommend it? Would I do it again? I haven't decided. It has nothing to do with the pattern. It has everything to do with the trend. I want to try wearing them in the cooler weather, then I will let you know. But then, maybe that's my answer right there.
Conclusion: These may not be for me, but if you like this style, This is a sleek, stylish version. Here is a picture on Shelley. I will try to get pictures on me when the weather cools down a bit.

ETA 9-3-15 to add a sucky selfie of me in them:

Happy sewing!