Slow Sewing, Couture Techniques and Big Progress
Happy weekend, peeps! I hope your February is going well. I haven't completed any new projects, though I've been working hard on the next one: vintage Vogue 2275 Yves Saint Laurent coat. I don't know when this pattern was published – it doesn't say on the envelope, so I suspect it was around 1990 or so.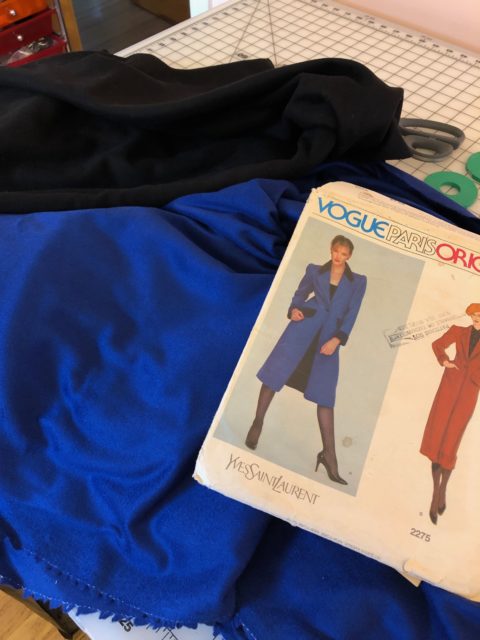 I made a fitting muslin, and it fit pretty much beautifully to my mind out of the envelope. This is a size 14 pattern. Normally these days I start with a size 12 in Vogue, and then adjust from there. But because this is a "vintage" pattern, the sizing is slightly different from contemporary issues, and I used a 14. BTW, I got this pattern from my dear friend Paco Peralta. Thanks Paco!
I started by making a muslin. Using haute couture techniques, I started with the seamlines and traced those onto muslin. The beauty of these older (I HATE the word 'vintage' when it applies to my youth, can I just say that? Well I did, so there.) patterns is that they include the stitching lines, making it easier to trace them off and add your own seam allowances.
I traced the outer garment pieces along the stitching lines and added 1 inch seam allowances, using those to make a muslin.
I was actually quite pleased with the fit out of the envelope. There were a couple of small changes, but I was able to use it pretty much as-is. Generally speaking, coats are drafted to be more forgiving, and the shoulder lines on this fit beautifully from the start. As long as there aren't any major drag lines or obvious tightness, I don't sweat the fit on coats too much. In fact, I prefer a little extra room at the shoulders and upper arms for when I wear a slightly bulky sweater underneath. So I made the muslin.
After tweaking the muslin, I pulled it apart carefully so I can use the pieces as the pattern.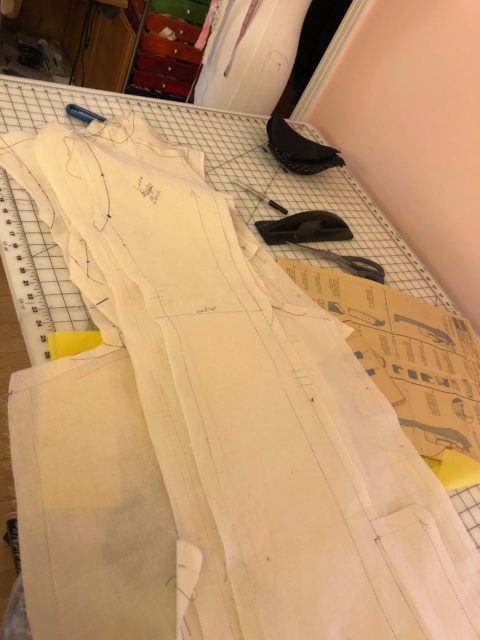 The nice thing about this approach is that you can use a single-layer layout and save a lot of fabric, along with all the beautiful subtleties of fit (we're not symmetrical).
So, once I completed the muslin and took it apart, I cut out both the lining and the interfacing pieces.
I sewed the body lining.
And that's where it stands so far. In my philosophy of Make the Lining First, I did that and the underpinnings. Tomorrow I'll cut into my outer-garment fabric and hopefully I'll have a new coat by the end of the week.
In Health News…
This was a huge week! I went back to Body Pump (a weight lifting class) at my gym. The heaviest weight I was able to lift was a 9lb bar, but it's a start. I also, and this is HUGE HUGE HUGE – drove for the first time since I got sick!!!! To give a little perspective, the last time I got behind the wheel of a car was November 12, 2017. I feel like I've gotten over a big hump in the last week and a half. I have also been able to spend most of my day wearing my regular glasses, rather than having to patch. I do have to patch one eye when I drive and when I get tired, but that's happening later and later in the day. The body is an amazing thing, and I am healing, thank goodness!
Thanks again for your support while I'm going through all this. I hope I'm not boring you.
And of course, happy sewing!