Pattern Review: Style Arc Janet Dress
Hi Peeps!
This has been a HUGE week (more on that later), and my sewing mojo is still going strong! As you may know, I started on my Style Arc Janet Dress, but hit a wall over the lining. So when I was in New York I went to Mood, where they had the perfect weight stretch woven lining (and yes! It was delightful to be a regular shopper for the first time in almost 12 years 😆)
So! I was able to finish my Style Arc Janet Dress. This has been in my pattern stash for a while, but when I grabbed this Italian Rayon/Elastine satin twill, I knew it was destined for something special. I just had to figure out exactly what. At first I thought of a Givenchy by Alexander McQueen Vogue Pattern in my stash, but the intricate lines of the design would be obscured by the pattern on the fabric.
Then I started looking through my pattern stash and I came upon the perfect pattern to match with it – Style Arc's Janet Dress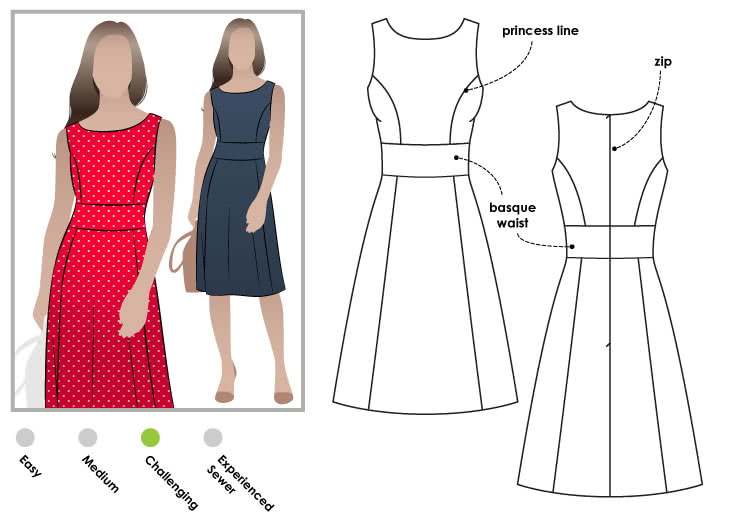 Bingo! Enough lines to make it interesting, but not so many that they would get lost in the design on the fabric. So away I went!
Pattern Description: From Style Arc's website: "Ideal office dress. Team with Janet Jacket to complete your outfit."
Okay, yah, that says nothing. Ignore it and listen to me. The Janet dress is a fully lined sleeveless dress, with close-fitting princess lines in front, a darted back, a waistline insert/basque, and an A-line skirt.
Sizing: 4-30. I started with a size 10 and did a lot of modifications.
Available as a PDF? I don't see it on their website.
Fabric Used: An Italian viscose/elastine satin twill from Gorgeous Fabrics. I fell completely in love with this fabric when I first laid eyes on it and I immediately cut some for myself. Stretch woven lining from Mood Fabrics.
Machines and Tools Used: Mostly my trusty Pfaff 2030, and I finished the hem with my Juki MO654DE. Reliable I300 Boiler Iron (don't even get me going on that one) and ironing board. Shoulder stand, tailor's ham, sleeve board. I also briefly used my new Juki MCS-1500 coverstitch for the belt loops.
Needle/Notions Used: Organ Stretch 65/9 needle, mesh invisible zipper, scraps of interfacing to stabilize the zipper, thread. Sew Keasey stabilizer for the lining hem, and tissue paper (as an alternative to tear away vilene) to stay the neckline and sleeves.
Tips Used during Construction: Make the Lining First, All of The Pressinatrix' Tips, Sew From Wide to Narrow
Did it look like the photo or drawing when you got through? Well… not entirely. There is a pretty major errata (errato? Is that the singular? I can't remember my 9th grade Latin) Anyway, the issue is that the pattern picture (even to this day) shows a two-piece pattern, with a back princess seam, when in fact, the back is a single, darted pattern piece. Now, the pattern pieces go together just fine, but that is a pretty big mistake that should be fixed.
Fitting Adjustments:  I made a muslin and got going. I added 1-inch seam allowances, as I learned with Susan Khalje and Kenneth King. I started with a size 10 which fits me really well though the shoulders. Always start with the shoulders, is my rule of thumb. Before I even started cutting the muslin, I did a FBA for a D cup. Here are a couple of pictures of the original pattern piece for the side front and the adjusted SF piece after fitting.
Here are the final pattern pieces, from my fitted muslin
How were the instructions? Eh. Typical Style Arc. They say you bag the entire lining, but then they seem to say that you hem the lining and the outer skirt separately. So you need a good book or solid knowledge to attach the lining properly.
Construction Notes: I Made the Lining First.
I'm really quite happy with the way the intersecting seams turned out.
Likes/Dislikes: Love the lines of this pattern. Wish the instructions were a little more thorough. Don't like the error in the line drawing. But other than that, it's well drafted and goes together beautifully.
Would you do it again? Would you recommend it? I might do it again – I worked the fitting issues out, so why not? It's classic and will work in many fabrications. I definitely recommend it.
Conclusion: Great pattern! I'll wear it to DH's birthday party in early March. In the meantime, here are pictures on Shelley:
And in health news, I'm feeling much better! I have gotten back to work (as you can see). My balance has REALLY improved in the last week – I seem to (hope to!) have made a big improvement. And today I was able to hem my dress without having a patch over my eye! That may sound trivial, but when one has been seeing double, being able to look at the world with both eyes is a real blessing, and a treat! I really miss my binocular vision, but I think it is coming back!!!
Thanks again for your support while I've been going through this. And here's to sewing in 2018!