The Pressinatrix is NOT at all Happy
Dearest readers, it is I, your Pressinatrix. I have missed you dreadfully, but The Pressinatrix has been busy indoctrinating many lovely petites pressinitrices into the joys and satisfactions of properly pressed projects.
But alas, The Pressinatrix has recently realized that one of her foremost tools is…
Forgive me, this is so upsetting!
One of her foremost tools is… a grand disappointment!
No, The Pressinatrix is not being funny, nor is she at all ironic, sarcastic, or snarky. She is merely… unhappy. And what makes your Pressinatrix so heavy-hearted? Something that seemed so promising, yet failed so dismally. And this is the tool The Pressinatrix needs most of all, and uses incessantly: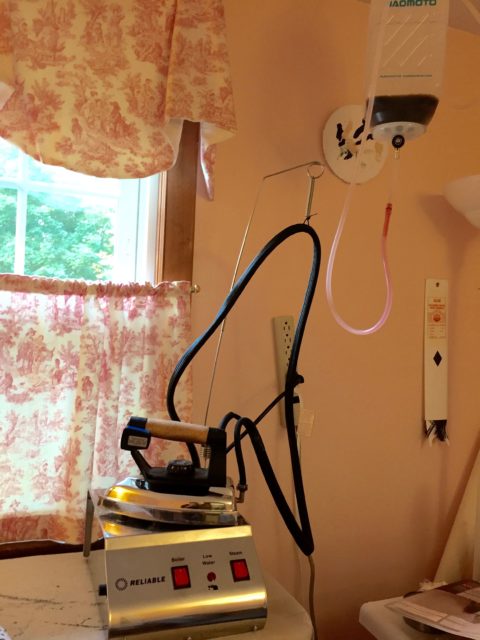 Yes, the Reliable i300 Boiler System. This was enthusiastically billed as a home version of the industrial stalwarts. The Pressinatrix heard from several well-respected sewing friends that this was da bomb. Alas, your Pressinatrix' experience did, indeed, determine that it is a bomb, but it most certainly is not da bomb.
My dears, this iron started spitting from the moment it was turned on. Could it have been The Pressinatrix' fault? Perhaps – the water in The Pressinatrix' area is very hard, so The Pressinatrix used water filtered through resin beads that worked perfectly with The Pressinatrix' gravity feed irons. But the Reliable iron spat like a cat with an overactive salivary gland. Recently it has developed a leak in its water-feed,
leaving a trail of drips in its wake
So, my dears, Your Pressinatrix cannot declare how disappointed she is in this iron. The Pressinatrix is often asked which iron she recommends. This will not be among them. The Pressinatrix will shortly be replacing this iron with a gravity feed.
The Pressinatrix is very sorry to have to bring bad news to her followers, but she does not wish them to spend exorbitant amounts of money on tools which do not last. But she does want them to carefully press their seams and remember that…
Pressing is sewing!