Pattern Review: Simplicity 8265 Duster

Pattern Description: From the website, "Misses' and Miss Petite long sleeve tunic, pull-on skirt and pants sized for stretch knits only, and an unlined coat or vest with side slits suitable for ponte or woven fabrics such as boucle, Jacquards, tweed, wool types or stretch woven"
To add a little descriptive info, this is a long sleeved duster jacket that is semi-fitted, with neckline darts.
Sizing: 6-24. I made a 12.
Available as a PDF? Yes
Fabric Used: Beefy Rayon Jersey in Deep Teal from Gorgeous Fabrics.
Machines and Tools Used: Skippy my emergency backup sewing machine (a Bernina), Juki MO654DE Serger, Juki MC-1500 Coverstitch (new from DH for Christmas!)
Reliable iron/board, shoulder stand, sleeve board, silk organza press cloth, sleeve roll, point presser
Needle/Notions Used: Stretch 75/11, Pro Tricot Fusible Interfacing fron Fashion Sewing Supply, Japanese hand-sewing needles and pins, Thread Heaven and beeswax, and probably some other things that I'll remember later.
Tips Used during Construction: Of course anything by The Pressinatrix, How to Flat Set a Sleeve
Did it look like the photo or drawing when you got through? Yes
Fitting Adjustments that I made None. For once I sewed a garment for me straight out of the envelope. What a nice treat!
How were the instructions? They were good. I didn't really use them, because this is pretty straightforward, but I checked them and they are more than adequate. But I did grouse on my IG feed about Simplicity's, and indeed, all the 'big 4′ pattern companies', outdated instructions for sleeve insertion.
I believe that the best way to insert sleeves in knit garments (not woven garments, just those whose fabrics have a fair degree of stretch) is to sew the sleeve in flat, then sew the the side seams and finish the hems. It's the way it's done in RTW factories, and it's efficient. One of my IG readers countered that she finds that sewing the side seam of the garment, then inserting the sleeve in the round makes the sleeve seam the 'dominant' seam. That's an interesting hypothesis! I'm going to try that. I want to do it in a knit garment where one side is done with flat-sleeve, and the other with in-the-round construction. I'll let you know what I think!
Construction Notes: The garment went together very easily. I serged the seams,
I used the Bernina (my trusty Pfaff needs to get the timing serviced) for under stitching and for the darts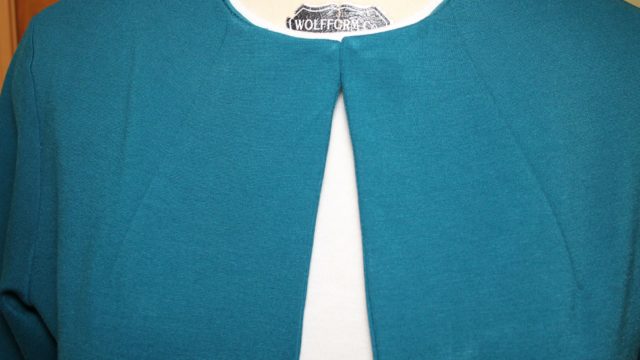 and I used my new coverstitch for the hems. YAY!!!!
Likes/Dislikes: This is a very well constructed pattern, and it's a classic line with good bones. It's a straightforward pattern that will work for lots of different fabric types. There's nothing I dislike about it. It goes together without any difficulty.
Would you do it again? Would you recommend it? I might do it again. I'll certainly do other garments from this pattern (I have enough fabric left over for the skirt, and I have some black fabric that would work nicely for the pants.
Conclusion: This entire pattern is a good wardrobe builder, and this jacket will be a cornerstone in my winter-to-spring rotation. Here are pictures on Shelley: