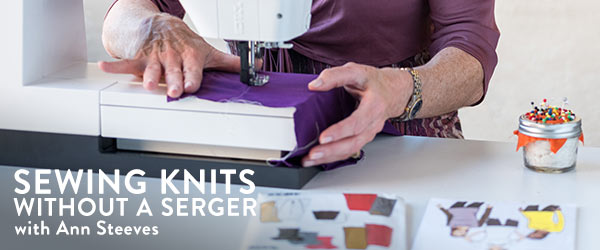 Happy December, peeps! I am slowly but surely recovering. Thank you all for your kind words, well wishes and prayers. I can't tell you how much I appreciate them, and you!
You may have heard, I have a brand new class on Craftsy! I am so excited about this! You all know that I love to sew knits. For me, knits are the true fabrics of our lives. From the soft knit onesies we put on babies, to easy-to-make, easier-to-wear tee shirts, to sleek and sophisticated wrap dresses. These and so many more garments are made so comfortable and wearable thanks to knit fabrics.
And now I get to share my love and knowledge with you! This class is geared towards sewing enthusiasts who have had some experience with sewing wovens, but may be hesitant to work with knits. It's also great for those of us who want to brush up on some techniques. And you don't need any specialized machinery – we work with a regular sewing machine.
And right now, you can get Sewing Knits Without a Serger for 25% off, so it's a perfect gift for yourself or the sewing fan on your list!
Click Here for 25% off my class, Sewing Knits Without a Serger!