Pattern Description: "Pullover tops (close-fitting through bust) have darts stitched on right side of fabric, neck band, and topstitching. A: Short sleeves. B, C: Long sleeves."
I made View C.
Sizing: XS to XXL, which translates from sizes 4-26. I made a medium, 12-14.
Available as a PDF? No
Fabric Used: Italian Striped Crepe Viscose Jersey in Soft White/Black from Gorgeous Fabrics. And miracle of miracles – it's still available!
Machines and Tools Used: Pfaff 2030, Juki MO654DE serger, Reliable Iron/Board.
Needle/Notions Used: Stretch 75/11 needle, scraps of fusible knit interfacing, thread, shoulder stand, sleeve board, tailor's ham.
Tips Used during Construction: Tips and Tricks for Sewing With Knits, Press As You Go, Tutorial: How to Flat-Set a Sleeve.
Did it look like the photo or drawing when you got through? Yes
Fitting Adjustments that I made None. I sewed this straight from the envelope.
How were the instructions? They were fine. They are written for a sewing machine, not a serger for construction. Also, they instruct you to sew the side seams first, then the sleeve seams, and then sew the sleeve into the armscye in the round. With a stretchy knit like this, I much prefer to flat-set the sleeve instead.
Construction Notes: After checking the pattern measurements, I didn't bother with a FBA this time. I tried the finished top on and it could benefit from a very slight FBA (maybe ½ inch), but it's not terrible. I sewed the darts with a straight stitch, then attached the neck binding with the serger.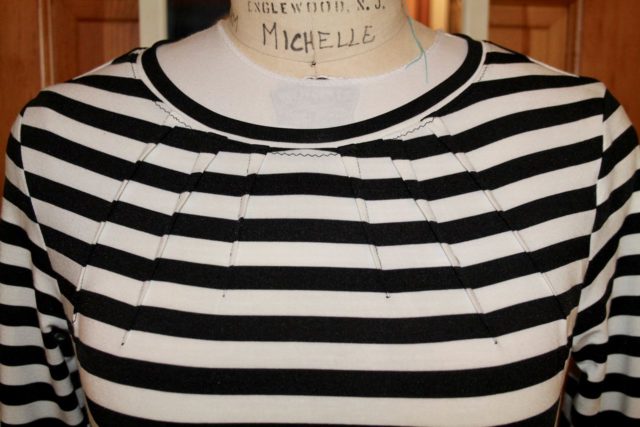 As I mentioned above, I set the sleeve in flat, basting first, then running on the serger. I serged the side seams after that. I used a 1mm wide by 3mm long zigzag stitch for the hems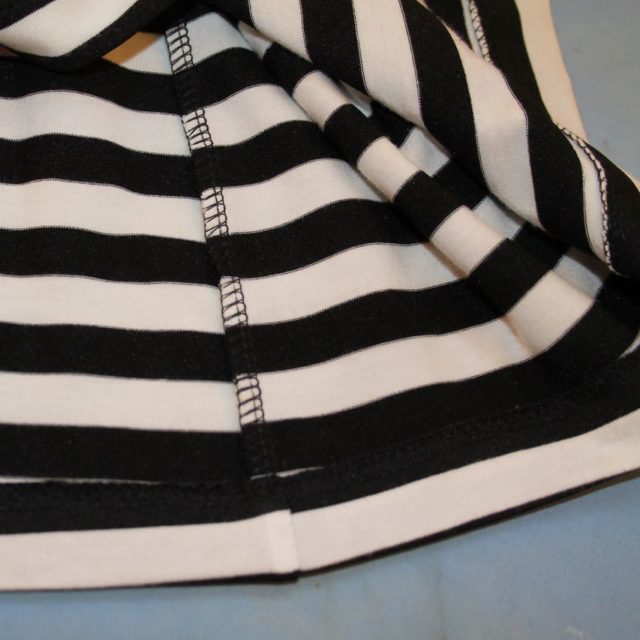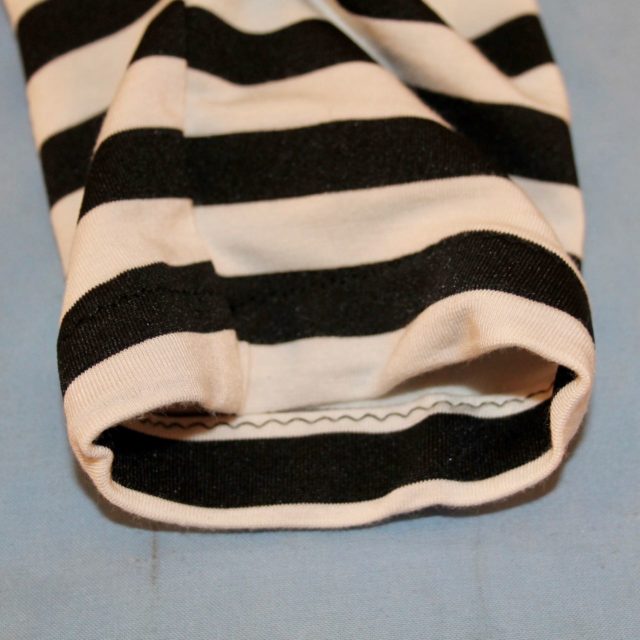 Likes/Dislikes: What I like: this is a very straightforward pattern to sew. It has an unusual design detail (the neckline darts) that make it more interesting than your standard tee shirt. It's a great pattern for a beginner. What I'm not as crazy about: it's really long, which can be a plus or minus, depending on your preferences. It also could benefit from some shaping. I may end up taking it in at the side seams. Those are minor nits. Overall I really like it. Here are shots on Shelley.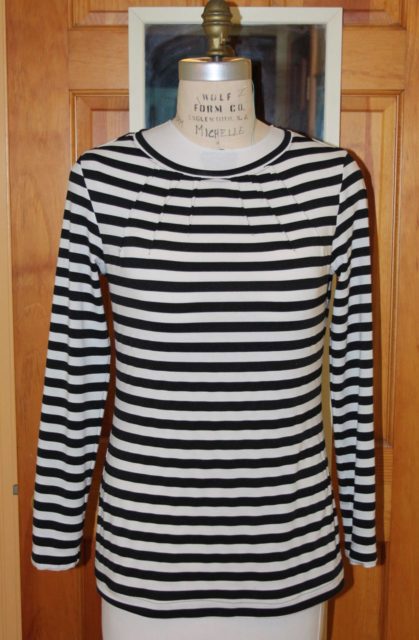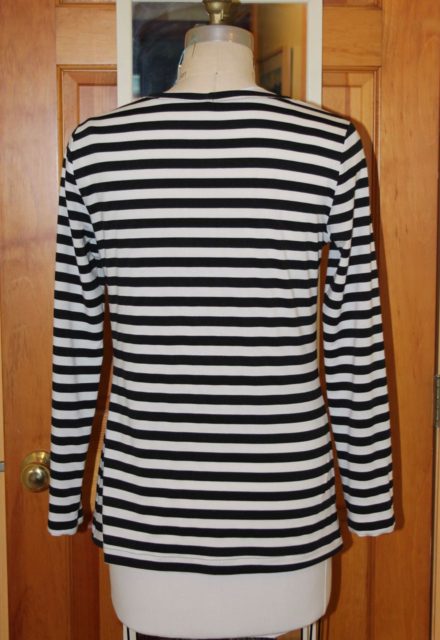 Would you do it again? Would you recommend it? I definitely recommend it. I'm not sure if I'll make another one. I might make a short sleeve version, but we're heading into fall so I'll probably wait to do so.
Conclusion: An excellent basic pattern that has a nice design detail. DH and I are going to see Lady Gaga at Fenway Park tonight, and my original plan was to wear my Paco Peralta V1550, but it's going to be cold, so I think I'll wear this top and jeans instead.
Happy sewing!