Pattern Review: New Look 6557 Dress (OOP)
Wow,the first time I made this dress was in 2006! I made a striped version, which I used for a Threads Magazine article on grain, and they never sent back to me. I also made a version that year in a beautiful floral eyelet, that I still have and wear. And I never did a review of either dress. So here you go…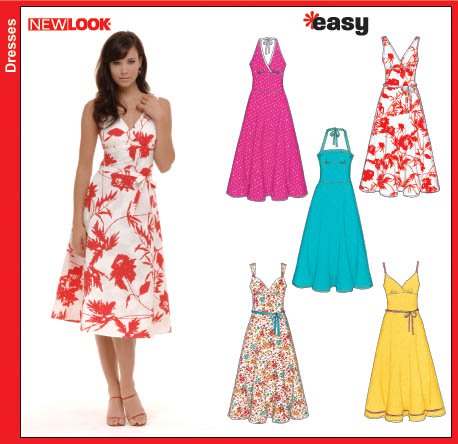 Pattern Description: Misses Dress with neckline variations, bias-cut midriff panel and ¼ circle skirt. I made View B, the surplice bodice with shoulder straps.
Sizing: 8-18. The first two versions I made size 14. They run big, and I've lost a little weight recently, so this time I made a size 12.
Available as a PDF? It's out of print, so no. You can find it on Ebay and Etsy occasionally.
Fabric Used: A tropical floral print stretch cotton from my stash. It was a gift from a fabric wholesaler and there's no more available. You can find similar fabrics here at Gorgeous Fabrics.
Machines and Tools Used: Pfaff 2030 sewing machine, Juki MO654DE serger, Reliable Iron/Board, pressing ham, silk organza press cloth.
Needle/Notions Used: Stretch 75/11 needle, Pro-Tricot and Pro-Weft interfacings from Fashion Sewing Supply, thread, Japanese hand-sewing needle, silk organza, invisible zipper.
Tips Used during Construction: And Now, a Word from the Pressinatrix – Press As You Go, Sew from Wide to Narrow.
Did it look like the photo or drawing when you got through? Yes
Fitting Adjustments? I made a FBA.
How were the instructions? Well, between 2006 and now, I managed to lose the second page, so I didn't use them. The first page only has the instructions on sewing the bodice. I don't really like their method – it is a little kludgy, but I didn't realize it until I was already committed, and in the end it turned out fine. If I do it again I'll write up a different method.
Construction Notes: The pattern includes a narrow self-belt, that I didn't bother to make. I sewed all the seams on the Pfaff with a straight (2.5 mm) stitch. I finished all the raw edges of the seams with the serger.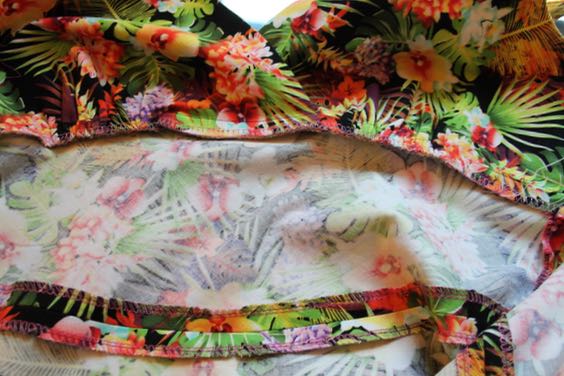 I self lined the bodice, rather than use a lining fabric. I installed an invisible zipper, and I bound the edges with a Hong Kong finish, using bias cut silk organza.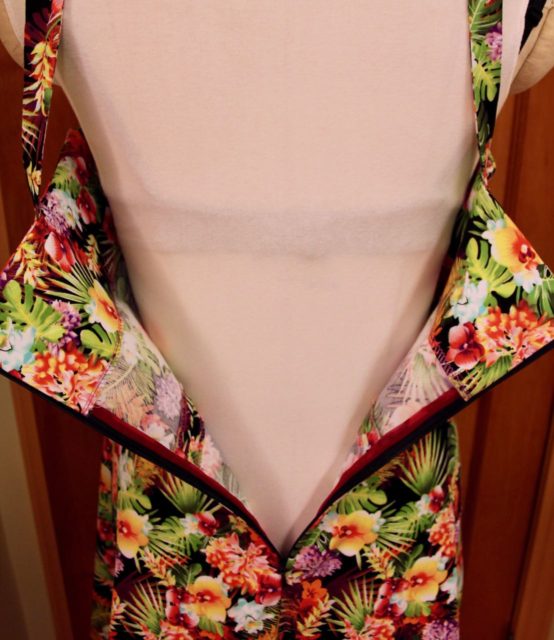 I could have just serged the seam allowances and zipper tape together, but I thought the bright red added a fun little touch.
I made a 5/8 inch narrow hem, and used a 3mm straight stitch.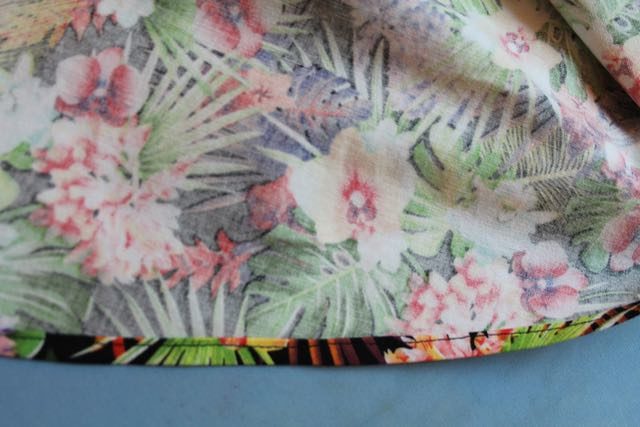 Likes/Dislikes: 11 years after I made this, the pattern still looks fresh. I wanted a fun sundress for summer, and this fits the bill quite nicely!
Would you do it again? Would you recommend it? Yes and yes. This is a classic dress that looks great in so many different fabrications. Keep in mind that it runs rather large, so check the size before you cut. (I recommend making a muslin.)
Conclusion: Great pattern, great fun fabric. I love the tropics and tropical prints, and I can't wait to wear this! Here are pictures on Shelley – I fill it out a bit more than she does.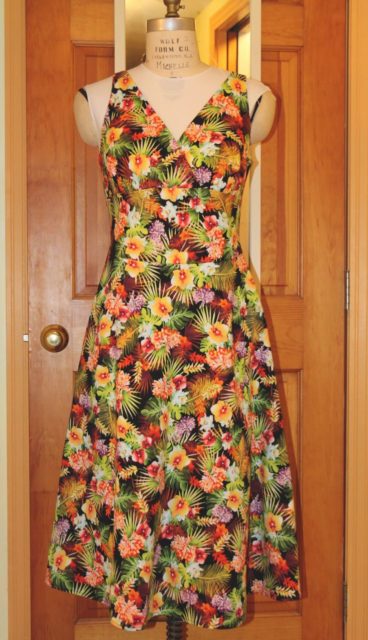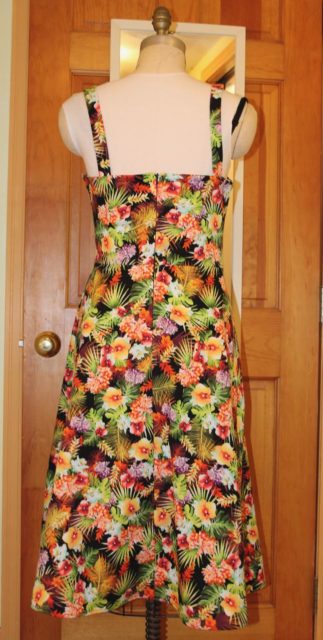 Happy sewing!