Wonderful, Wonderful Copenhagen – And Maria Denmark!
Here's a bit of trivia to store away for a future giveaway – just sayin'
When I was ten years old I started taking voice lessons with Nancy Marsh Hartman, a wonderful teacher in my town. My very first recital was in May of that year, and the song that I used to open said recital was… you guessed it, "Wonderful, Wonderful Copenhagen" from the movie 'Hans Christian Andersen'. As you can imagine, ever since I was ten I have wanted to visit to see what the city was like. This year, I finally got my chance! DH found out in May that he was going to his company's user group meeting in Europe. In past years, those have taken place in Paris, Barcelona, London and then this year, Copenhagen! So after visiting London and Melissa, I headed to Denmark to spend 4 wonderful days.
When I tagged along to the Barcelona trip, DH and I took a bike tour of the city, and it was fantastic! So when I knew I was going to Copenhagen, I decided to take a bike tour as well. Unlike London, they ride fully clothed in Copenhagen 😂😂😂
I chose the Greatest Hits of Copenhagen tour, which was great. It was 2.5 hours, about 12 km total. I do spin class 2-3 times per week, and Copenhagen in City Center and along the harbor are pretty flat, so it was an easy ride. There were only three of us on the tour, and our guide is originally from California. It was so much fun! Here are pictures:
And finally, I mentioned a little statue that seems to get all the attention? Here she is:
When I went to Barcelona, I got to meet up with Paco Peralta. In London, I spent the day with Melissa, and this trip, I got to spend lots of time with Maria of Maria Denmark!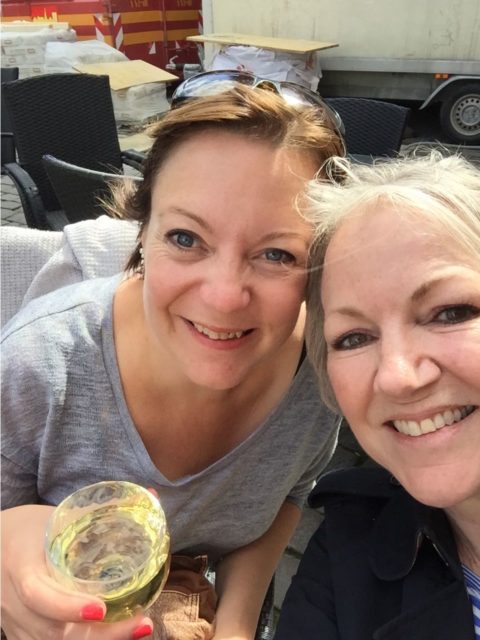 We spent time at her studio, which is amazing! And we spent time with her son, who is amazing and delightful! We went to an open air market that has little shops and food courts, and a beautiful fishmonger.
I also spent several hours in Illums Bolligshus, the grande dame of Danish design. Can I just say? It was BEAUTIFUL!
I SO WANT this lamp!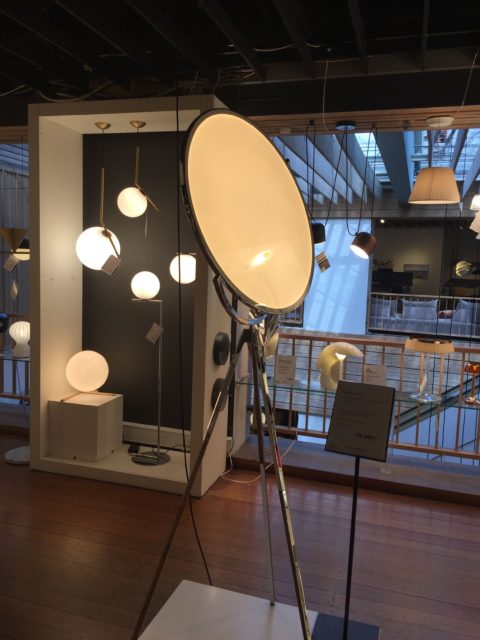 Okay, other things that happened: REAL Danish Pastry:
And on my bike tour, we passed by a shop that had not one, but FOUR baritone saxophones in the window. I had to take DH there – he's a saxophone player! The shop, for those who are interested, is I.K Gottfried. They have been in existence since 1796! The website (NAYY) is www.gottfried.dk.
I told him, when we took our bikes from the hotel, that I wanted to take him there. I think he liked it!
He ended up testing mouthpieces (it's a horn player thing). They gave him a Selmer Mark VI to play several with. He fell in love with a mouthpiece that was handmade by one of the techs at the shop, and hey, it's Father's Day, so…
Maria Has a Magazine, and it's coming to the US!
Did you know that Maria publishes a magazine? It's called Sysiden, and it's coming to the US! It's geared toward the intermediate to advanced sewing aficionado!!!! I had the good fortune to view the Danish version while I visited with her. It's FANTASTIC! I have no affiliation, but I am SO excited! I am glad there are lots of magazines and e-zines for beginners, but there is a vast chasm that needs to be filled for the higher-skilled sewists.
She is planning to release it state-side later this year. I'll post more when I have dates.
One last thing – I discovered a delightful tradition in Copenhagen: throws for outside. Copenhagen is pretty far north (55.67 degrees latitude), so while the sun stays up late in summer, it still gets pretty chilly. To ward off the chill, while still enjoying the sun, Danes supply throws to keep you warm. What a wonderful, hospitable tradition. I'm going to incorporate it at home, especially as the summer wanes and turns to fall.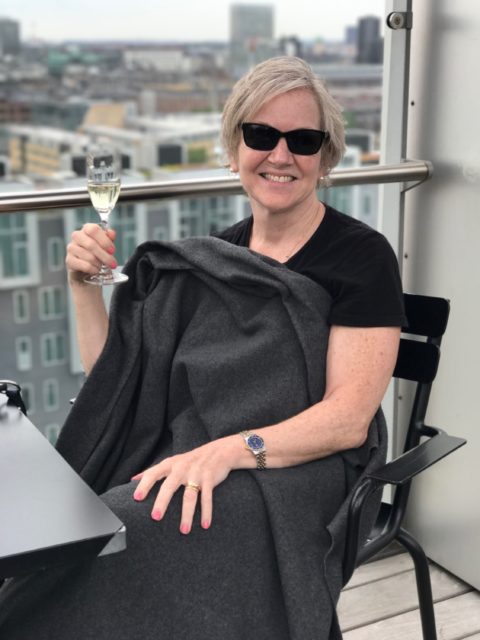 Happy sewing!
Tags:
sewing friends