Please Don't…
… Include me in your feuds with other vendors.
Yesterday I received a rather odd email. Here's the text, though I've removed all identifying information.
​Hello,

I'm just letting you know of something that recently happened to me regarding XYZ and why I am not ordering fabric online any longer from anyone.

I ordered 3 items online from XYZ.  The order went through perfectly, and according to the receipt, I would be charged for the 3 items plus shipping.  However, when the order came in, there were only 2 items in the shipment.  I called XYZ to find out what happened and was told that the 3rd item was sold out.  When I checked my bank statement online, I was charged for 2 items plus shipping on 3 items.  XYZ did not reduce the shipping; therefore, I told them I would not be ordering fabric online any longer and that I would advise all my sewing friends, my club, and the American Sewing Guild of their deceitful practices.
I figured she had sent the email to me by mistake, meaning it to go to the company in question, so I sent her back a quick note, assuming that would be the end of it:
Hi  [name redacted],

I'm very sorry to hear that happened to you. This is not XYZ. I think you should let them know, I'm sure they would want to be aware of it.

Thanks.

Ann

Gorgeous Fabrics
To my surprise, I immediately received this email back:
I am well aware that you are not XYZ, and I did let them know. I am letting everyone know, every person, every fabrics company, every sewing organization in the state and country. Taking advantage of people is reason to put them out of business.
Wow.
This is the second time I've received an email like this. The first was castigating a colleague who was a professional dressmaker. It devastated her, and it angered me, because I know she was a very hard worker and a solid professional. The company in question here is a long-time business that has a good reputation, though I know from personal experience that no matter how hard you try, sometimes mistakes are made, and customers end up unhappy. Any good business, including the one in question here, tries to take care of things. If you have a problem with a company, there are means of getting your complaint heard. First, work with them, and if the solution isn't satisfactory, tell them. There's also Yelp, Angie's List, BBB… the list goes on and on. And if all else fails, you can open a dispute with your credit card company.
But please, don't send me emails excoriating another company. I have nothing to do with the operation. I can't help you, and I'm not likely to feel much sympathy.
I have to take Hoover to the vet this afternoon. Poor old boy is acting very creaky so we want to see if he's in any pain or if there is something we can give him to soothe his joints. But tomorrow – Copenhagen and Maria!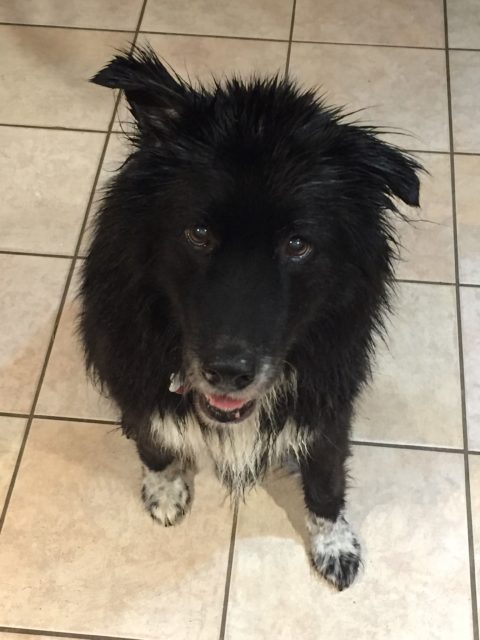 Update at 9:00 PM EDT, Hoover is okay! He's 13 ½ years old, and yes, he's an old dog. A little arthritic, but otherwise in good shape. His hips, elbows and joints are okay. We'll try supplements and a dog food that has lots of Omega3 fatty acids for the next few weeks and see how he responds. But the great news is that there is nothing neurological or major going on. He's just an old boy. Phew!