Pattern Review: McCalls M7470 Shirt Dress
Pattern Description: From McCalls' website, "Semi-fitted collared shirt and dresses have front and back princess seams, front and back yoke, sleeve and length variations. A: Shirttail hem. A, B, C: Long sleeves with pleat and button cuff. A, C, D: Pockets. C, D: Self-belt. C: Button tabs. D: Sleeveless."
I made View D, but I cut it off at the length for View C and omitted the breast pockets and self-belt.
Sizing: 6-22. I made a 12
Available as a PDF? I don't believe so.
Fabric Used: Textured Cotton Shirt-Weight – Blue/Teal Tones from Gorgeous Fabrics. That is, alas, sold out, but Here is the Same Fabric in a Different Colorway.
Machines and Tools Used: Pfaff 2030 sewing machine, Juki MO645DE serger
Needle/Notions Used: Fusible interfacing from Fashion Sewing Supply. I don't see this one on the site, so it may be discontinued, but I would use ProSheer Elegance. Universal 70/10 needle, iron, ironing board, sleeve board, silk organza press cloth, buttons, thread.
Tips Used during Construction: Anything by The Pressinatrix, Sew From Wide to Narrow
Did it look like the photo or drawing when you got through? Yes, though mine is shorter than the pattern as sold.
Fitting Adjustments that I made This is a Palmer/Pletsch pattern, which gives loads of instructions and lines on the pattern for adjusting the fit. I love these patterns for that reason. I made a straight up muslin and it fit pretty well, but not perfectly. I made a full bust adjustment, along with a small swayback adjustment. The FBA gave me more ease through the waist, so I'll probably wear this with a belt, though it looks nice without one. I also adjusted the left shoulder to remove gapping at the back of the armhole thanks to a skiing accident 6 years ago.
How were the instructions? Good. This is a pretty straightforward design, and the Palmer-Pletsch fitting instructions are always excellent.
Construction Notes: The stripes on this fabric run from selvage to selvage, so I used a cross-grain layout. I toyed with the idea of cutting the center front bands and yokes on the bias, but I decided to go with the straight grain/cross grain instead.
I sewed the seams with a 2.5 mm stitch, and used a 3-thread overlock stitch to finish all the raw edges. I didn't bother to topstitch the princess seams because I wanted to keep the look more airy than structured. I used a selvage of silk organza to stabilize the bias opening edge of the pockets.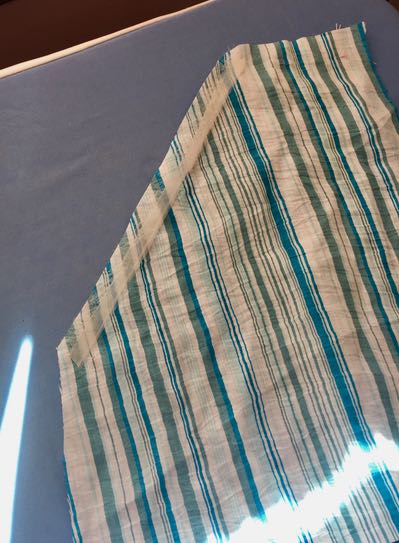 One thing I noted on my Instagram Feed is that, when dealing with bias facings, like those used on this pattern, you need to treat them gently so they don't stretch out too much in advance of sewing them in place. In this case, I cut out the fabric a couple of weeks ago, and in the moving around of pattern pieces over that time, one of the facings got stretched way out. Fortunately I had enough fabric to re-cut, but it's worth keeping bias pieces out of the way and out of traffic. And when sewing and pressing them, treat them kindly and don't apply too much tension or pressure to them. You'll be glad you did.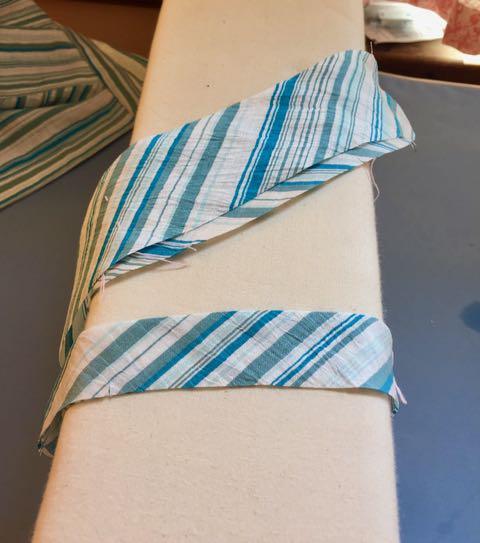 I turned up the hem, trimmed it to 5/8″ and made a narrow hem. For that, and all topstitching, I used a 3.5 mm stitch length.
Likes/Dislikes: This pattern is very well drafted, and as noted above, the fitting instructions are excellent.
Would you do it again? Would you recommend it? I probably won't do it again, just because I have lots of other patterns I want to make. But I will be traveling this summer and this will be coming with me. I definitely recommend it.
Conclusion: A great pattern! Here are pictures on Shelley: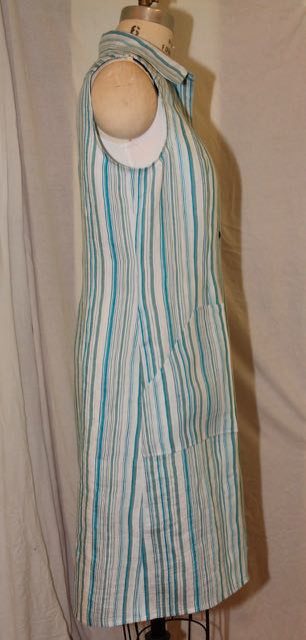 Haven't been doing much sewing lately because…

DS the Elder graduated from UMass! What a wonderful Mother's Day gift that was. I wore my Butterick B6446 and my Vogue V1527 coat. One of the physics professors (his major) stopped me in the hallway to say, "That's a beautiful coat!" That made my day 😊
Well, that plus the graduation.
Happy sewing!