Happy May, everyone! It's been a busy several weeks, with work, teaching a very fun seminar ("The Pressinatrix Live!") for ASDP, and all sorts of things going on. One of the biggest things that is coming up is that DS the Elder is about to graduate from college.
Oh. My. God.
YAY!!!!!
And of course, I had to make something to wear. I made my Butterick 6446 Dress for Easter, but Easter here in Boston was 87 degrees, and we had dinner out on the deck, so rather than sweating in my new dress I decided to save it for wearing to the graduation. Now, since mid-May Boston weather is notoriously fickle, I wanted to make something to wear over it, and after some thought I decided to make a spring version of Paco Peralta's V1527. I've made this before in a heavy wool crepe, so I didn't make any major changes. I'll highlight the few differences. First, I shortened it by about an inch.
I made this version from a twill satin from Gorgeous Fabrics. That is long since sold out, but you can find Similar Fabrics Here. It's got a lot of body, and it stands away from the body. It's not heavy but it has a pretty stiff hand. This fabric, while lovely, was NOT interested in easing.
At. All.
It doesn't shrink and while it didn't catch and get tucks under the stitching, it also wouldn't ease into the armhole smoothly. If I were to do it again, I would probably do a slightly different sleeve-head treatment – maybe a darted sleeve head. As it is, it turned out okay, but I'm not really happy with it. You can see why in the detail shot of the shoulder: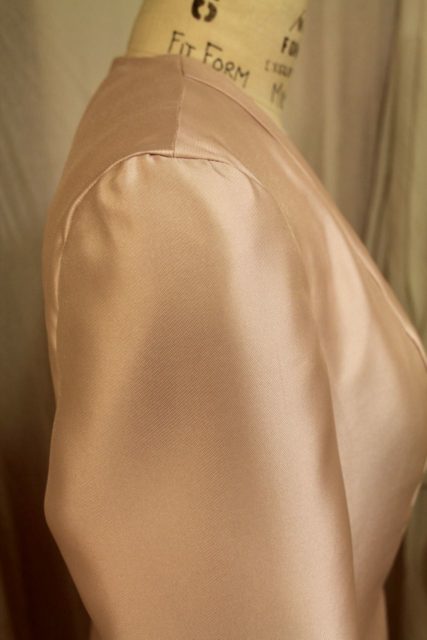 I moved the buttonholes on the sleeve up about an inch, per Tany's recommendation.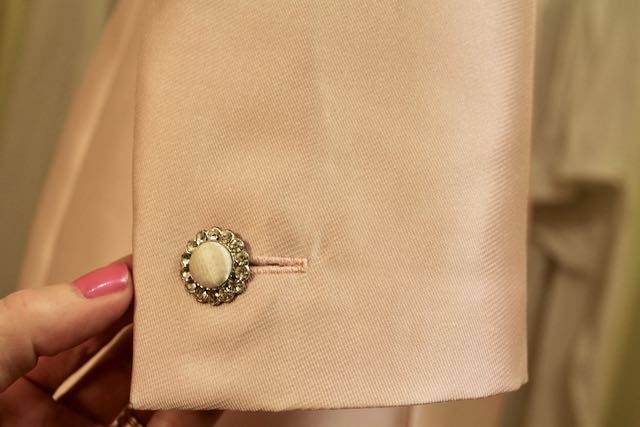 The buttons came from a dress manufacturer in NY who, alas, has gone the way of most of the garment center factories.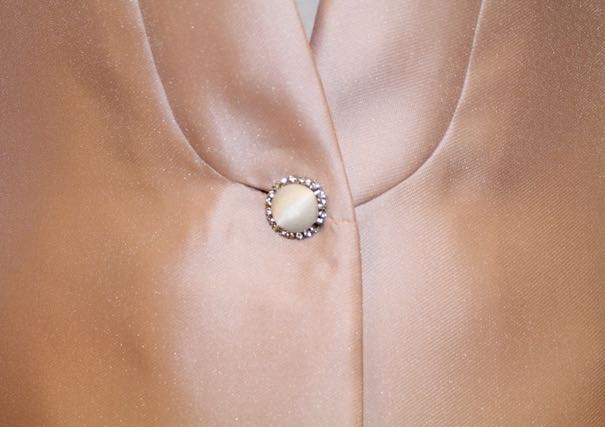 I lined it with Rayon Twill Lining in Off White.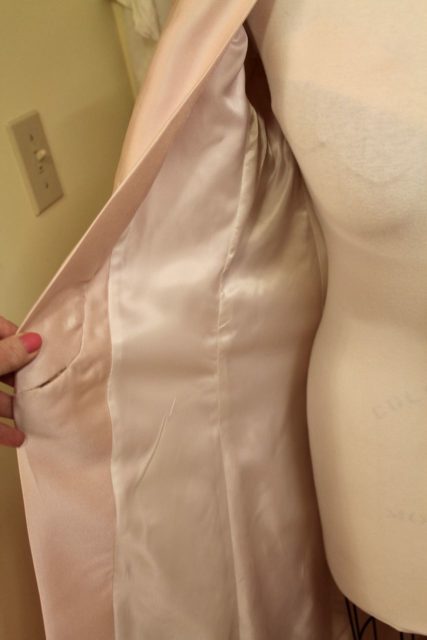 Other than that, I didn't make any major changes. Once again, this pattern is a winner. I would make it again and I definitely recommend it. Here are pictures of the finished version on Shelley.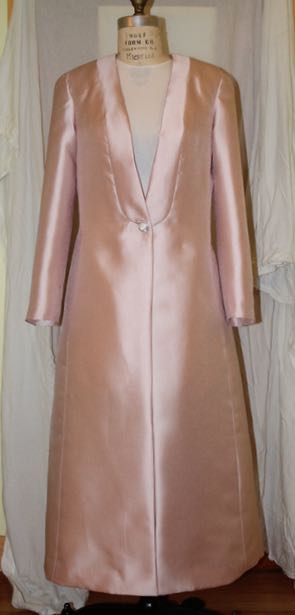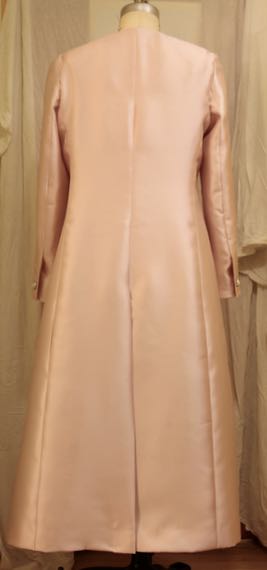 You know, while I made this coat, I realized that in a white or ivory silk satin, this would make a spectacular wedding coat. So if you're thinking in that direction…
I'll post some on me next week after graduation.
Happy sewing!