Before I say anything else, let me tell you that today, I got sent home by The Elves. I had a cold two weeks ago. I got over it, then DH got a cold and just before he left for San Francisco for business, he gave it to me. So today I went back to the office after an appointment that I couldn't cancel, coughing up a lung. The Elves looked at each other and threw me out. Of course, by the time I got home, my cold medicine finally kicked in, so I couldn't even go to sleep. What to do? Finish the blouse I started the other day, so here you go. Pardon me if the cold medicine wears off while I'm typing.
Pattern Description: The description/background from The Makers' Atelier goes on pretty long, so to save you the TL;dr, here's my summation: Very loose fitting, front button blouse with dropped shoulders, neckline tie and long sleeves. Two hem length variations.
Sizing: 1-8 I made a size 1-2, and it's pretty roomy. Make that really roomy. To give you a comparison, I take a 12-14 in big 4, and an 8-10 in RTW.
Available as a PDF? No, it's part of the pattern set in the book.
Fabric Used: Crinkle Jacquard Cotton Voile – Just Off-White (holy cow, it's not sold out!)
Machines and Tools Used: Pfaff 2030 sewing machine, Juki serger to finish the stitched seam allowances, Reliable iron/board, ham, shoulder stand, sleeve board.
Needle/Notions Used: Universal 60/8 needle, scraps of fusible tricot interfacing, Carved Coconut Buttons from Fashion Sewing Supply, thread.
Tips Used during Construction: Anything by The Pressinatrix.
Did it look like the photo or drawing when you got through? Yes, with one minor exception/mistake that I made.
Fitting Adjustments that I made None this time – I wanted to see what the fit was straight out of the envelope. Next time I'll do a slight FBA so the front hem doesn't rise up.
How were the instructions? Eh… not great. To me, the instructions are pretty confusing in parts. But if you know what you are doing, you can suss it out for yourself. Here are some examples:
I thought the method for attaching the collar tie was really backwards/happy-hands-at-home. Here are pictures of some of the instructions so you can see them for yourself.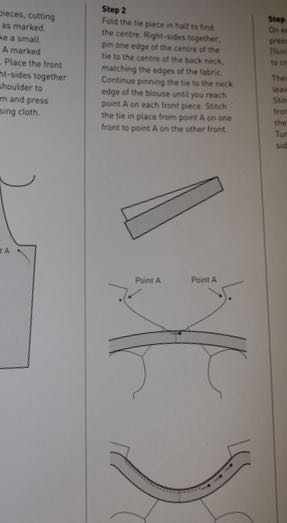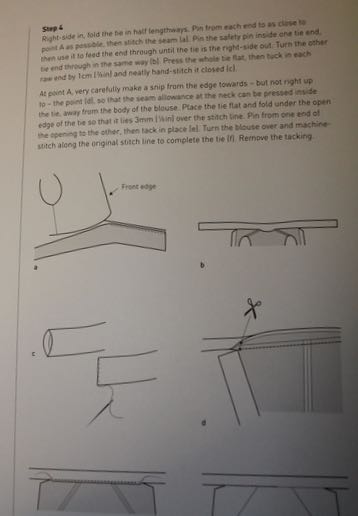 The upshot was that I said, "to heck with it" and made the collar using the method in the Simplicity 8166 blouse instructions. Much easier.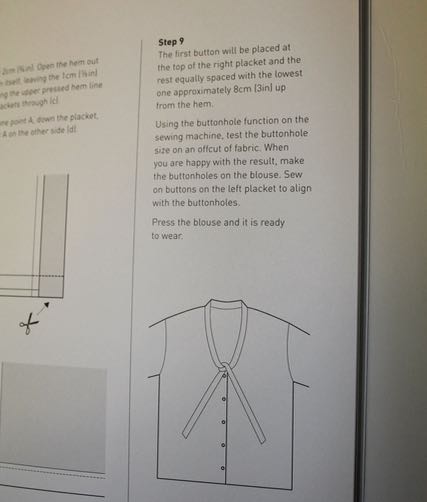 The biggest sin in this pattern is that there is NO SHOULDER NOTCH on the sleeve!!! There is a front notch, and there is a back notch, but no shoulder notch, and the instructions tell you to gently ease the shoulder cap. I can't make this up, so I took a picture.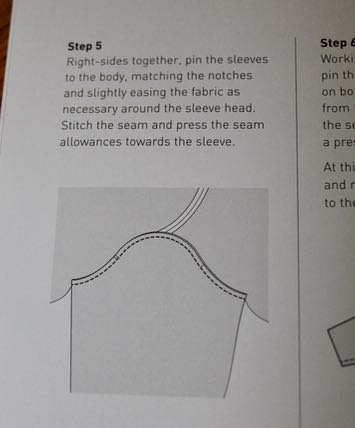 I sent messages to three friends who are professional designers with backgrounds in pattern making and they were all shocked. As one of them said, there are three match points on any sleeve: Shoulder, front and underarm. I'm sorry to be a negative Nelly, but this is pretty… un… bush… I can't even. Cold medicine talking but still. No shoulder notch.
Another designer said this method can work for knit garments, but this pattern is designed for lightweight wovens. I made mine in a cotton voile that is pretty gauzy. It has a fair amount of mechanical stretch, but with something like a silk crepe de chine or a cotton shirting, inserting the sleeve the way they say, with no shoulder notch could be problematic or worse.
Oh and the hemming instructions are just pthbbbt. Don't even bother. Make your hem the way you do with any Big Four blouse: turn the facing so it faces the outer side of the garment, sew the hem at the facing, turn right side out and then make a narrow hem.
Likes/Dislikes: Now, despite my crank factor, this is a good pattern. It has great bones, and it goes together well. IF you already know what you are doing. I describe the aesthetic as Eileen Fisher meets Japanese boutique. It's simple, and easy, and if it's your thing it's great. The instructions? Not so great, at least for this  blouse.
Also, a point of style – this blouse may be a little low cut for some. You can remedy much of that by making a wider tie (the book has instructions for that) or by redrafting the front collar to raise it up a bit. You also really need to make this in a very drapey fabric. Any stiff cotton or linen will NOT work well for this.
Would you do it again? Would you recommend it? Uh, hmmmm. No, and maybe with a lot of caveats. I think the blouse itself has good bones. The instructions were not good, but I was able to make it well because I know what I'm doing. I know that's harsh, but it's an expensive book, so I want you go to into it with eyes open.
Conclusion: Despite everything I came out with a blouse that I will wear and which I made well. If you know what you are about, you can make this work. I may have made the second most complex pattern in the book (there's a pair of cigarette pants that I would bet have their own challenges). Here are pictures on Shelley. I'll try to get pictures on me when I don't look like death warmed over: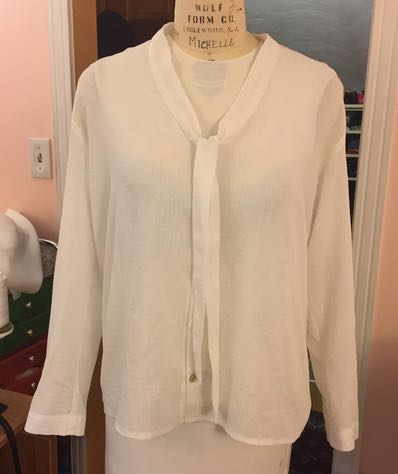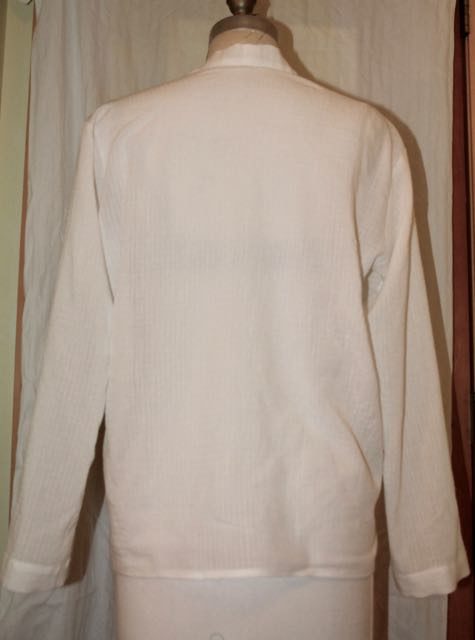 Well, that's enough for tonight. I hope you are all feeling better than I am.
Happy sewing!