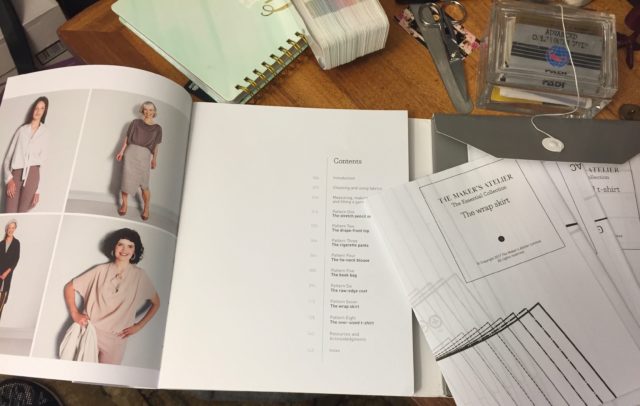 Title: The Maker's Atelier – The Essential Collection
Author: Frances Tobin
Publisher: Quadrille
ISBN: 9781849499040
Chapter List
Introduction
Choosing and using fabrics
Measuring, making a toile and fitting a garment
Pattern One – the stretch pencil skirt
Pattern Two – the drape front top
Pattern Three – the cigarette pants
Pattern Four – the tie neck blouse
Pattern Five – the book bag
Pattern Six – the raw edge coat
Pattern Seven – the wrap skirt
Pattern Eight – the oversized t-shirt
Paperback or Hardbound? They say paperback, I say hybrid.
Retail Price: $35 list, $26.25 from Amazon
Does the book have clear illustrations or photographs? Yes. More on that later.
What do you like about this book? 
I like that the bookbinding allows you to open the book all the way without having to split the spine. The photography is lovely and the writing style is engaging. The author clearly loves the styles she presents. While they are simple, they will make up a capsule that will either form the basis of or add to your existing wardrobe.
Each pattern chapter includes a page called "Developing the [pattern name]" which gives insight into the history of the garment type, along with the author's thoughts about how she envisions the fit. It's a nice primer to give sewists guidance on mixing and matching.
Each pattern chapter also includes pictures of the garment being worn by different women, so you can see it on different figure types. It has suggestions on how to wear each garment to make the most of it. The photography is beautiful, and the photos are inspiring.
What could the book do better? Well, the styles are pretty basic. It's a reflection of the author's aesthetic, and they are good basics. Also, the section on fabrics is… basic. If you have already read a book on fabric (like Claire Shaeffer's Fabric Sewing Guide) you'll know what I mean. Also, to me, the bag pattern seems like a throwaway
On a scale of 1-10, how would you rate this book in the "must have" category? Probably a 6-7. It's good, but it's not a must have. The photography is lovely and can be inspiring. The patterns are basic.
TBH, I have not yet made the patterns. I have fabric to make some, so I'll review those separately when I make them. In the meantime, it's a good book, but it's an add-on to a library.
Happy sewing!