And the Winner of the $100 Gift Certificate Is…
I ran the random.org random number generator which gave me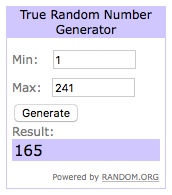 That means the winner is,
Drumroll, please
.
.
.
.
.
Tanya! Congratulations to Tanya, enjoy your $100 store credit at Gorgeous Fabrics. And thank you all for playing, and thank you again for your support!
I've been putting up dozens of new fabrics, and more are on the way, so check the NEW section often. Thanks for the last 10 years. Here's the future!
Happy sewing!
Ann