Pattern Review: Vogue V1527 View B Blouse
Long one coming up! I love this type of blouse, and I have since I was young. When I saw Paco had included it as part of his Vogue Pattern V1527 I knew I would have to make it. Then this silk came across my desk and the rest is history…

Pattern Description: (From Vogue's website) Loose-fitting blouse has collar extending into tie, back yoke extending into forward shoulder seams and French cuffs.
Sizing: 4-18, I made a 12
Available as a PDF? No
Fabric Used:
Note: Theresa pointed out that the pattern requires 3.5 yards and that seems like a lot. I pulled 3.5 yards per the instructions and I have a solid yard left over.  I think the yardage requirements are wrong. Do yourself a favor, especially if you have an expensive fabric, and measure the pattern. Realistically, on a size 12 body, 2.5 yards  of 45 inch fabric should do a blouse unless you have a very large print that you are trying to match.
White 3-ply Silk Crepe from Gorgeous Fabrics. Silk crepe is my favorite fabric to work with! This fabric is SOOOOOOO amazing. It's got a heavy, luxurious drape to it, and it feels amazing. Swoon! I also used Wide Silk Organza – Off White for the cuffs (more on that later).
Even better, both these fabrics are still available! That almost never happens. I usually don't get the chance to sew something until the fabric is long since sold out, so it's a treat to show you a fabric that's on the site. Did I mention we have our 10th anniversary sale going on right now? Get 10% off, plus US shipping is flat $10, regardless of how much you order! International peeps get a $10 gift certificate upon ordering, good for a future purchase.
Machines and Tools Used: Pfaff 2030, Juki MO654DE serger, Reliable iron and board, sleeve board, ham/stand, shoulder stand, pressing finger, bamboo chopstick, point presser.
Needle/Notions Used: Universal 60/8 needle in the sewing machine, Universal 70/10 needles in the serger. Vilene Shirt interfacing (a gift from Paco Peralta last year), pearl buttons, self-covered buttons, basting thread, thread, hand needles.
Tips Used during Construction: Anything by The Pressinatrix, of course. Scary Silks,
Did it look like the photo or drawing when you got through? Yes.
How were the instructions? They were fine. This is not a terribly difficult pattern. The fabric choice can make it tricky to work with, but it's a good pattern for anyone who's been sewing for a while. If you're intermediate level you should have no trouble with this.
Construction Notes: I made a muslin to check the fit. It went together pretty readily, but I noticed that the bust point on the pattern was really high: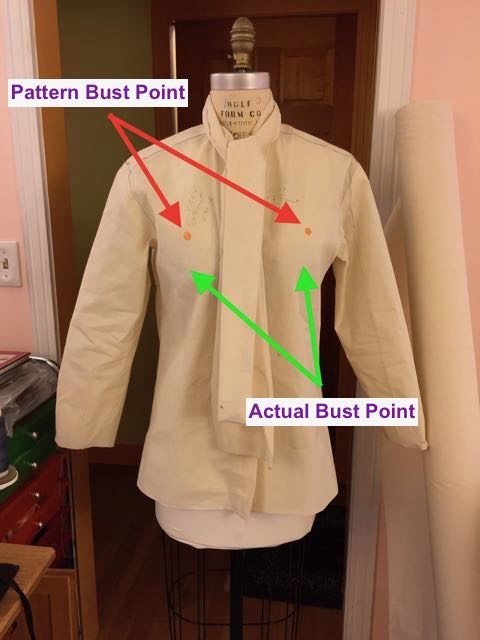 The pattern bust point marking is 8 inches from the shoulder line. I checked it against the printed pattern to make sure I didn't make a transfer error. Nope. 8 inches. I don't know anyone over about age 10 who has a bust apex 8 inches below the shoulder line.
I tried the muslin on to see if it mattered, and there was a slight drag line between the bust point and the armscye, so yes, it does make a difference, especially if you are large busted. I made a small FBA, mostly to drop the bust point down to where it should be. Drag line gone. I also shortened the sleeves about 5/8 inch, which is not unusual for me with Vogue patterns.
Vogue recommends lightweight fabrics like crepe de chine or charmeuse for this pattern. Because my silk crepe was heavier than recommended, I made some modification to the construction. They have you use French seams for the sleeve and side seams. I did a mockup to see what I thought of it with my 3-ply crepe.
With this fabric, that would put 8 layers of fabric into the seam at two points – where the yoke joins to the front and back. That's a lot of bulk, so I decided instead to use standard 5/8 inch seam allowances and finish the raw edges with a 4-thread overlock.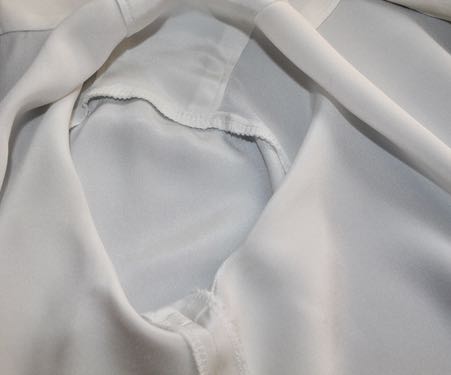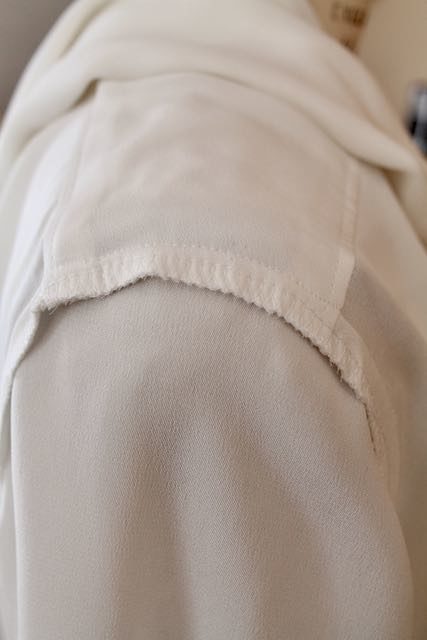 This is a judgement call. If I had used a georgette or charmeuse, the French seam would be great, and would give an elegant finish. But my fabric was heavy enough that I think it would have been a bit of a disaster. I heartily recommend doing mockups with scraps when you are dealing with situations like this.
The pattern recommends using fusible interfacing. I decided instead to use sew-in interfacing. The Vilene that I used is nice and crisp, but I wanted to avoid bulk in the seams, so I cut both the Vilene and I also cut silk organza. I stitched the Vilene to the organza just outside the seamlines. I trimmed the Vilene close to the stitching, leaving just the organza seam allowances. Voila, less bulk!
I used purchased pearl buttons for the front closure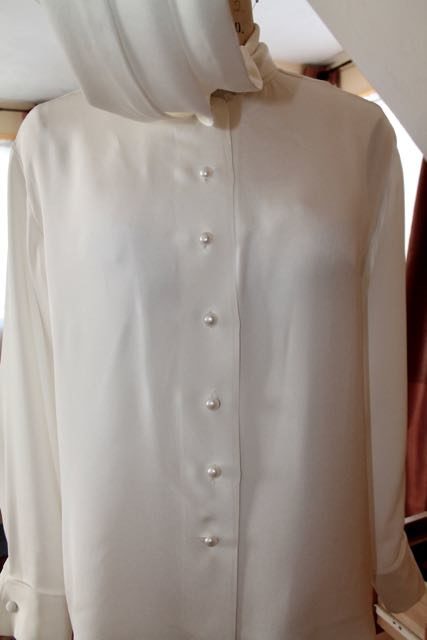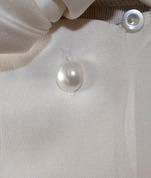 I made self-covered button cufflinks. I fused a scrap of lightweight interfacing to the silk to give it a bit more support and to make it easier to cover the buttons.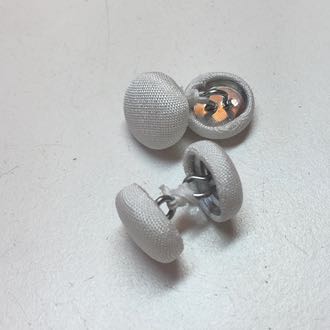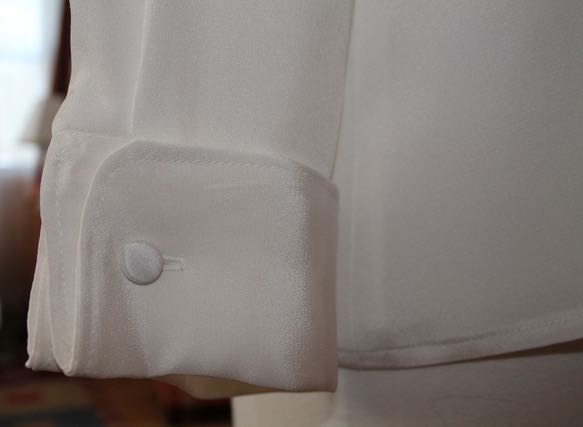 Likes/Dislikes: I love this pattern! It was a pleasure to sew, and the fabric was a joy to work with. The pattern is beautifully drafted and goes together without a hitch. Do test runs of your seams to see how the French seam works with your fabric.
Would you do it again? Would you recommend it? Yes I would, and yes I do! This is another winner from Vogue and Paco.
Conclusion: A beautiful classic, something that I will wear for years to come. At some point I'll get a shot on me, but here it is on Shelley: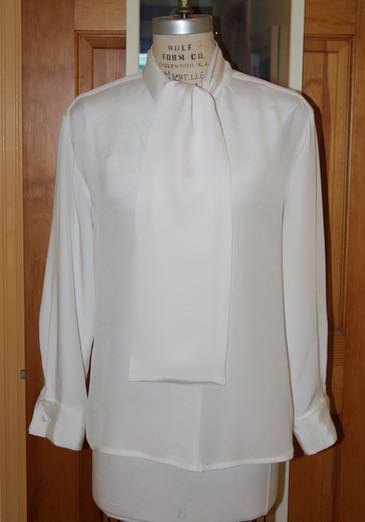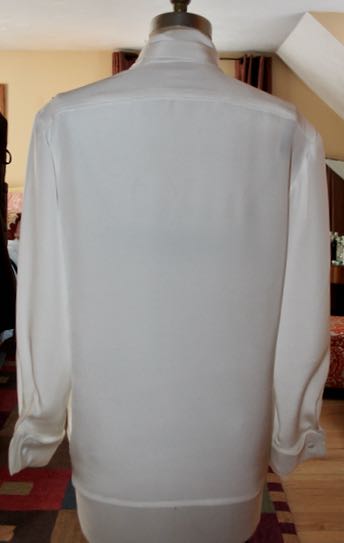 Happy sewing!