Finally I Sewed Something! Pattern Review of New Look 6396 Capelet
I've been slowly making my way on this pattern. If you follow me on Instagram, you have seen the progress. But with the holidays, children coming home to visit, refreshing our SCUBA skills, getting ready for vacation (YAY!!!!!) and the sale (yes, The Sale!) I've been too busy to post, or even to sew very much. But I did finally finish this cape, so here we go!
Pattern Description: From Simplicity's website (don't even get me going on that), "These military style capes and classic cape and capelet are the stylish statement piece your wardrobe is looking for. For the cooler weather, view E offers faux fur collar that will keep you warm and cozy"
My take on the pattern description, "Capes and capelets in different lengths with neckline and armhole variations. I made View A with several changes.
Sizing: XS to XL. I made a Small
Available as a PDF? Yes
Fabric Used: Bouclé (sold out, sorry) lined with 4 Ply Silk Crepe left over from my Pippa Dress (also sold out, sorry again!). Silk Organza for interfacing, French cotton braid that was a gift from Susan Khalje.
Machines and Tools Used: Pfaff 2030 sewing machine, Reliable Iron, Shoulder Stand
Needle/Notions Used: Universal 70/10 needles, squared-off hooks and eyes from Pacific Trimming, Silke waxed thread (THE Best!! Never knots. I'm totally sold), thread, Clover Needle Threader (is that a tool, rather than a notion?)
Tips Used during Construction: Make the Lining First, Anything by The Pressinatrix.
Did it look like the photo or drawing when you got through? Kinda-sorta. I left off the epaulets and the (really badly done on the pattern photo, but we won't talk about that here) closures.
How were the instructions? They seemed adequate, though I made enough changes that I didn't use them very much.
Construction Notes: I decided to take a more couture approach to this garment. I used sew-in interfacing (the silk organza).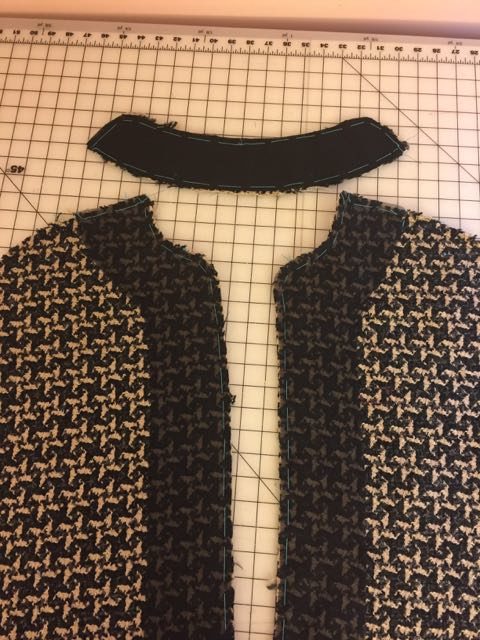 I thought the sewn closures that were included in the pattern had a very Becky Home Ecky… well, not the look I want, so I used large hooks that I bought at Pacific Trim, which I sewed in right at the Center Front.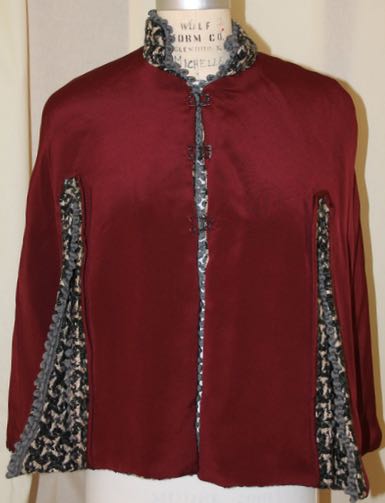 This pattern has straight CB seam.  Simplicity does that because they have you turn the lining out during construction through the CB seam. A straight back seam? I don't like unnecessary seams, so I eliminated that and used one of the side seams to turn the garment. It gives a much cleaner line.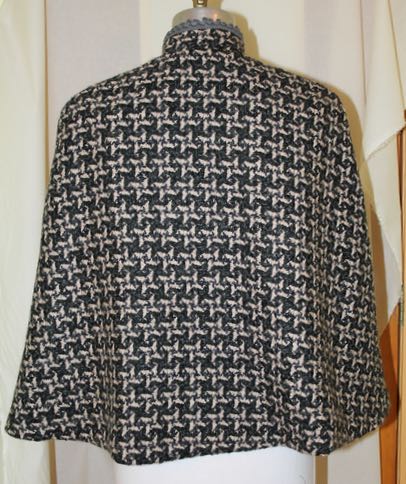 I hand sewed the Trim around the CF, neckline and the arm openings.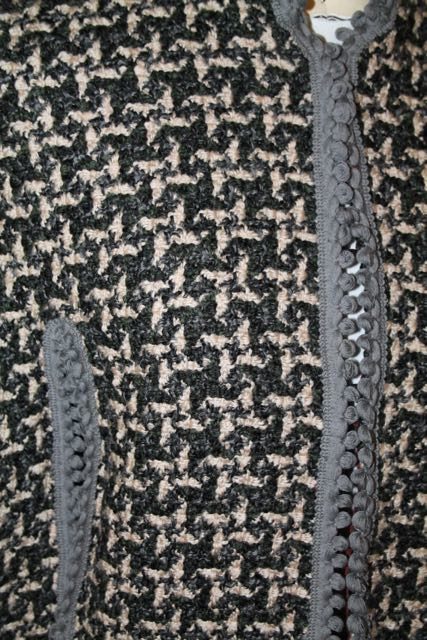 Likes/Dislikes: This is a cute pattern, good for non-frigid days in the New England weather.
Would you do it again? Would you recommend it? No, I won't do it again. One (I guess that's me) only needs one of these.
Conclusion: A cute topper that goes together easily. It's good for anyone who has a little sewing experience. Here are shots on Shelley: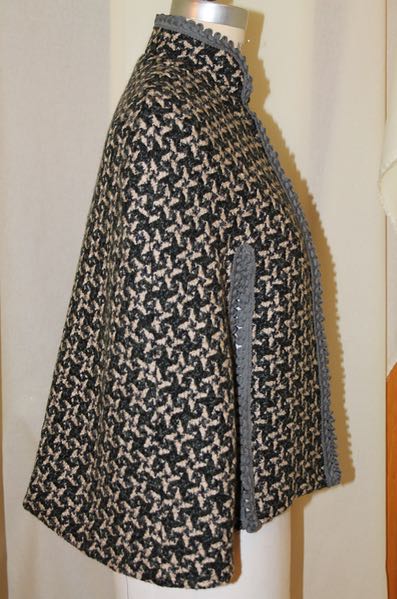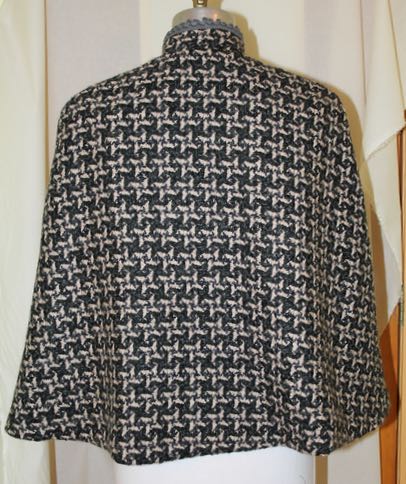 Okay, so here's the BIG NEWS
I am going on VACATION for the first time in 10 years. No phone, no internet, no nothing. The site will shut down (you can still view it but you won't be able to buy) starting at 5:00 PM on Friday. We'll move the warehouse and then we are all heading out!!! So if you want any fabric, grab it before 5 PM Eastern on December 23. We will be back on January 12, 2017. Have a wonderful, wonderful holiday season and I'll see you next year!