Gorgeous Fabrics/Pattern Pairings for Sewing Inspiration
One of the things customers tell me they really like about Gorgeous Fabrics is our recommendations for patterns to pair with our fabrics. It's one of the more fun aspects of my job, so today, I'll talk about some of the newer patterns that have hit the market, and give you some suggestions for Gorgeous Fabrics that I think will work spectacularly well with them. Enjoy! -Ann
Dress for Success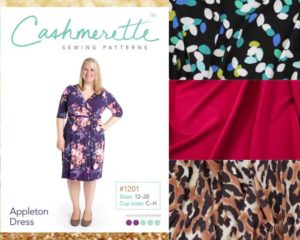 It's heading into cooler weather here in the US, while our friends in the southern hemisphere are starting to warm up. A great silhouette that works for almost all seasons is the classic wrap dress. And one of the favorites of our customers is the Appleton Dress from Cashmerette. This great take on the look is perfectly suited to any of our ITY or rayon jerseys. It's even a brilliant choice for some of our stretchier rayon doubleknits. Those will give you options for cooler weather. The three perfect pairings I've picked for this dress include, from the top:
Any of these will give you everything from work-ready to holiday party options!
Button Up Your Overcoat…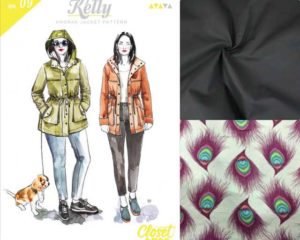 One of the hottest looks in outerwear right now is the anorak jacket. Closet Case Files just released their Kelly Anorak, and it's got all the details you want! While traditionally thought of as cold-weather or rain gear, this jacket is more versatile – just think a little outside the box! You can, of course, make it into a hard-working, long-wearing coat for cooler weather, but it also makes a surprisingly elegant turn for an evening or dressier look with different fabrics. Try a satin or taffeta version for a fun, designer-inspired look! Check out these two options for dressing down or dressing up:
It's Jean-etic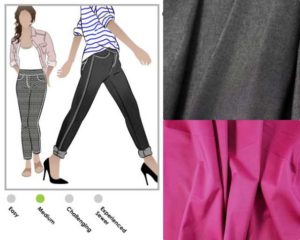 I can't live without my jeans. Even though I love dressing up, jeans are my go-to garment on many days. There are tons of great jeans patterns available to the home-sewing enthusiast, from classic 5-pocket versions to the more athleisurely take on the look: pull on stretch jeans. StyleArc has come out with a great pattern for this comfortable wardrobe staple, the Georgie Stretch Woven Jean. Make a "classic" take on it with:
For a bright look that will enliven any wardrobe:
Jacked Up Jackets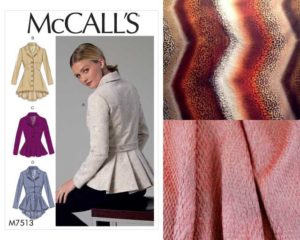 A great jacket or blazer is a cornerstone of any wardrobe, and as sewing enthusiasts, we can make all different styles! One that just came on the market is McCalls M7513 Peplum Jacket. I really love that this pattern gives you both sleek and "foofy" options for the peplum, so you have lots of variety by varying peplum and fabric. From a tailored version with wool, to a fun animal print for dinner or weekends, to a showstopper in brocade, this versatile jacket can take you just about anywhere! Try it with:
Or for a slinky entrance-maker:
Formal Introductions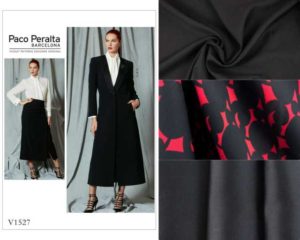 With the holidays just around the corner, let's finish with a formal look. This one comes from my friend Paco Peralta, a couturier in Barcelona, by way of Vogue 1527. This three-piece outfit includes a lovely straight skirt, a blouse with a jabot style tie and (this is what I adore) a long tuxedo style jacket. On the pattern, they show it in black and white. But for holiday, I love it with a rich red and black print blouse. It's beautiful, and it evokes Spain! I would make this (actually I will make this) with these three fabrics for the tux, blouse and trim for the collar. From the top:
I hope this gives you a little inspiration, and I hope you've enjoyed reading it as much as I have putting it together for you.
Happy sewing!
Note: I have no affiliation with any of the pattern companies mentioned here, and I receive no financial compensation for mentioning their patterns or linking to them. In fact, they have no idea I wrote this post, so click away with a clear conscience!