Sucky Selfies
Thanks, all, for your thoughts and comments on Preferences. Special shout out to Sewing Faille, whose description of the time, treasure and talent involved in getting a good set of pictures was so painfully funny, it practically made me spew coffee on my screen. I will continue to post construction pictures, and I'll try to get shots of me in the clothes, but no promises that it will happen every time. In fact, I can reasonably assure you that it will continue to be a minority unless I can get my stupid Amazon remote photo clicker thing to work. It supposedly does with my camera, but it never has, and I'm not even sure where it is right now… Oh well.
But in the meantime, I did make a second pair of Butterick 5250, this time in a fabulous Cashmere and Wool Suit Weight in Black Olive. OMG, can I tell you? This was HEAVEN to work with. I didn't make any other changes to the pattern, so here – gasp! – are a couple of sucky selfies on me this morning before I went to work.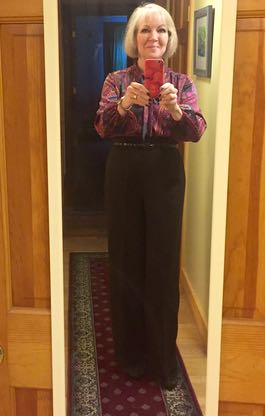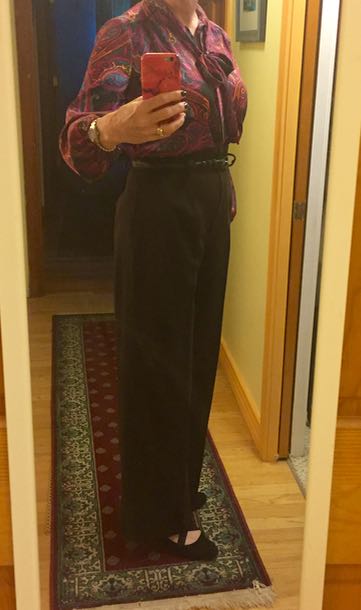 I couldn't get a shot from the back, but they're really comfortable. I'm wearing them with Simplicity 8166. I just noticed I didn't press the belt loops down. Oh well, my bad.
I'm not sure what I'm going to make next, but now that it's cooled down and started raining (YAY to both!) I'll probably be inspired soon. 'Til then,
Happy sewing!