Pattern Review: Retro Butterick B6734 Dress
Man, it has been a week. My mother passed away peacefully last Friday after a very long battle with Alzheimer's. That was a blessing. She's with Dad now, which is good. The family drama that accompanied her death? Not so much. I'm not going to bore you with the details; every family has its own version, I'm sure. It'll pass, like a kidney stone maybe, but it will pass. Her funeral was today, and it was lovely. I was able to hold it together until the incensing of the casket. That killed me.
Sigh…
But, as they say, life goes on. Last week I bought Butterick 6734, a retro dress with some style variations. I'm not usually much of a retro girl, but I do like some of the styles from the 1940s and this one really appealed to me.

Pattern Description: From the Butterick website, " Dress has shaped front with gathers, side seam zipper, shoulder pads, shoulder gathers, sleeve and neckline variations. A: Long sleeves with elbow darts, swan neckline and snap opening. Optional ribbon for bow. B: Three-quarter length sleeves, shawl collar and front buttons. Buttons are not functional.
Circa 1944″

I made a combo of Views A and B, using the neckline treatment from View A, the sleeves from View B, and omitting the buttons.
Sizing: 6-22. I started with a 12 at the shoulders, tapering out to a 14 at the bust and below, along with a whole lot of fitting stuff (see below)
Available as a PDF? It doesn't look like it right now.
Fabric Used: Space Flowers Silk Crepe de Chine from Gorgeous Fabrics (of course!)
Machines and Tools Used: Pfaff 2130 sewing machine, Juki MO654DE, Naomi the Naomoto, ironing board, ham, sleeve board, shoulder stand.
Needle/Notions Used: Universal 70/10 needles, scraps of interfacing, thread.
Tips Used during Construction: Of course, Anything by The Pressinatrix, Sew from Wide to Narrow
Did it look like the photo or drawing when you got through? Yes.
How were the instructions? They were great. I didn't really need them but I did check them out and they are good.
Construction Notes: I made two muslins. The first was almost straight from the envelope. I say "almost: because I measured the distance from the shoulder seam to the bust apex and (as usual) it was too high. So before I did anything I sliced the pattern and lowered the bust dart one inch. Then I sewed it up to see how it fit. It needed a few mods. First, even though the bust dart started at the right place at the side seam, it pointed up too high, as you can see in this (sucky) selfie
I did a FBA, which I transferred to the pattern so you can see it more easily. The FBA added a little bit to the waistline, which alas, I need these days, and as with a wrap dress, I transferred the changes to both sides of the pattern.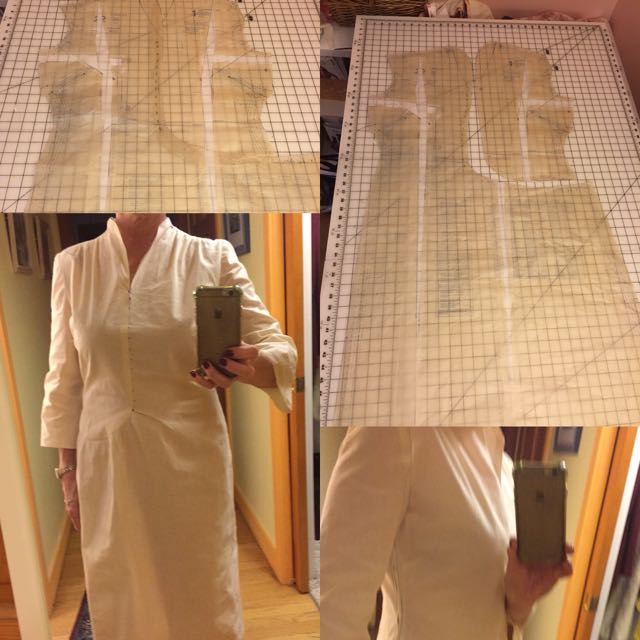 I also lopped 4 inches off the bottom to make it a more modern length.
After the fitting was done, it was really quite easy to put together. I sewed all the seams with a straight stitch, and finished them with the serger.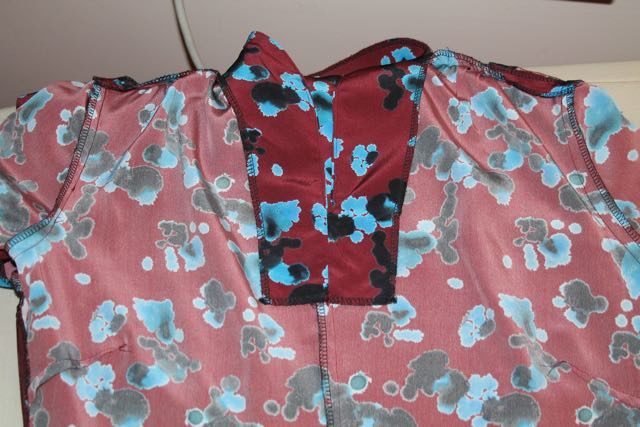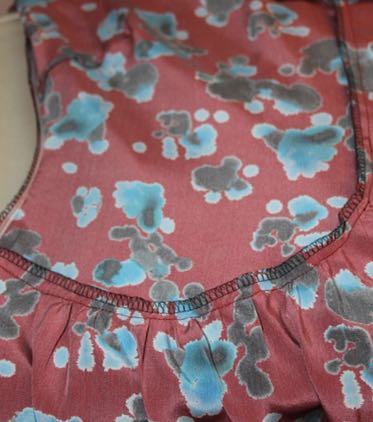 I used an invisible zipper, stabilizing the seam with scraps of interfacing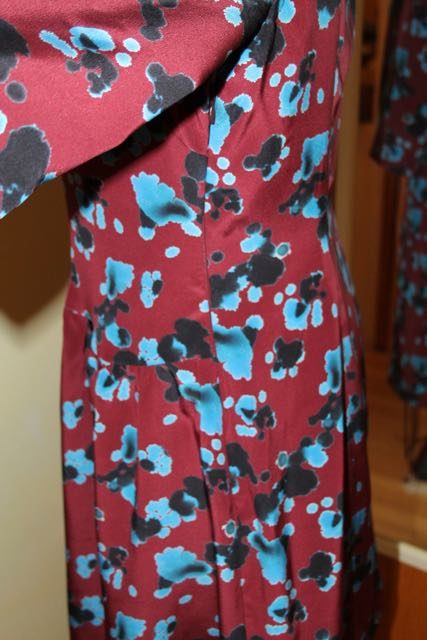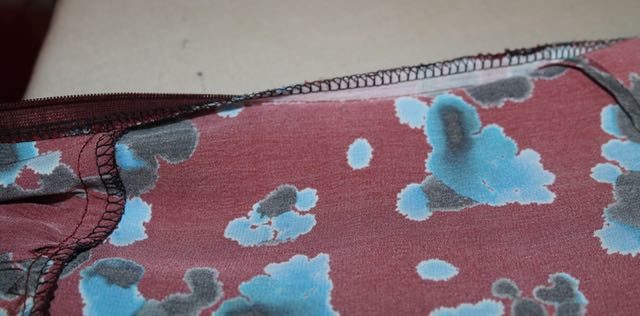 The gathers were less full than I was expecting, though not in a bad way.


I haven't decided if I'll add the shoulder pads yet. I want to try it on first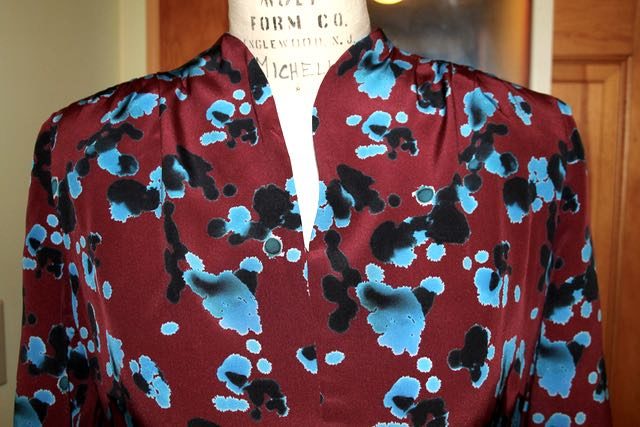 Likes/Dislikes: I LOVE it! I mentioned that I'm not usually a retro girl, but I do love the 40s. They suit me. And this suits me. I was going to finish it in time for my mother's funeral, but it was really hot and humid so I wore a StyleArc that I made several years ago instead.
Would you do it again? Would you recommend it? Yes and yes! This goes together easily and it's a really pretty pattern. I recommend a muslin because it uses fitting norms that don't necessarily match to today's standards.
Conclusion: A winner! Here are pictures on Shelley. At some point I'll get them on me.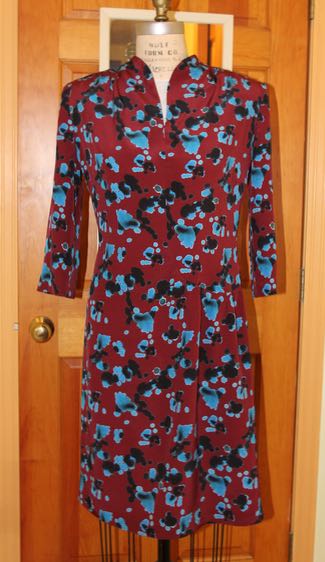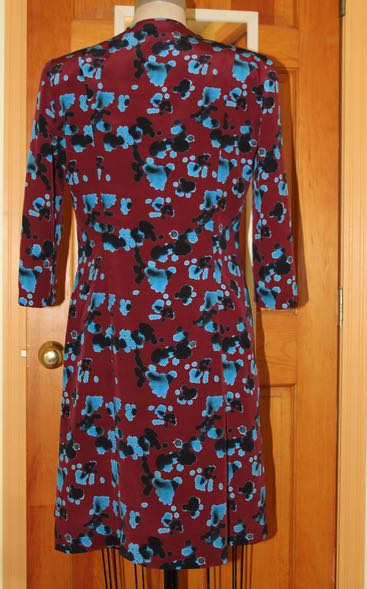 And in Happier News This Week,
We moved DS the Younger into his dorm at college. He's with his (marching band) tribe, and I guess we are officially empty nesters!
Happy sewing! I guess I'll have more time for it now.