Okay, before I begin, can I just tell you? This week – I want to just end this week. I want it to be Friday. In fact, I want this month to miraculously turn into September. And even more than that, I want this year to turn into next year, KWIM? It has nothing do to with anything outside of my family. It's just been that kind of week.
Sorry, had to let that out. Where were we? Oh yes, deep, calming breath. The Elves suggested I go home today after getting a phone call from my sister, so I took their advice and worked on my Simplicity 1325 jacket. They call it a jacket, I call it a bolero; it's a bit of a hybrid.

Pattern Description: From their website: misses' separates includes a knit crew neck top with long sleeves, a flared jumper dress or tunic with plunging v neck, pants and open front long sleeve jacket with ribbon detail. simplicity sewing pattern by in k.
Alright, here's my assessment: semi fitted, unlined, collarless waistcoat style short jacket. I skipped the ribbon detail.
Ive been surprised that I was only able to find one review of the jacket in my searches. There are lots of reviews of the dress and top. I wonder if the jacket is the new throwaway piece. Remember a few years ago every pattern included a purse? Okay, sorry, that may sound snarky, but the jacket doesn't really fit with the rest of this outfit. But it's what caught my eye, so that's good.
Sizing: 6-22. I made a 12
Available as a PDF? Yes
Fabric Used: Sold out Italian Rose Print Double Cloth from Gorgeous Fabrics
Machines and Tools Used: Pfaff 2130, Naomi the Naomoto, ironing board, Juki MO654DE, sleeve board, ham, shoulder stand.
Needle/Notions Used: Universal 70/10 needle, Silk organza for interfacing, scraps of (bright blue) silk organza, thread.
Tips Used during Construction: Anything by The Pressinatrix, Sew from Wide to Narrow, Setting a Sleeve into an Armhole.
Did it look like the photo or drawing when you got through? Yes
How were the instructions? Typical Simplicity. Never more than 4 pages per pattern. But they were adequate.
Construction Notes: I made a muslin, and discovered that the front darts were WAY too high. Measuring from the shoulder, the bust point on this pattern is 9 inches from the shoulder. That is WAY too short for anyone I know who is over the age of 14. Do yourself a favor and make a muslin, then lower the bust point by an inch or more. The one other pattern review that I have found for this mirrors my experience so it's not just me.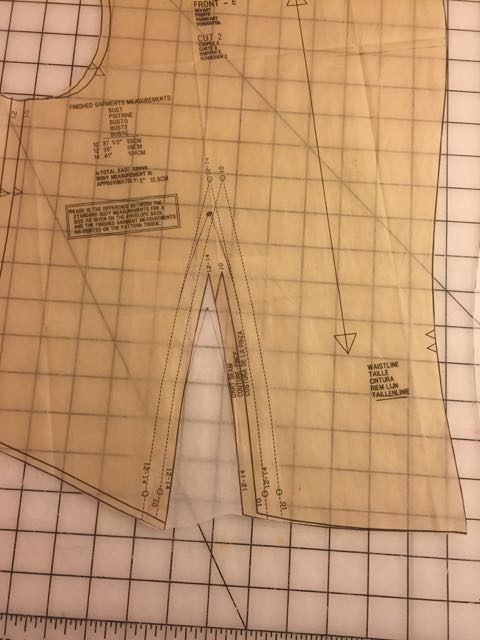 After I fit the muslin and transferred the changes, I cut the muslin apart to use as my pattern.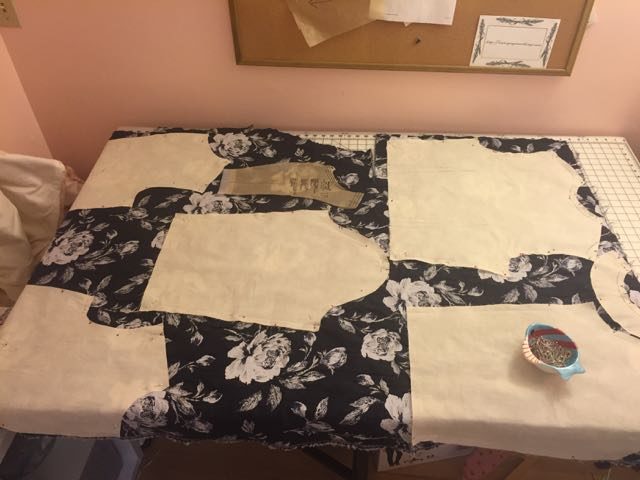 This approach has a number of advantages. First, you can use a single layer layout and save a lot of fabric. Case in point: The pattern envelope calls for 1.5 yards of 60 inch fabric. I had less than yard and a quarter (by a lot actually), and I was able to lay most of it out. I had to piece the facings, but that was because I wanted the rose motifs from the fabric to show.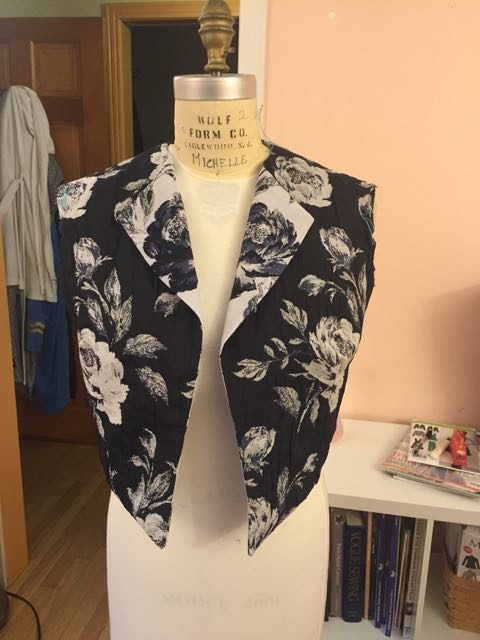 Because my fabric is reversible, I decided to use the reverse for the collar. And because the fabric is a double-cloth, fusible interfacing, as recommended in the pattern, could have disastrous effect, especially since one side (and not the other) has a crinkled finish. Instead, I used silk organza and sewed it in.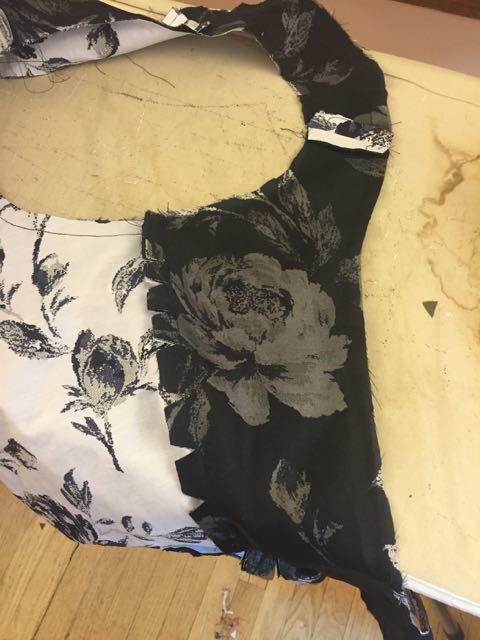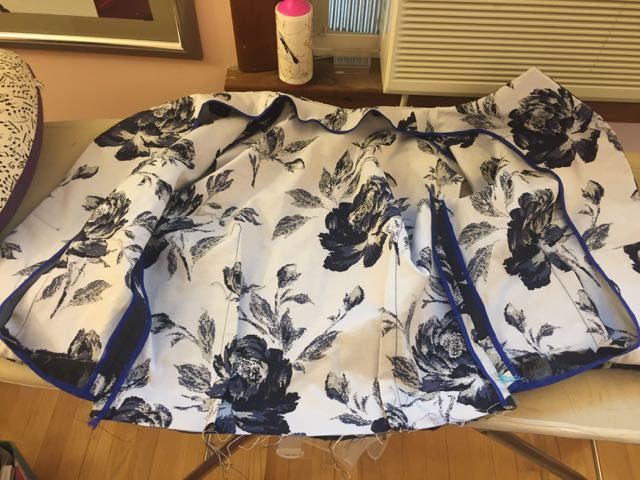 To finish the seams I used bias strips of silk organza in very bright blue (love!) for a Hong Kong finish. The exception is the sleeve seams, which you can't see, so I used the serger to finish those. I also used bias organza on the hems. I used a slipstitch to hem the garment and the sleeves.
I finished the slashed darts with a hand-sewn whipstitch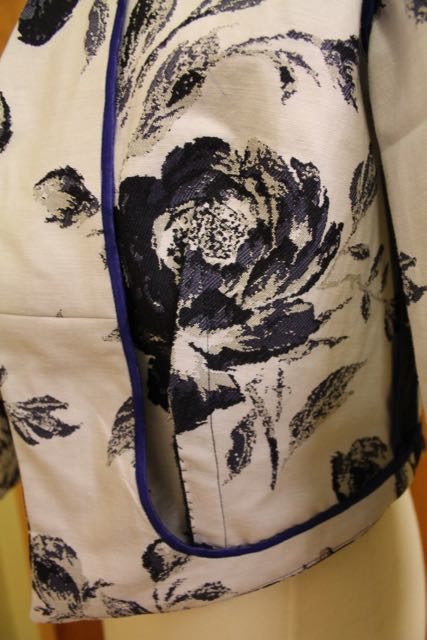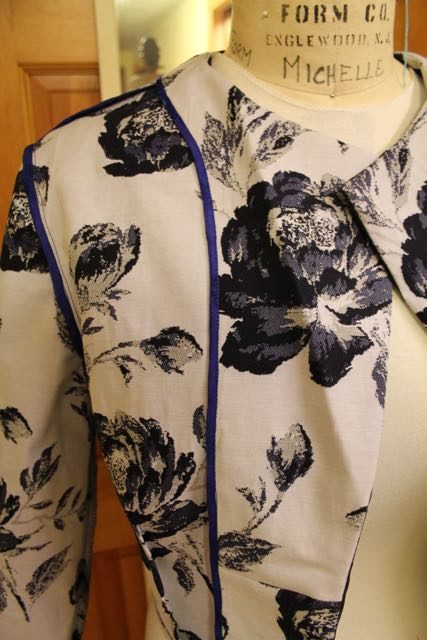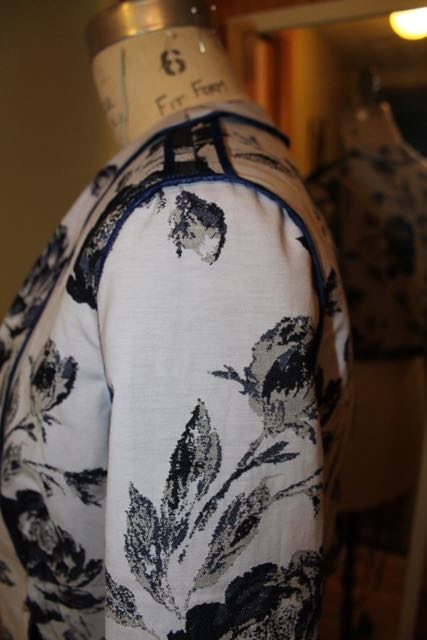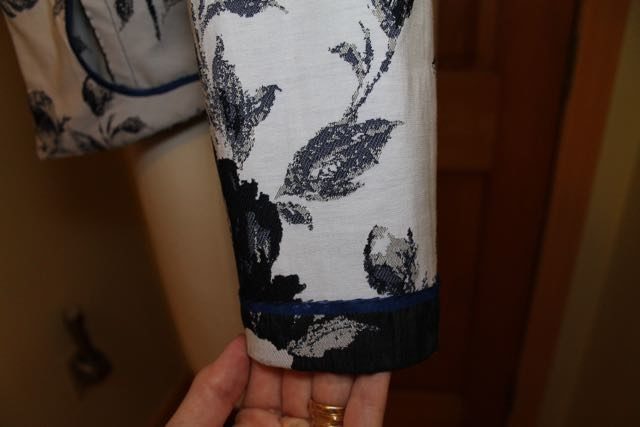 Likes/Dislikes: Cute jacket pattern that I think gets overlooked because of the easier pieces. The instructions? Typical Simplicity. This is one that will look great over a jumpsuit or jeans.
Would you do it again? Would you recommend it? Not sure if I'll do it again, but I do recommend it. Here are finished pictures on Shelley. It's supposed to be hot and soupy for the next several days so I will get pictures on me eventually.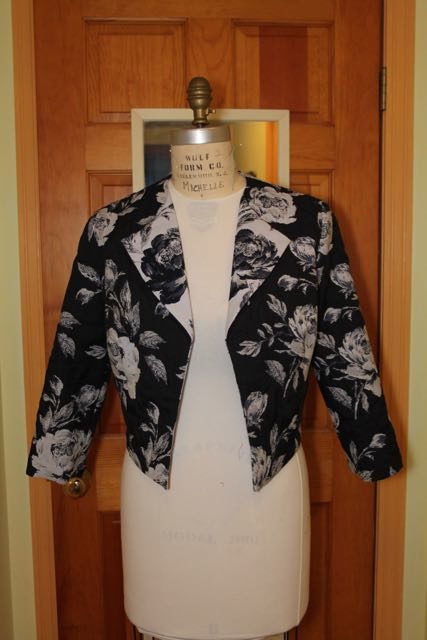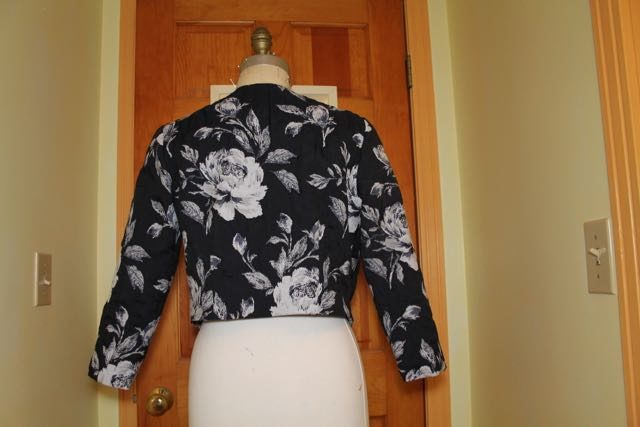 Conclusion: Cute jacket. Definitely worth a look beyond the pattern.
Happy sewing!