I'm working on a jacket today, Simplicity 1325.  Yesterday I was planning to make some knit tops that would transition from summer to fall, but I first decided to clean my sewing room at home. Seriously, it had been over a year since I have been able to see the entire surface of my sewing machine table. And don't ask me about the piles of interfacing lying on my little cubby cabinet. The room had become overwhelming to me, and I couldn't function in there, so clean clean clean it was!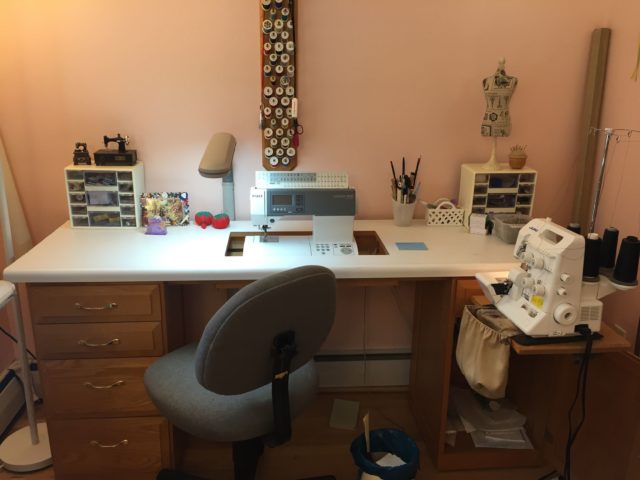 In the process of cleaning, I came across the aforementioned Simplicity pattern. It's got a rather cute Breton-inspired top, which is probably what induced me to buy it. And I thought about making that top with my knits. But then the jacket caught my eye.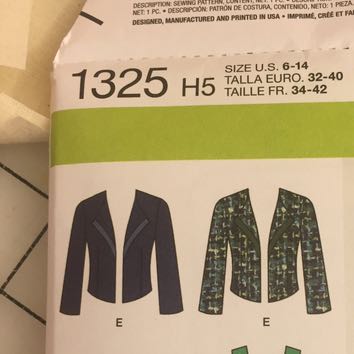 Change of plans. The knit tops can wait. They are somewhat sweatery, and it's hot. And on top of that, while cleaning my sewing room, I came across a remnant of a fabric that (sorry) sold out on Gorgeous Fabrics a few months ago. Eureka! One happy coincidence and I'm on my way.
As I was making a muslin, then cutting into my fashion fabric, I realized that of all the types of garments I make, jackets and coats are, by far, my favorite. If you look back through my blog, you'll see that I make lots of jackets, and I make a new coat about every two years on average. For me, they are the most rewarding. I don't know why. There's something about the tailoring of a really good coat, the setting of a sleeve, the pressing and everything else that goes into making a well-sewn jacket or coat that gives me immense satisfaction. Don't get me wrong; I love sewing other things, too. But coats and jackets are really the backbone of my wardrobe, and they give me the most pleasure.
So how about you? What is or are your favorite garment types to sew?
-Ann