Despite the drought and oppressive heat here in Boston, my sewing mojo has been in full bloom!


Pattern Description: From Simplicity's website – "Misses' peasant style blouse and dress features a shirring or bow tie neckline to create a chic look. Pattern also includes skirt and pant"
I made the bow-blouse/tunic, view D
Sizing: 8-22. I made a 12.
Available as a PDF? Yes
Fabric Used: Easy Care Paisley Charmeuse from Gorgeous Fabrics. That fabric is, alas, long since sold out, but Here's a Page with similar fabrics that would work well for this top (or the dress).
Machines and Tools Used: Pfaff 2130, Juki MD654DE serger, Naomi the Naomoto, ironing board, sleeve board, Clover Hold It Stiletto.
Needle/Notions Used: Universal 70/10 needle, Superior So-Fine #50 Thread (more on that later), Maxi Lock Thread (in the serger). Clear snaps, 1/4 inch elastic, Interfacing from stash.
Tips Used during Construction: Anything by The Pressinatrix, Quick Tip – Using Pins to Mark Start/Stop Points, Setting a Sleeve into an Armhole
Did it look like the photo or drawing when you got through? More or less (more on that in the Construction Notes section)
How were the instructions? Hmmm. I'll give you an anecdote. About a dozen years ago, when I toured Simplicity's then-headquarters on Park Avenue, I asked one of their folks about their instructions and why they were… less than I would like. Her response was, "We will never put more than 2 double-sided pages of instructions in an envelope." When I pressed her, using Claire Shaeffer's instructions as a counterpoint, her expression hardened and she said again, "We will NEVER put more than 2 double-sided pages of instructions in an envelope."
Ooooookay…
Moving right along,
Construction Notes: I made an FBA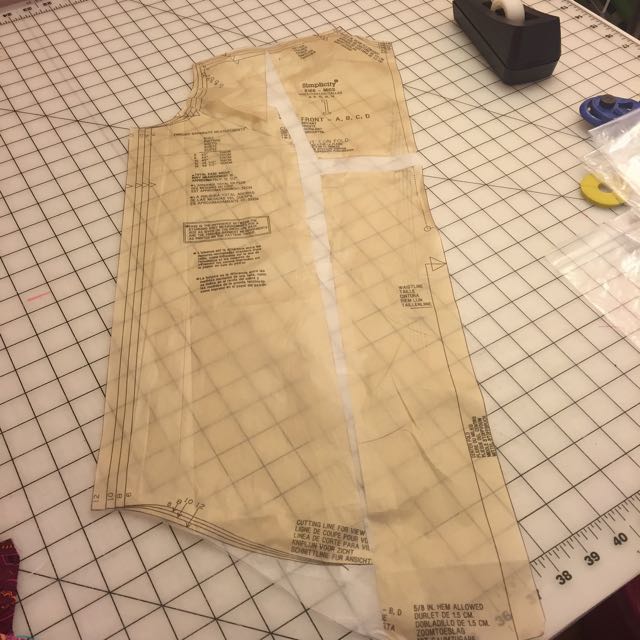 I did NOT like their method for inserting the placket. The elastic was too long, and it just looked Becky-Home-Ecky to me. I applied interfacing to the plackets and sewed them into the CF opening as you would a sleeve placket, with the plackets overlapping. Instead of elastic/button closures, I used clear snaps as closures. I thought about using decorative snaps, but the ones I have in stash are just a skoosh too big, so I went with these.
I also found, with this method of placket construction, that I needed only 5 snaps, instead of 8 buttons.
I used my favorite way of setting a sleeve, and if I do say, it works great!
One note: the sleeve elastic guide is WAY too big. You can see it in the pattern picture – the sleeve gapes away from the model's wrist. The guide for a size 12 is 9 inches. I only needed 7 1/4 inches. My advice is measure your wrist and add about a half inch to 3/4 of an inch. That's more than enough and it won't cut off circulation.

Likes/Dislikes: I like the look of this pattern. It's got a vaguely 70s vibe. I really dislike the way they have you construct the front closure, and I'm not crazy about the instructions in general.
Would you do it again? Would you recommend it? I probably won't do it again. I only need one of these blouses. Do I recommend it? Maybe.
Conclusion: Despite my reservations, I do like the way it turned out. If the weather ever cools here in Boston I'll try to get a picture of me in it. In the meantime, here it is on Shelley.

About the thread. I was contacted by a very nice man from Superior Threads earlier this year. He wanted to know if I would be interested in carrying their thread, and sent me several samples. This one just happened to match my fabric well, so I used it for this project. I was suitably impressed! It is quite fine, as the name implies. They recommend using an 80/12 topstitch needle with it, but I think they target a quilting market, rather than a garment sewing market. It worked fine with a Universal 70/10 needle. I like it because it doesn't shred. I've had a real problem recently with some Gutterman thread shredding as it feeds through my machine. I know it's not the Pfaff, since other threads don't have that problem. This thread seems to be strong enough to stand up to regular wear and tear. I'll let you know as time goes. I'm the first to admit I'm not a thread expert, but this one seems like a winner. I haven't decided if I'm going to carry it, but you can link to the manufacturer above. I receive no compensation for any links, and I am not affiliated with Superior Threads, so click through with impunity!
Not sure what I'm going to make next, but I'm hoping inspiration comes soon, since my mojo is going gangbusters.
Happy sewing!