Pattern Review: New Look 6428 Knit Dress
Update on May 23, 2016 It was a warm day today, so I said, "What the heck!" and wore my dress. I got three compliments on it. One from DS the Younger ("Nice dress, Mom"), one from DH ("Nice dress! When did you get that?" "I made it yesterday." "Wow, really? Nice!") and one from the young woman working the cashier at the grocery store when I stopped there after work ("I really like your dress!") I'd say this pattern is a real winner!

Pattern Description: From Simplicity's website, " These preppy Just 4 Knits dresses for miss are easy to sew and figure flattering for comfortable stylish wear. Dress can be long sleeve or sleeveless with round or notched neckline. New Look sewing pattern."
Sizing: 8-10. I started with a 12 at the shoulders, and tapered out to a 16 at the bust (to avoid doing a FBA). Then I made a 14 everywhere else.
Available as a PDF? No
Fabric Used: Lightweight Athleisure Cotton Jersey in Heathered Black/White from Gorgeous Fabrics (of course!).
Machines and Tools Used: Pfaff 2130 home sewing machine, Juki MD654DE home serger, Naomi the Naomoto, sleeve board, ham.
Needle/Notions Used: Stretch 75/11 needles, lightweight mesh invisible zipper from Botani in New York, Pro-Tricot interfacing from Fashion Sewing Supply (BTW, in case you need interfacing, Pam is having a big sale through Wednesday, May 25. NAYY, just a good friend and happy customer), thread.
Tips Used during Construction: Check the Grain on Knits, Tips and Tricks for Sewing with Knits, And Now, a Word from the Pressinatrix.
Did it look like the photo or drawing when you got through? Yes
How were the instructions? Good. Basic, but understandable. This is a well-drafted pattern and it goes together easily. For inserting an invisible zipper, I prefer Els' instructions from The Sewing Divas.
Construction Notes: I serged all major seams except the CB, which I sewed with the Pfaff. I serged the edges of the CB seam, catching the edges of the zipper. I also serged the raw edges of the facings.
I lowered the side bust dart one inch.
Since this is going to be a weekend dress/beach coverup for summer, I didn't bother doing a ton of fitting. I applied scraps of interfacing at the back shoulder seamlines before stitching to stabilize them. I undertstitched all the facings, and I stitched in the ditch along the seam lines and neckline darts to affix the facings. They still have a tendency to roll out, so I may tack them in several other places as well.
Likes/Dislikes: This is a really cute dress for casual wear. As I say, this is for my summer weekends and I'll wear it over a bathing suit at the beach. It reminds me of an independent pattern that I have seen, but it was a fraction of the cost and I like the neckline darts and the CB seam that gives you the ability to fit it easily.
Would you do it again? Would you recommend it? Yes I would do both. I am tempted to make this in the sleeved version. The fabric I used has some stretch, but I think that if you use a fabric with a lot of stretch you can eliminate the invisible zipper. In fact, if I make it again, I'll probably eliminate the zipper, sew the CB seam up to a few inches below the top, and add a button/loop closure so I can just pull it over my head.
Conclusion: Cute dress! I was able to make it from start to finish in less than one day (today). I definitely recommend it. Here are shots on Shelley:
Also this weekend, I made myself another StyleArc Alannah Tee. This one took me less than 2 hours yesterday from start to finish. I don't have much to say beyond what I said in my first review of this shirt. I made this one with Designer Viscose Jersey in Cashmere Rose. I love it – it's so comfortable! I'm wearing it now. Here's a shot on Shelley yesterday: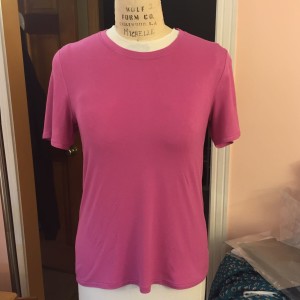 On top of all that, we got the tomatoes planted, put the kids' old bunk beds up on Craigslist, got DS the Younger a bicycle to take to college, swam Hoover and cleaned up a good chunk of the house. Dang, what a productive weekend!
Happy sewing!