Blog vs Instagram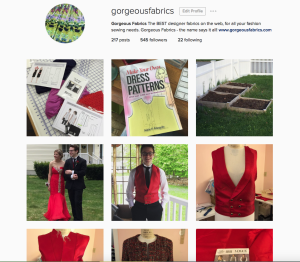 A blogger whom I admire (Bunny, in case you're wondering) just announced that she's taking a hiatus from blogging. Her explanation boils down to not enough time. She's certainly not alone in this. I've noted a slowdown in the blogosphere, at least in the little corner that I follow. You can see it in the blogroll to the right here. New posts seem to be fewer and farther between. I've even taken to removing links to blogs that haven't posted for more than a year (with a few exceptions).
My own posts have slowed from the prolific days of several years ago. It seems that the general influence of blogs has waned. Instead, I have observed a trend of people, myself included, turning to Instagram. I'm not a prolific Instagrammer, and I still have an aversion to selfies, but I find that Instagram is a great way to track works in progress, and to micro-blog, if you will, projects that don't merit a full post. For example, I made yet another StyleArc Ann Tee. I love it, but it certainly doesn't merit a full post on this blog. But a few quick snaps and ta daa! It's out there for all to see. A picture of my garden beds isn't something most of my blog readers are interested in, but it's easy to show on IG that I do things other than sewing and selling fabric.
I've pondered in the past if Blogging is Dead (or dying). I think it's certainly evolving. My blog is still a much better place for showing in-depth reviews and techniques. Unlike IG, I can take higher resolution and larger pictures for clarity and instruction. But Instagram gives that "quick hit" that I sometimes prefer.
So how about you? Are you on Instagram? Do you think it will take the place of blogging, be an adjunct to it, or something else?
May 30, 2016, ETA: Thank you everyone for your kind words about this blog. I really appreciate it! I'm not planning on quitting blogging. Really. And this wasn't a fishing expedition to get compliments or pleas to remain on the interwebs. I'm going to continue blogging – I enjoy it! 🙂 I'm really just commenting on the slowdowns and stoppages I've noted on other blogs. Thanks so much!