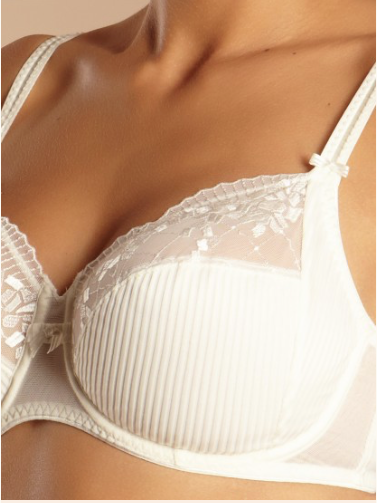 This morning as I got dressed, I realized it has been almost 2 years since I last got fitted for a bra. As you well know, I firmly believe that wearing a well fitted bra makes you look 10 years younger and 10 lbs. lighter. So when it hit me that all my bras were getting pretty old, I decided to get myself to Nordstrom to get fitted again.
Part of the reason I am such a cheerleader for getting fitted annually (ideally) for a new bra, is because your measurements change, even when other things stay the same. Weight gain, weight loss, a change in exercise regime, posture changes… all of these can mean the size of your bra needs to be adjusted. I'll use myself as an example. My weight hasn't fluctuated much (if at all) for the last 5 years. But three years ago when I got fitted, the best band size for me was a 36. Two years ago, because I started doing more spin and less weight training, I was right on the cusp between a 34 and a 36. Today, because I've been doing more barre and spin, I could have gone with either a 32 or a 34 (I like the feel of 34 better).
Now as a completely unrelated aside, WHY doesn't my waistline go down??? But I digress…
I had the pleasure today to work with Alison, who IMO is the best fitter at my local Nordstrom. There are great fitters everywhere. Ask friends who look good who they use, or go to a fit clinic at your local store. Macy's, Nordstrom and most other big stores have them a few times a year. You want to make sure that the band is taut, that the triangle between the breasts at the front (okay bra-making friends – there's a technical term for that, what is it please?) lays flat against your sternum with no gapping, that the edges of the cups don't cut diagonally across the tissue, that there's no "overflow" on the sides, and that the shoulder straps don't have to do all the heavy lifting (pardon the pun).
Something to remember about bra sizing – don't let the numbers (and letters) throw you. Every brand has its own fit model, so you might find that in one brand you are a 34D, while in another brand you are a 32G. Ignore the size on the label. Get the size that, as I like to say, "hoists 'em up and points 'em forward!" or gives you the fit you prefer.
I really can't stress enough how a good bra will make your clothes fit better. You don't have to spend a ton of money to get a good fit, but you really will be happier if you find someone who can help you get a well-fitting bra.
One other thing to mention here is that I hand-wash and line dry all my bras. They will last for years if you do that. You don't need fancy-dancy lingerie wash, either. I use either shampoo or body wash (not the kinds with conditioner or moisturizer in them) and they have worked just fine for me. I wash mine after every wearing. I know I have seen articles on Vogue.com that recommend washing a bra after wearing it 5 times, but that's just not my jam, and washing after each wearing hasn't had any ill effects as far as I can see.
Oh, and a happy side note? Alison, the fitter at Nordstrom, adjusted the bra I was wearing so it fits better. All my bras aren't at EOL! Some of them are, but others just need a tweak here and there and they have another couple of years!
Happy sewing!