Favorite Garments of 2015
I'm Not Generally One for Looking Back on the year past, but 2015 was a good year for things in my wardrobe that I just love, so here are my top 6. Yeah, I know – "What? Top 6? I thought it was Top 5?" What can I say? I'm a rebel. From number 6 favorite to number 1, these are the garments that I pull out of my closet or bureau and feel great wearing:
Number 6: Another Karen Short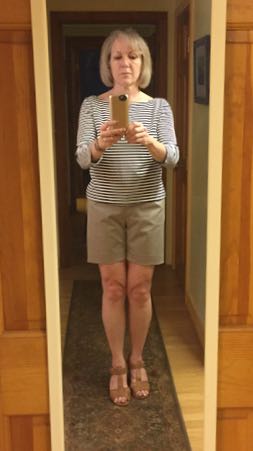 It was a toss-up between these shorts and my Modified Kwik Sew Duster (okay, yes, I cheated and it's technically 7 winners, but indulge me). The reason this one made the list is because I wore these incessantly from when I pulled them off the ironing board until the cold weather hit. That was about a two week span, here in Boston, so I am sure they will get lots of wear next summer. Plus I got some very good feedback on this pattern that helped me make the second one better. Thanks GOMI!
Number 5: Liesl & Company's Maritime Top
Surprised by this? I am. When I made this top, I was unsure of it. It didn't fit the 'fit profile' I was searching for at the time. But I thought it would be nice to do a compare/contrast between indie and big 4 Breton-style tops. Well. Over the months, this gets pulled out and worn on a very regular basis. So it's a winner, and I will definitely make some more.
Number 4: Another StyleArc Kate Dress
After 2014's Wrapapalooza, you might think I'd be tired of wrap dresses. Nope! Love them still, and this Kate Dress from StyleArc is one of my favorites!
Number 3: Sex and Drugs and Rock and Roll Dress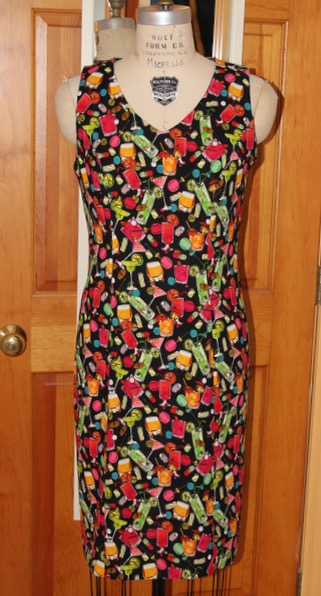 You know, I don't buy from other fabric stores often, but when I do, it's spectacular fabric that I can't lay my hands on. I have worn this dress three times so far this year, and every time I get stopped by people asking me where they can buy it. It's a testament to this dress and fabric that I'm going to wear it tomorrow night to ring in the New Year.
Number 2: Paco Peralta's Cassock Coat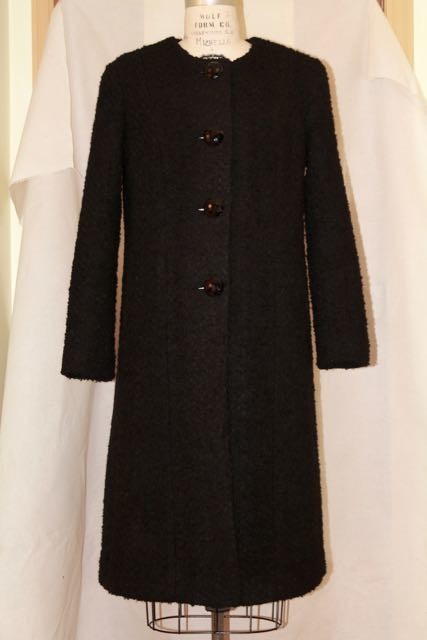 If a piece of clothing could be the Perfect Man, this would be it. This coat is so beautifully drafted, yet so simple, that it sets off the wearer (that would be me) beautifully. It inspired DH to buy me a vintage Hermès "Petite Mains" scarf for Christmas to go with it (love that man!!). Paco – your designs are GORGEOUS!
Number 1: The Wedding Gown Refactor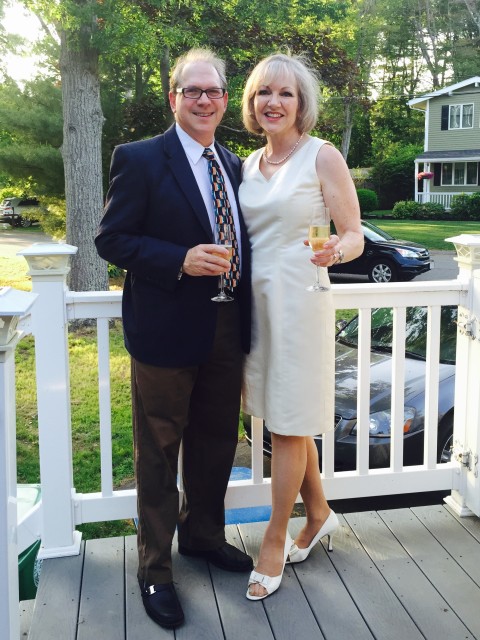 This year, I took a Princess-Di-inspired wedding confection and turned it into a sleek sheath dress for my 30th wedding anniversary dinner. I married the perfect man, and I wore the perfect dress then and gave it new meaning for now.
Have a safe, happy and wonderful New Year, everyone!