Pattern Review: StyleArc Lori Jacket
I hope you had a restful, wonderful Christmas, whether you celebrate the holiday or not. We had a lovely time. Friends came over on Christmas Eve, then Christmas was spent just with family. And the rest of the weekend was filled with sewing! I had started working on StyleArc's Lori Jacket, and of course with the holiday brouhaha, I wasn't able to get too much done, until yesterday, when I went into the sewing room and didn't come out! To whit:

Pattern Description: Simple zip front jacket pattern with a designer look. The interesting back design lines along with shaped hem bands gives this jacket a great shape. Use your design skills to create a unique look by your selection of braids/trims.
This jacket is fully lined. But can be sewn unlined if preferred. (I lined mine)
Sizing: 4-30. I made a 10.
Available as a PDF? I don't think so.
Fabric Used: Italian Designer Bouclé – Green/Gray/Apricot/Lemon. Wow I actually got to use a fabric before it sold out! But there isn't much left…
…annnndd… it's gone. You can see other bouclés Here
Chocolate Brown Silk Habotai lining. It's sold out, but you can see other colors Here.
Machines and Tools Used: Pfaff 2130 home machine, Naomi the Naomoto, Juki M0-654DE home serger, ham, ham stand, shoulder stand, sleeve board, clapper.
Needle/Notions Used: Universal 70/10 needle, Pro Sheer Elegance Interfacing from Fashion Sewing Supply (OMG – this stuff is GREAT!!!!), bias strips of silk organza, two square scraps of silk organza for stabilizing the back miters, custom sized Lampo separating zipper from Botani in New York, shoulder pads, sleeve heads, thread.
Tips Used during Construction: Anything by The Pressinatrix (BTW, did you know that she and I have an article in the current issue of Threads Magazine? I hear it's great!), Easy Way to Keep Track of Pattern Pieces, Make the Lining First, Appliqué Foot For Precision Sewing, The Case for Muslins.
Did it look like the photo or drawing when you got through? Yes
How were the instructions? They were pretty good for StyleArc. This jacket is rated as challenging to only for the experienced sewing. I think that's fair, but it depends heavily on the fabric you use. I whipped this up in just a couple of hours when I made the muslin. Now granted, I didn't do all of the steps (no lining). But I think if you use a firmly woven wool, or a denim or similar, this is appropriate for intermediate or brave advanced beginning sewing folks.
If you use a bouclé, then gird your loins and be prepared to take some extra steps. I think some of the instructions will work great for certain types of fabric, but can court disaster with loosely woven fabrics, especially if you haven't lots of experience (I don't recommend this pattern in its unaltered form for, say, a Linton tweed). More in the next section…
Construction Notes:
Test Your Fabric with Narrow Seams: I used a somewhat loosely woven bouclé to make this. If you use a fabric like this, you might want to do some things to ensure you get a great result. The pattern instructions have you interface all the garment sections/facings, except the sleeves. The pattern also uses industry standard seam allowances (3/8 inches) and facing allowances (1/4 inch). These can be dicey on certain fabrics. So know your fabric and how much it ravels before going in. You may wish to extend your seam allowances during cutting and construction to give yourself some breathing room.
Make some test runs of the trim before you cut/sew: StyleArc gives you guidance on using trims and store-bought binding for finishing your seams. I didn't see any binding fabrics that I liked, and my bouclé is too bulky to do a bias binding, so I ended up inserting my trims differently. I did self-fabric fringe attached to bias silk organza:
I'm not sure exactly where I learned this method; it was probably from Kenneth King or Claire Shaeffer. It's a fantastic method for inserting fringed trim without adding bulk to your seams.
Here's a fun little bit of trivia. I realized that the colors in this bouclé are directional. If I cut the trim on the straight grain and then fringed it, the prevailing color was orange and green. If I cut it on the crosswise grain, it was slate blue and gray. I decided to use one direction at the shoulders, and the other at the neckline and hem.
I also went back and forth about using an exposed zipper. I was originally going to do an exposed zip with fringe underneath, but it was really bulky. Unfortunately, the exposed zipper without the fringe looked like an afterthought, so I decided to forego the fringe on the center front and insert the zipper in the more traditional manner.
StyleArc's instructions have you construct the back by sewing your back and side back pieces together to the mitered corner, then drop your needle into your fabric. clip to the corner and then turn and keep sewing. This can work, but it can also court disaster with a bouclé (and even some more firmly woven fabrics). Instead, I reinforced the corners with scraps of silk organza, clipped to the reinforced corners before I sewed the seams, and pivoted around the reinforced corners: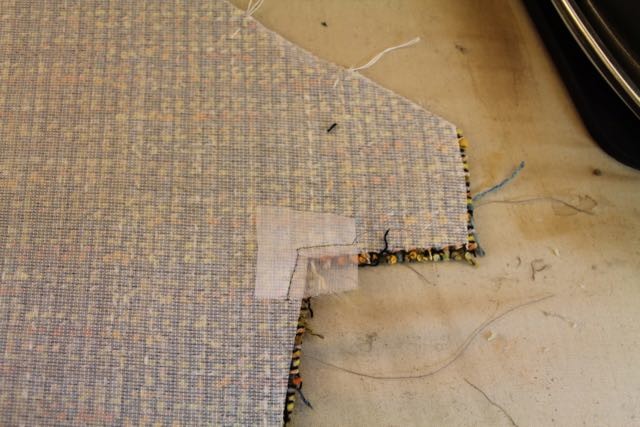 Pattern Errata:
This pains me, but I have to let you know about problems with the pattern. I've already alerted the folks at StyleArc. There are several missing notches. There are missing notches at the center front band, the waist bands, and the shoulders. And there is an error on the shoulder yoke piece. It indicates "Front", where it should say "Shoulder". If you have the pattern and have questions about it, email me and I'll send you a picture showing the corrections.
The good news is that the pattern is drafted well enough that the missing notches are a minor nit and don't affect the construction. That shoulder yoke, though, needs to be fixed. If you make a muslin (make a muslin!) you'll find the issue right away and can work through it.
Other Salient Stuff…
I used a trick from Susan Khalje and cut the under sleeve (and under sleeve lining) on the bias for ease of movement.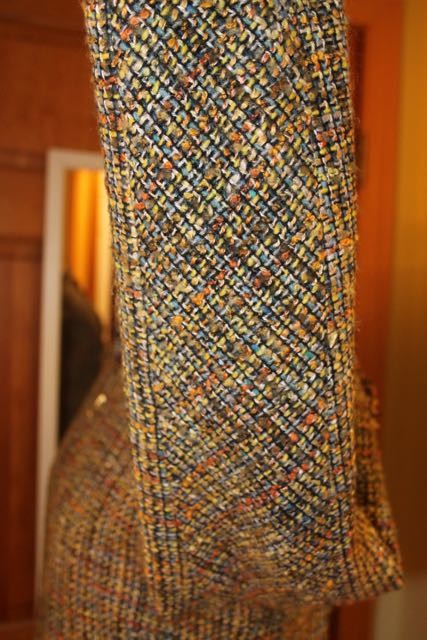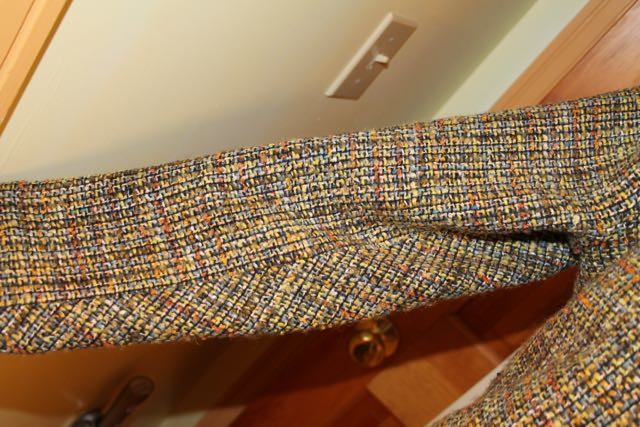 I also did a small FBA.
Likes/Dislikes: I like the lines of this pattern. It needs some QA to fix the notch issues, but it goes together beautifully on the whole.
Would you do it again? Would you recommend it? Yes, and yes with caveats. I will definitely make it again. I think I will make any future version without fringe and just let the lines speak for themselves. It's got a very McQueen feel to it if you look at the design lines. It's a good pattern for the intermediate or beyond sewing aficionado. I think it would be fun to make with a hook/eye tape closure instead of a zip.
Conclusion: Another great entry from StyleArc. Here are a bunch of shots on Shelley: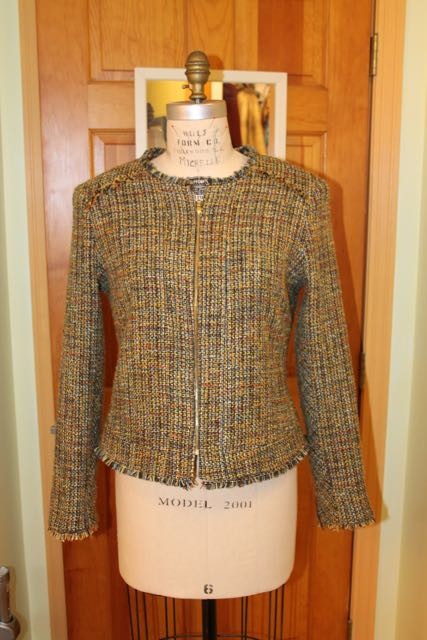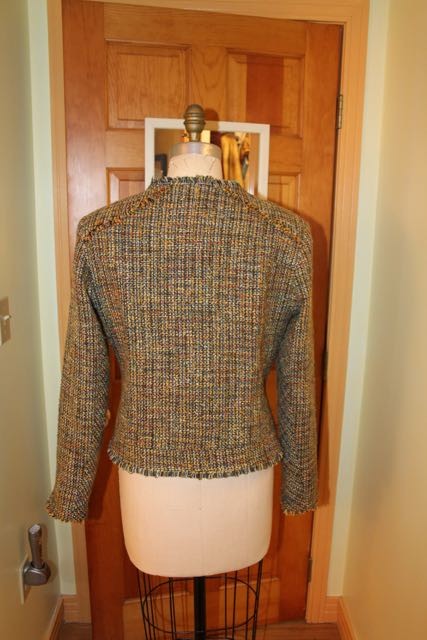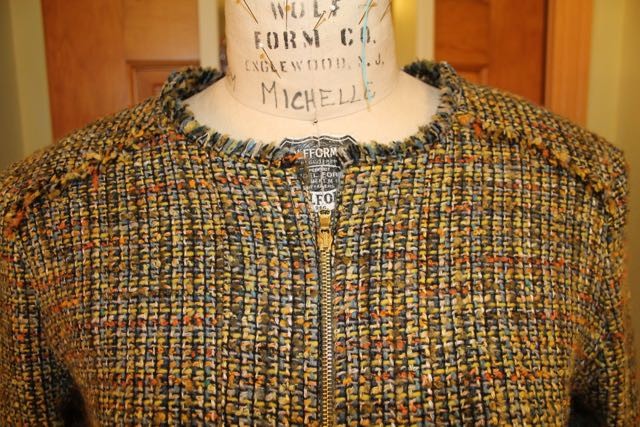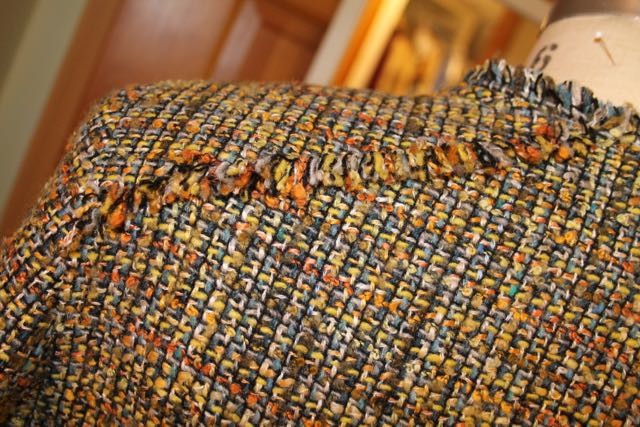 Happy sewing!