Pattern Review: BCN Unique Patterns Cassock Coat
ETA on October 19: Paco was gracious enough to send me a sizing chart for his patterns, which I have added at the bottom of this post. Thanks, Paco!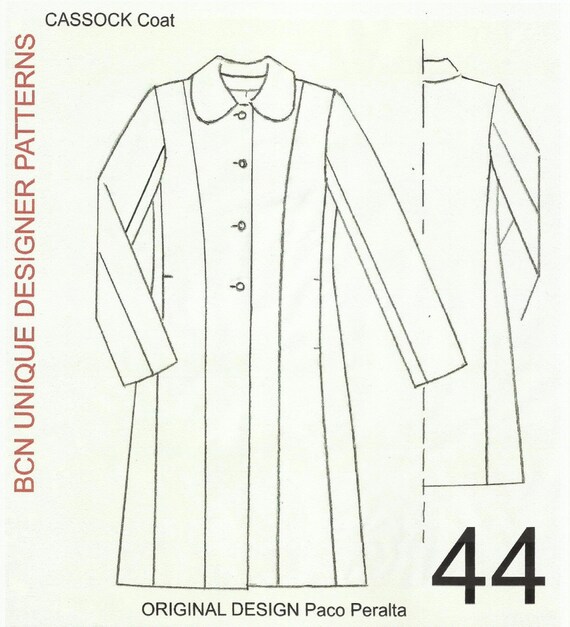 a.k.a. "Paco Peralta's Cassock Coat" I'll preface this review with the disclosure that Paco is a dear friend of mine, so I am undoubtedly biased in my opinions. That said, I paid full price for this pattern. I get nothing for any recommendations I may make. I did not contact Paco about it nor did he ask me to blog about it. So go ahead and read and interpret my review with however many grains of salt you think are warranted. 🙂
Pattern Description: Pretty close fitting, lined, shoulder-princess-line coat. In-seam pockets and two piece, shaped sleeve. Button closure. Choice of rounded collar or collarless. I made the collarless version
Sizing: I believe this comes in 38-50. I made a 42.
Available as a PDF? No. Each pattern is hand drawn. How cool is that???
Fabric Used: A really wonderful pre-interfaced mohair blend bouclé from Gorgeous Fabrics (of course!). Alas, it is sold out, but You Can Find Similar Fabrics Here. For the lining, I used a Yves-Saint-Laurent-Pink silk charmeuse that has been in my stash forever. It may have come from Gorgeous Fabrics, but I've had it so long it might even predate the business. Don't you love having a stash?
Machines and Tools Used: Pfaff 2130 home machine, Naomi the Naomoto. Tailor's ham, shoulder stand, silk organza press cloth, strips of file folders for pressing. If I think of anything else I'll let you know.
Needle/Notions Used: Universal 80/12 needle for the bouclé, Universal 65/9 for the lining. "Cigarette" sleeve headers and Japanese basting thread from Susan Khalje (full disclosure, also a friend, but again, no affiliation and no solicitation). Japanese hand sewing needles that were a gift from a friend. Vintage shoulder pads, silk organza scraps, thread, buttons (temporary).
Tips Used during Construction: Anything by The Pressinatrix, Using Pins to Mark Start/Stop Points, The Case for Muslins
Did it look like the photo or drawing when you got through? Yes
How were the instructions? There are none. If you have a working knowledge (i.e. you consider yourself intermediate or thereabouts in your sewing skills), you should be able to work out the construction. These patterns are so beautifully drafted that they sew together quite easily. If you have a good sewing book handy, you are good to go.
Construction Notes: You can see most of my construction notes in my post about the Coat's WIP. I ran up the muslin, and because the fabric is pretty thick, I added about 1/8 inch to the seamlines below the bust. The good news? I didn't need an FBA, and I didn't need to lower the bust point. THANK YOU PACO, on behalf of real women everywhere!!
Other than that, I didn't make any changes.
I made buttonholes with my Pfaff, and I bought some inexpensive buttons at the local JoAnn. My friend Rosie is going to Paris soon and she volunteered to get me buttons while she is there. These look fine, but oo la la – I can't wait to see what she comes back with!
Likes/Dislikes: How do I love this coat? Let me count the ways… Seriously, I love that I did't have to change the bust point from a 13-YO-model bust to a real-woman bust. I love the fit through the shoulders. I love the lines. Really, there's nothing I don't love about this coat. I put it on (no makeup today so no pictures of me in it, sorry) and showed it to DH, and his reaction was, "That's so elegant!" That's why I married that man!
Would you do it again? Would you recommend it? Yes and yes! I'm thinking about shortening it and making a car-coat length. One thing to note is that this doesn't have the massive amounts of ease you may be used to with some coats. In the 42, I can wear sleeves, but not a chunky sweater underneath it. So if you want to wear thick garments underneath, you may want to adjust the pattern or go up a size.
Conclusion: A FABULOUS pattern. I love it, and it will get lots of use this winter and many to come. Here are pictures of the finished coat.
I just love this coat. I'll wear this with a scarf at the neck and boots for the winter. This is a wonderful pattern and I really recommend it.
Happy sewing!
BCN Unique Patterns Size Chart: