Wow – I honestly didn't expect as much discourse as my Last Post generated. But the discussion is really interesting so please keep it up! And a warm welcome to those who are new to this blog. Lots of new visitors this week and I hope you'll take a look around. If you click on the categories, I try to break things down. Ones that I hope are particularly useful and/or amusing are the Tips, Tutorials and Pressinatrix categories. Have fun, I hope it's helpful.
While all that was going on, I found a little time to run up one last pair of shorts for the summer. I used the StyleArc Karen Walking Shorts, the Shortened Version I made up earlier this month. I made a couple of minor changes that I'll go over here.
First up, I decided to use jeans-style patch pockets on the back this time. I did a chalk trace-off of the pockets from my favorite pair of jeans (good old Gaps). That pocket is big enough to hold my phone, and it's not so big that it does weird things to my butt.
Second, I spread the waistline alterations around. If you recall from my last version, I had to take 2 inches off the waist to make it fit properly. Last time I took it all at the CB seam. This time I spread it around to the side seams as well, taking about ½ inch from each side and 1 inch from the back.
I used Mr. Tweedy Lightweight RPL in Light Tan for the main fabric and quilting cotton from JoAnn that I used for DS the Younger's Prom Vest. You know, I try really hard not to criticize other fabric stores, but this cotton is really crap. My son chose it for a vest, because it fit the criteria he wanted (mostly clashing violently with his date's dress, since she broke up with him a week before prom). I have worked with good quilting cottons. This is not one of them. But it will do for this.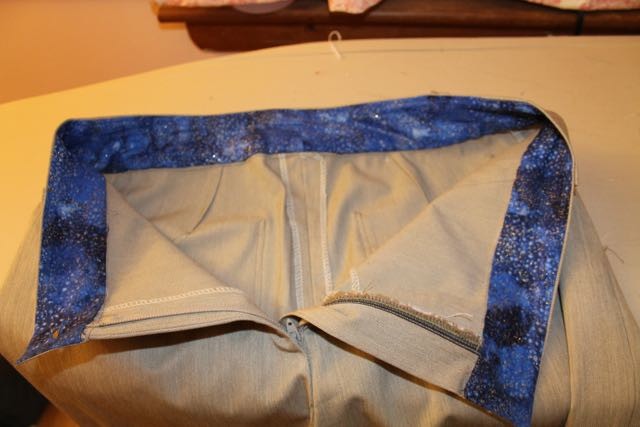 I got some (kind of deserved) hell for my finishing of the insides on the last version of this pattern. Whatever. This is the only time all but one of you are ever going to get into my pants. Anyway, this time I hand sewed the facing to the waistband seam. I stitched all seams with a straight stitch and finished all seams and pocket edges with a 3-thread overlock.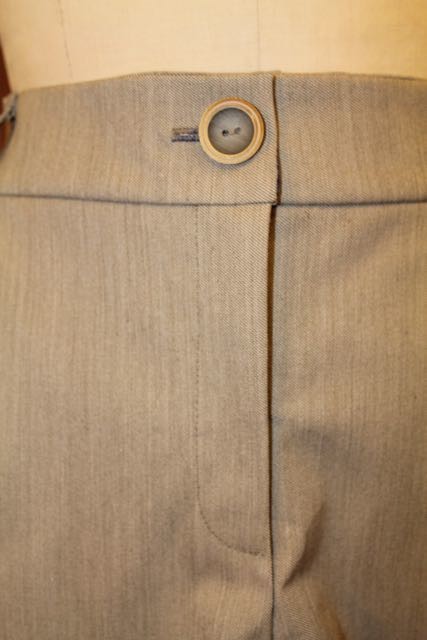 Because of said hell that I caught, I used blue thread in the bobbin to match the facing, and beige on the outside to match the fabric. All kidding aside, it does look nicer. But it has one unexpected side effect. This time, instead of using hooks and eyes to close the waistband, I used a button. The button stitch ended up pulling up some of the blue bobbin threads to give a slightly ombre'd effect. It's actually kind of cool.
Other than that, I did everything else similarly to the last time. I wore these out to dinner with DH and BFF tonight, and they are so comfortable! Here are some pictures both on Shelley and (gasp!) on me.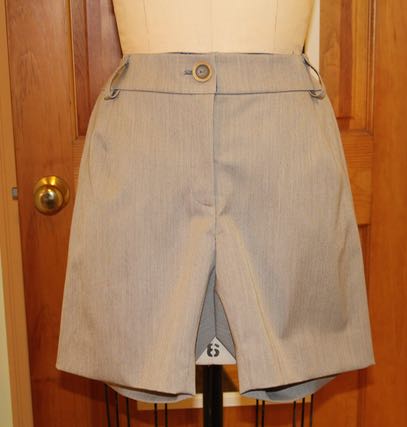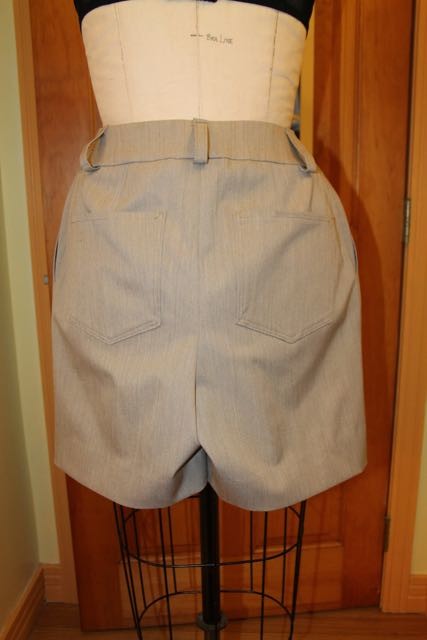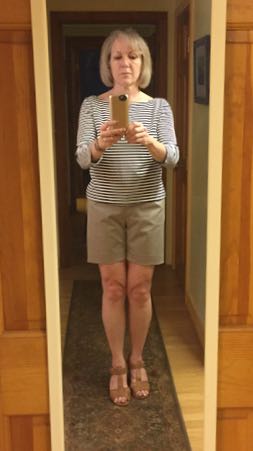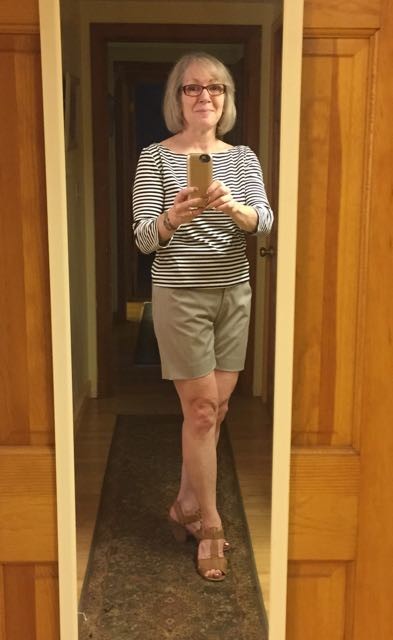 So once again I recommend this pattern. It's easy, classic and comfortable.
Happy sewing!