Pattern Review: Liesl & Co. Maritime Top

Pattern Description: From Liesl & Co.'s website, "This simple pull-on top is designed for knit fabrics with a little or a lot of stretch. View A features three-quarter-length sleeves while View B has short sleeves. Both styles include a bateau neck with topstitching detail and simple side vents, as well as a flattering fit."
I made the ¾ length sleeve version. I will add that this pattern has a dropped shoulder, not obvious from the technical drawing, but clear if you look at the photograph, and obvious once you make it.
Sizing: 0-20. Based on my measurements I made a 10, straight out of the envelope.
Available as a PDF? Yes
Fabric Used: (Sold out, sorry) Striped reversible jersey in blue and white from Gorgeous Fabrics (of course). That's sold out, but there are lots of alternatives Here.
Machines and Tools Used: Pfaff home machine, Juki home serger, Naomi the Naomoto, ironing board, shoulder stand, sleeve board.
Needle/Notions Used: Stretch 75/11 needle, scraps of fusible interfacing to stabilize the shoulders, thread. That's it.
Tips Used during Construction: Pretty much anything by The Pressinatrix. Tips and Tricks for Sewing with Knits.
Did it look like the photo or drawing when you got through? It looked like the photo. A little less like the line drawing, which seems to show set in shoulders.
How were the instructions? They seemed good. I didn't use them except to check the seam allowance and hem depths.
Construction Notes: I have only seen one review of this pattern anywhere online, and the lady who reviewed it noted that she didn't like the facings and wished she had used bindings instead. Taking that to heart, I made a very simple binding for the neckline, using the reverse of the fabric.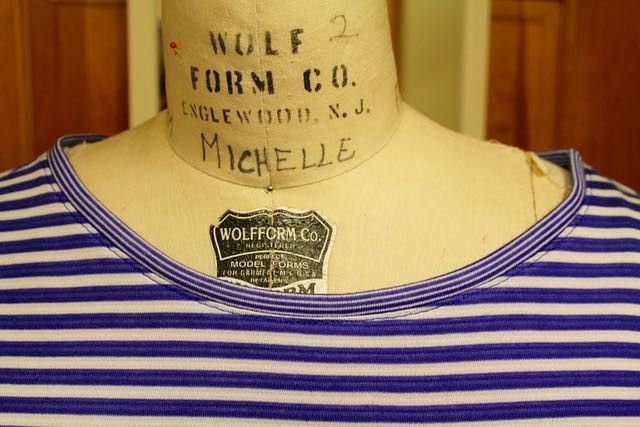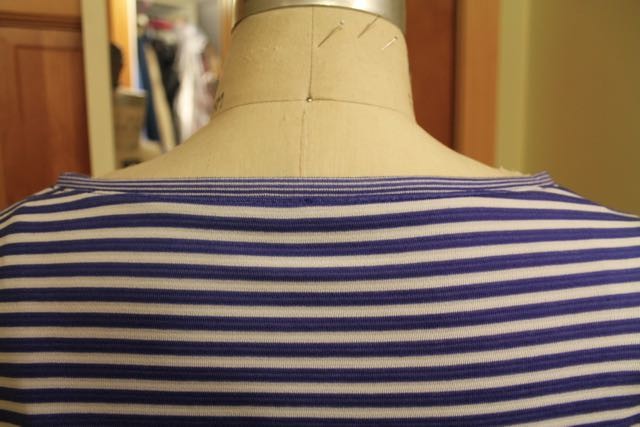 If I do it again I'll draft a band that hugs in a bit better at the shoulders. But this isn't terrible.
I serged all the seams, and I finished the hems with a double needle.
Likes/Dislikes: Based on the measurements – both flat pattern and finished garment, I decided not to do a FBA/dart (the instructions are included in the pattern, thank you Liesl!) just to see how it looked. In retrospect I wish I had done the FBA/dart, and I would do it in the future. I like the fact that this version of a Breton top is bra-friendly. I'm not as wild about the fit. I don't care for the dropped shoulder, and even with a dart it seems to have more ease than I like in a top like this. But if you like a looser-fitting top and you like a shoulder line that is dropped, then this is a very good choice and an easy garment to sew in just a couple of hours.
Would you do it again? Would you recommend it? Hmmmmm. I doubt I'll make it again. It's a decent top. And like I say, it suits a certain style. Don't get me wrong – it has good bones and it's good for a lot of folks, but I like the shape of the New Look pattern I made better. Here are pictures on Shelley:
Conclusion: A nice basic, loosely fitted top.
Happy sewing!