a.k.a. Zip zap zum


Pattern Description: (From McCalls website)MISSES'UNLINED JACKETS AND DRESSES: Close-fitting, unlined jacket in 2 lengths has front extending into single-layer tie ends(wrong side shows). Very close-fitting, pullover dresses. E and F: front seam detail, bias upper/middle fronts, and lower front/back (cut on crosswise grain of fabric. All have narrow hems.
I made View D, the plain and simple maxi dress.
Sizing: 6-22
Available as a PDF? Yes
Fabric Used: Chevron print abstract smooth faced jersey from Gorgeous Fabrics (naturally). It's sold out, but You Can Find Similar Here.
Machines and Tools Used: Pfaff 2130 sewing machine, Juki home serger, Naomi the Naomoto iron, pressing ham, shoulder stand.
Needle/Notions Used: Stretch 75/11 needle. Scraps of interfacing for stabilizing the shoulder seams, thread. That's all.
Tips Used during Construction: And Now, a Word from the Pressinatrix
Did it look like the photo or drawing when you got through? Yes
How were the instructions? I didn't really use them. I took a cursory look at them and they seem fine.
Construction Notes: It doesn't get easier than this. Cut out, sew side seams, make narrow hems at neckline, armholes and bottom hem. Done.
I serged the side seams, and I used a narrow (1mm by 3mm) zigzag stitch for the hems all around.
I have a technique for narrow hems that helps me keep them even. Before I start on them, I sew a line of basting stitches at the 5/8 inch (in this case) hemline. That serves as an exact guide when I fold my hems and it keeps the hemlines from getting all ripply.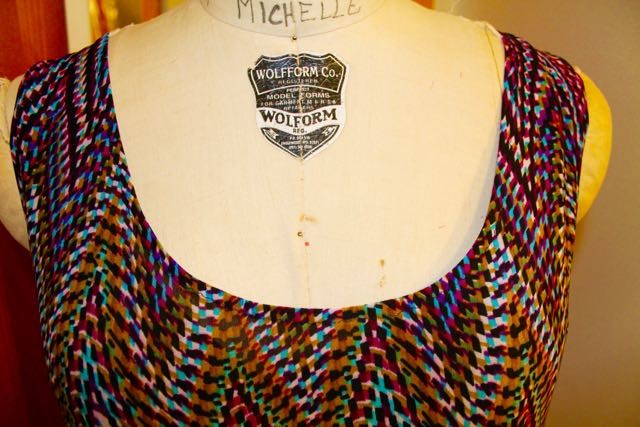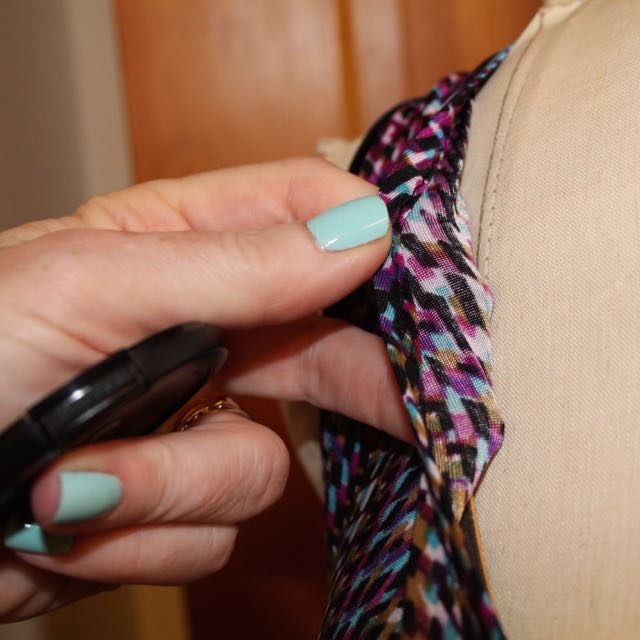 Likes/Dislikes: Do you want an easy, simple pattern that sews up in under an hour from start to finish? Here you go. I wanted a cool easy dress for summer. This fits the bill perfectly. And since JoAnn had McCalls patterns on sale at 5 for $7 this past weekend, the timing couldn't have worked out better.
No real dislikes.
Would you do it again? Would you recommend it? Yes and yes. I'm serious when I say this is about as easy as it gets. Here it is on Shelley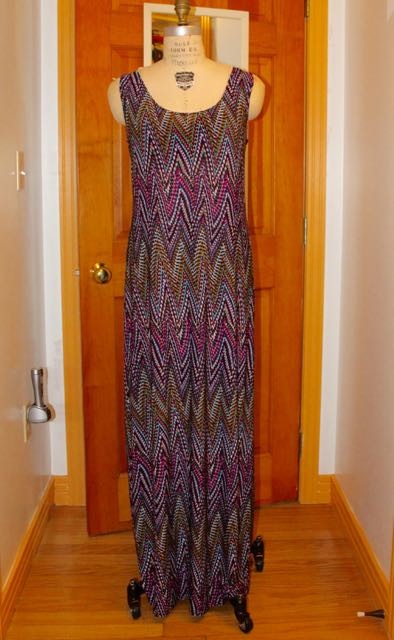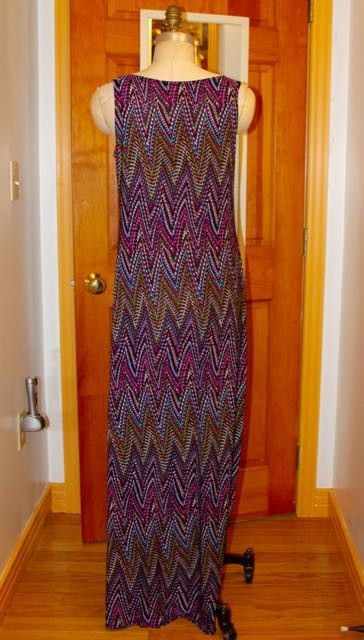 Conclusion: What's not to love? It's easy, it's quick, it's comfortable. Great for summer!
Here's a fun challenge. Anyone notice anything about this dress? My rendition, I mean, not the pattern in general.
Anyone?
🙂
Happy sewing!