In my review of New Look 6838, Tina commented,
I am intrigued with this modification of using the piece of fabric across the shoulder. How & where would I attach that fabric insertion?
I had already started on a sleeveless version of the top with the extra striped fabric, so I figured I would do a quick version to show you. This is more brute force than elegant. But in the words of Jim Blinn at the Jet Propulsion Laboratory, "Brute force is a wonderful methodology." So here's what I did.
Cut two rectangles of fabric, measuring 3 inches by 5 inches.
Fold the rectangle in half lengthwise, so you have a 1.5 inch by 5 inch strip.
Stitch or serge the long raw edge.
Turn and baste your neckline hem, then position the fabric strips underneath at the shoulders, and pin them to the garment, having the serged edges even with the edge of your neckline hem, and the folded edge extending out about 1 inch from the shoulder seam.

This is after it's been sewn in, but you get the idea.

Stitch the neckline hem down, catching the fabric strips in the stitching
Trim away any excess fabric.

Trim any excess strip fabric underneath.
Ideally, you should insert these and finish the neckline right after sewing the shoulder seams, but before attaching sleeves or sewing the side seams. If I do it again, I would probably draft a pattern piece, but this works in a pinch. Here's a view of the finished front: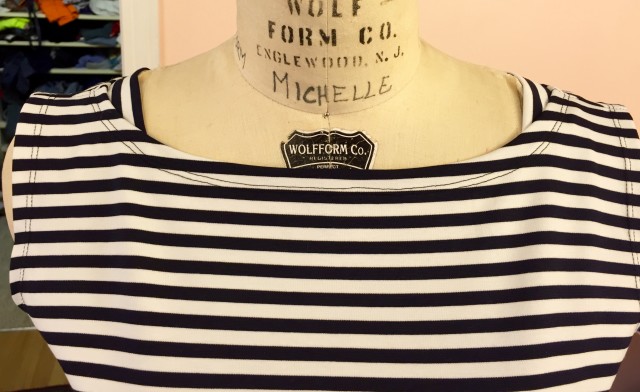 This keeps those pesky bra straps under wraps! Hope that helps and…
Happy sewing!
ETA 6-9-15: Dear Simplicity, Leaving sleeves off a sleeved top does NOT magically make it a well-drafted sleeveless pattern. Take a clue from StyleArc and give different front and back pattern pieces. #lazydrafting #grrrrr #thatgoesforyoutoomcvoguerick