Tough, you're getting one. 😉
As you may know, this weekend is both Easter and Passover. For the first time in a very, very long time we have no big plans. I'm not singing (yay, retirement from singing!), we don't have a crowd coming over for dinner – heck, even DS the Elder is not coming home from college because he's in the thick of studying for the next set of exams. But it's a holiday, I like wrap dresses, I want to be a picture of domestic bliss cooking a ham dinner in a pretty dress, so I decided to make another StyleArc Kate Dress.
Okay well, seriously, I've been wanting to make another since I finished my first Kate Dress during last year's Wrapapalooza. Easter as an excuse? Works for me!
You can read The Original Review to get the gist of how it went together. I'll just highlight the differences in this one. First, I made it with Bamboo Nights ITY Jersey from Gorgeous Fabrics (on sale this weekend for 20% off, BTW).
The other difference between this version and the first version I made is that I finished the neckline edges with a ½ inch band, To do this, I measured the length of the neckline edge, starting at the belt, going up and around the back neck and down to the other belt (which in a size 10 is 40 inches – how convenient). I cut the band to be 38 inches by 1 ½ inches. I folded the band in half along the long edge, and serged it to the neckline edge, stretching the band to match the neckline edge. This snugs the neckline a bit.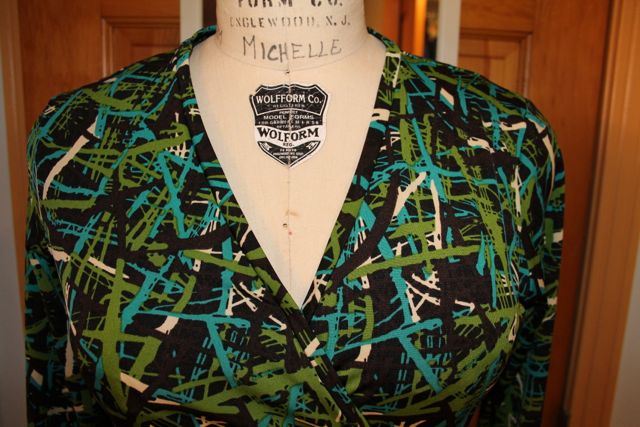 It also adds just a bit more coverage at the center front, though I have found I don't need more coverage with this particular pattern. You can make the band wider (or narrower) to suit your taste.
Finally I used Emma Seabrooke's SewKeysE More than Extremely Fine SSI Knit Stay Tape at the hem (not the sleeves). I've heard good things about her tapes, and I have to say, so far I am suitably impressed! This makes it easier to hem, but doesn't add any stiffness or bulk. I bought several different tapes from her last month, and judging from my first impressions, I think I'll use them a whole lot in the future. NAYY
The dress went together beautifully, and here are pictures on Shelley. If the weather is good on Sunday (they are predicting snow????!!!) I'll get pictures on me.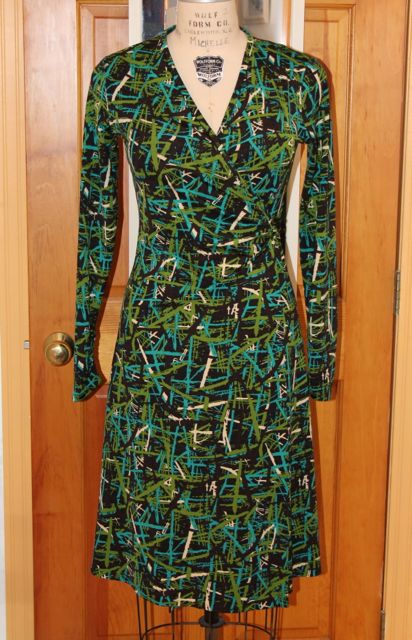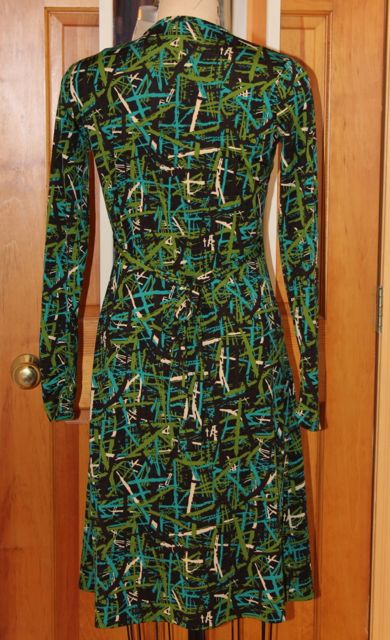 And really, I do promise to do the post on necklines for wrap dresses. I just have to prep a bunch of samples and my sample mojo has disappeared… Soon, though.
Happy sewing!