I'm making a sleeveless blouse, and the pattern calls for an invisible zipper at the neckline. Since I am using a lightweight stretch silk charmeuse, I want a zipper that won't be too heavy for the fabric. When I was making my lace dress late last year, I bought a mesh-tape invisible zipper at Botani in New York. That type of zipper is perfect for this, but I don't have near-term plans to go to New York again, and Botani doesn't sell that type of zipper on their website. It was Sunday and they are closed, so I couldn't call them to order one. Being impatient, I went online and did some hunting. That was how I found ZipperShipper.com.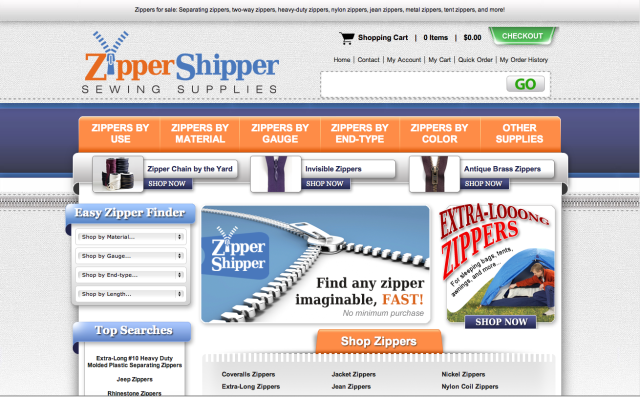 What do they sell? Zippers of all types, as well as other notions like chalk, interfacing, knit cuffs and waistbands for jackets, buttons, etc. I bought 10 zippers in all: 5 white mesh tape and 5 black mesh tape invisible zips.
How is the Selection? Pretty good. They have lots of colors of the more "standard" zippers. They only have 4 colors of the mesh-tape invisibles (black/white/pink/blue), so if you need a special color other than those, you can't buy them on the website.
How are the prices? Excellent. My zippers were $1.79 each. I'm trying to remember the price of the zippers at Botani, and I can't recall exactly, but they were somewhere between $7 and $10 each.
How's their site? Good. Easy to surf, items are arranged in a way that is easy to find what you are looking for.
Is it a SSL (secure) website? Yes. They use Authorize.net
How is the customer service? Excellent. The order went through without a hitch. I was promised my zippers by Friday and they arrived today.
Where are they Located? They ship from Virginia
Do they ship internationally? Yes
So, thumbs up or thumbs down? Big thumbs up! Excellent prices, excellent service, lightning fast shipping. The downside is that you can't get all the colors of the rainbow for that particular zipper, but you can't beat the price.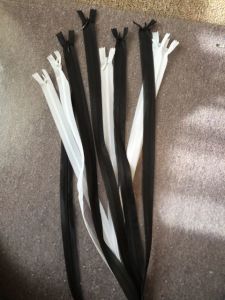 I will definitely use ZipperShipper again, and I heartily recommend it!
Happy sewing!