Pattern Review: Paco Peralta's Long Sleeve Drape Front Top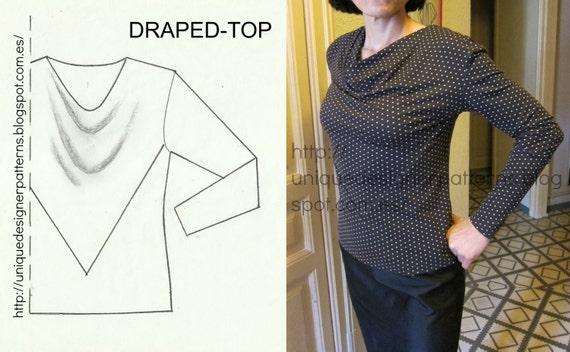 When I heard that Paco Peralta had one: started designing patterns again, and two: released a version of his Drape Front Top with long sleeves, I immediately hopped on his Etsy Site and ordered it. The pattern arrived on Friday and yesterday I pulled it out and sewed it up!
Pattern Description: (From Paco's Etsy Store) With or without sleeves blouse with draped front; it can be made of silk or similar fabrics, includes stretch fabrics (knits). Te pattern is simple and easy to sew. It consists of five pieces: lower front, upper draped front, back, back neckline facing and sleeve. Sleeveless version: The armholes are finished with bias striips of self fabric (pattern not included), or using a special purpose hemming technique for stretchy fabric (if using knits). Blouse with sleeves: ONLY FOR KNITS. The pattern is drafted in three alternating sizes: Small, Medium, Large and X-Large (Bust 31,5, 34,5 37,5, and 40,5 inch.). A smaller or larger size can easily be obtained using the pattern master lines for grading. The pattern is hand copied from the original and the designer labels is provided, granting this pattern with "exclusive model" status.
I'll also add that the design is a dropped-shoulder.
Sizing: S-XL. I made a medium.
Available as a PDF? No
Fabric Used: Chi Chi Chevrons ITY Jersey – Multi from Gorgeous Fabrics.
Machines and Tools Used: Pfaff home sewing machine, Juki home serger, Naomi the Naomoto iron, shoulder stand, sleeve board.
Needle/Notions Used: Stretch 75/11 needle, Gutterman thread and Maxi-Lock thread in the serger, Superior Threads Sew Fine #50 thread for hemming.
Tips Used during Construction: Anything by The Pressinatrix, Tips and Tricks for Sewing with Knits, How to "Flat Set" a Sleeve.
Did it look like the photo or drawing when you got through? Yes
How were the instructions? There are none included with this pattern, but the pattern is beautifully drafted and sews together readily if you have any experience. Also, there's some great information on its construction out there from other bloggers, including this one from Core Couture.
Construction Notes: I used the Pfaff set on straight stitch (2.5mm) for the shoulders and back neck facing. I used the serger for all major seams, and I used the Pfaff to hem it with a 1.0mm wide by 3.0mm long zigzag stitch. I staystitched the front piece at the pivot point to reinforce it.

I used a 5/8 inch narrow hem at the bottom of the garment, rather than the two inch hem on the pattern. I like a little extra length. Also, for those who love cowl necks but are concerned about modesty (as one reader pointed out in my
Review of McCalls 6963
), this top is a great option. And the fact that the cowl neckline is an insert makes it easier to revise the depth of the cowl if you wish. But I don't think most people will need to do that with this top.
One note is that on me, the shoulders are slightly wide. I think when I make it next I'll start with a size small at the shoulders and taper out to a medium.
Likes/Dislikes: I love that the pattern is hand drafted and marked. I love that the cowl isn't so deep that I need to worry about when I bend over. And I really love that Paco is back at designing again!!!
There's nothing I dislike about it.
Would you do it again? Would you recommend it? Yes and yes. This is a great pattern that will be a staple in my wardrobe. I'll probably make a few short sleeved versions for summer. Here's the top on Shelley

Conclusion:
Great pattern, wonderful designer, good friend. Welcome back, Paco!
Happy sewing!