I Was Going to Write a Blog Post
But I decided against it.
Seriously. I was going to write a rather long, involved post reviewing several books that I have purchased lately, but I have been so turned off by all the OMG-This-Book-Is-So-Awesome-You-Have-To-Buy-It-Now!!!! reviews that have been popping up around the blogosphere, that I can't even.
So I'm not going to, even though one of them *cough*Sewaholic*cough* is pretty good. I just can't because I'm sick to death of blog tours. Is that imprudent of me? Maybe, but The Pressinatrix is tapping me on the shoulder telling me what to type and I have to whack her away like Edna Mode with one of her gate guards…
So my friends, I'm not going to review books right now. Maybe in a few months after all the hoopla has died down I'll give you my (non-fangrrrrrl) opinions. But for now, let me give you the two books I keep open on my sewing table at almost all times, and if I were to tell you to go out and buy only two sewing books, these would be they:
I have a version from lalalalalala I'm not admitting when. Let's just say it was a Christmas present from my parents when I still lived at home, but the current version is just as good. It's pretty much my definitive sewing book for the home sewing enthusiast.
The second book is a textbook, which means it is priced like a textbook, which means it is expensive. But it is worth Every. Single. Dime.
Professional Sewing Techniques for Designers by Jules Cole and Sharon Czachor: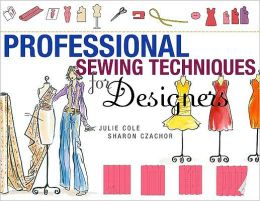 If you want to know how industry (and I'm not talking cheap fast fashion) puts clothing together, and gain a greater understanding of the construction process, this is the book I recommend.
These two books will take you from newbie sewist to well beyond intermediate. They are filled with good information well presented and they won't rot your teeth. That was The Pressinatrix talking. Back, you beast!
Now in the interest of full disclosure, I advertise with Vogue Patterns, and Jules Cole is a friend of mine. But my ownership and admiration of both these books predate both those relationships (in the case of Vogue Patterns, by several decades and with Jules' book by about 2 years).
If you want to learn to sew, or if you want to expand your skill, or even if you just want to remind yourself of how to do something well, these are the two books I would keep at hand at all times.
I have been sewing my last Wrapapalooza dress (the DVF!) and it's almost done. Plus I was traveling lately and saw someone who is very dear to my blogging friends so I'll post about all those shortly. Until then…
Happy sewing!