Also known as Ann's Epic Fail, but soon to be a save, dammit.
Let me take you through the steps first, then we'll get to the subtitle…
Pattern Description: from McCalls website: MISSES' SHORTS AND PANTS: Fitted shorts or tapered pants (below waist) have shaped waistband, side front pockets and back zipper. A and B: back pockets. C: carriers and stitched hems.
I made view A.
Sizing: 6-22. I made a size 14 (see below)
Fabric Used: Herringbone Linen (sold out, sorry) from Gorgeous Fabrics, of course. A remnant of another sold-out stretch charmeuse, also from Gorgeous Fabrics.
Machines and Tools Used: Pfaff home machine, Juki home serger.
Needle/Notions Used: Universal 70/10 needle, Pro-Weft Interfacing from Fashion Sewing Supply, 7 inch zipper, two trouser hook/eyes, thread.
Tips Used during Construction: Press That Bad Mamma Jamma, "J" or "L"?
Did it look like the photo or drawing when you got through? Yes
How were the instructions? They were good. I didn't use them too much, but I did check them over and they seem quite adequate.
Construction Notes: I used my Pfaff to stitch all the seams, and I finished the seam allowances (this fabric is, like many linens, ravelly) with my home serger. I changed the zipper to a lapped zipper application, using the instructions in my 1980 vintage Vogue Sewing Book.
I used a charmeuse for the pocket linings:
I'll tell you, my construction on these shorts was nothing short of excellence. Seriously. I got my mojo going and I finished every seam, pressed every detail, did elegant hand sewing in small areas and generally was smug as all get out about what a good job I was doing.
And then…
Likes/Dislikes: Here's both a big complaint with this pattern and a major "Doh!" face palm moment at myself. This bugger runs BIG. REALLY big. Like, borderline huge. Shame on me for not doing a flat pattern measurement, but the last time I made a McCalls shorts pattern they ended up being a bit too tight. I had made a 12, so I figured the 14 would be fine. Wrong. The 14 is seriously about two inches too big through the waist. Shame on me for not doing a flat pattern measurement and assuming the pattern draft was consistent. Hah! My favorite ever boss, Joe, had a favored saying: "When you assume, you make an ASS of U and ME." Joe was so right. I will do flat pattern measurements from now on. As it is, I'll take in the side seams and be done with it. I don't get too wound around the axle about summer shorts. After all. I live in New England. Summer will be over in, oh about 3 weeks.
Would you do it again? Would you recommend it? Mmmmmm,no.
Conclusion: Good looking shorts. Check the pattern measurements against your own before you cut, or make a muslin. I didn't do either and the little b*stards are Just. Too. Big. But they are excellently prepared! Here's the front view.
Coda: Wildlife Among Us!
This evening, these two hen turkeys and their little drumsticks came wandering through our front yard. Hoover really, REALLY wanted to go chase them.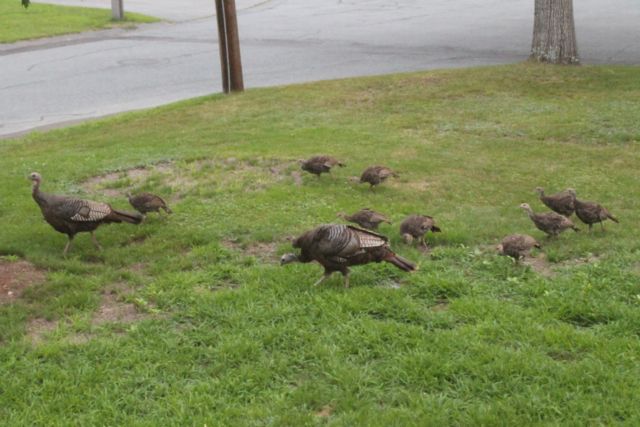 Happy sewing!