Charles James at the Met
This is a long one, and picture heavy, so grab a cup or glass, sit back, and enjoy. 🙂
I was in New York for a series of meetings this week. Yesterday morning, I got a call about an hour before one of my scheduled meetings that the vendor was sick and couldn't make it. That gave me a couple of hours to kill. Let's see, I'm in New York, I have nowhere to be until noon. What to do? It took me all of about a nanosecond to hail a cab and head up to the Met, where "Charles James: Beyond Fashion" is on display. I had less than 2 hours, so I booked it right for the exhibit.
The exhibit is outstanding for the most part. It's split into two areas. The first area houses the iconic James gowns: Tree, Butterfly, Four Leaf Clover, Swan and many others. These gowns are heavy. They weigh between 12 and 20 lbs. Vogue has a fun article about the comparative weights of several iconic James Gowns. For example, Tree:
Weighs 13 lbs, or as Vogue likes to say, about the same as an average sized watermelon. The Butterfly dress, which I am kicking myself for not getting a picture, weighs the same as 5 baby French Bulldogs. Speaking of which, Puppy Dress!!!!
Rather than blah blah blah you to death, let me just share the pictures I took. They allowed pictures, as long as you didn't use flash. I only had my phone with me, so pardon the low quality.
Something cool that the exhibit did was they had videos, camera shots and 'x-rays' of the innards of the dresses. They used robotic arms to highlight the areas they were describing on monitors, and they even (and this was totally cool) had one camera that delved under a dress to show the multicolored layers of tulle that made up the underskirt.
The silk and velvet Four Leaf Clover was there, as was this absolutely spectacular lace and silk version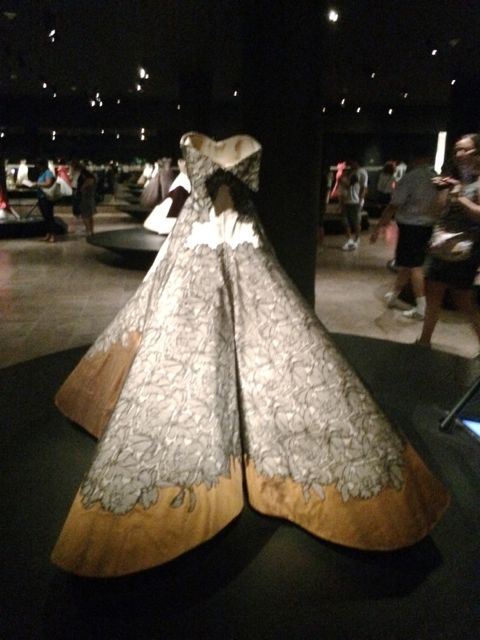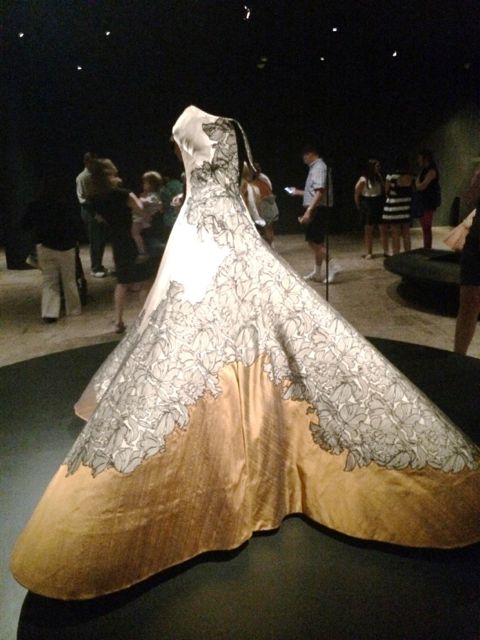 Here are some more pictures with some detail shots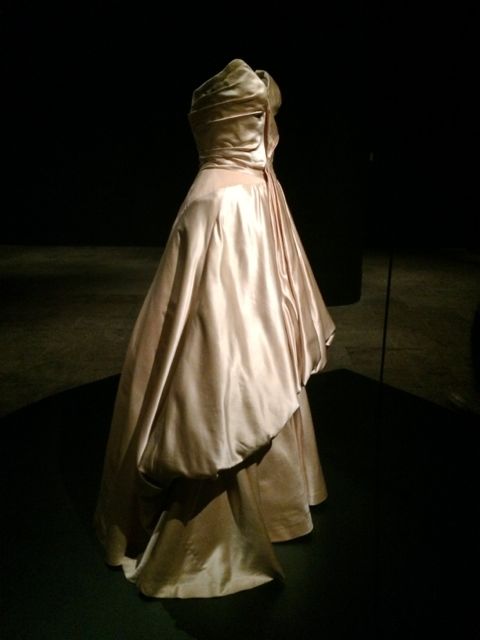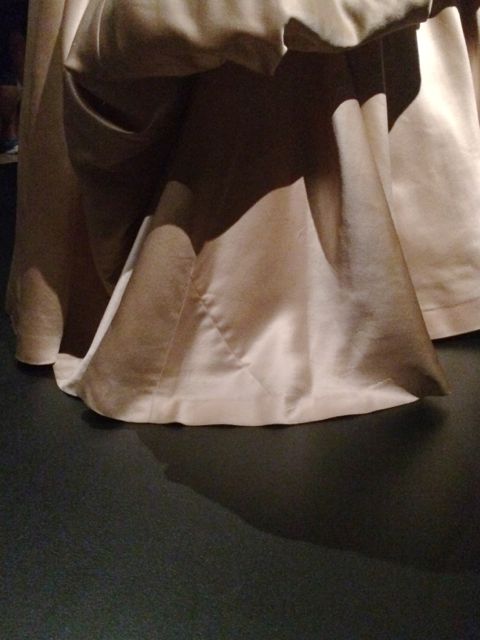 This bridal dress was designed by Charles for a Modess sanitary napkins print ad. My, how times have changed…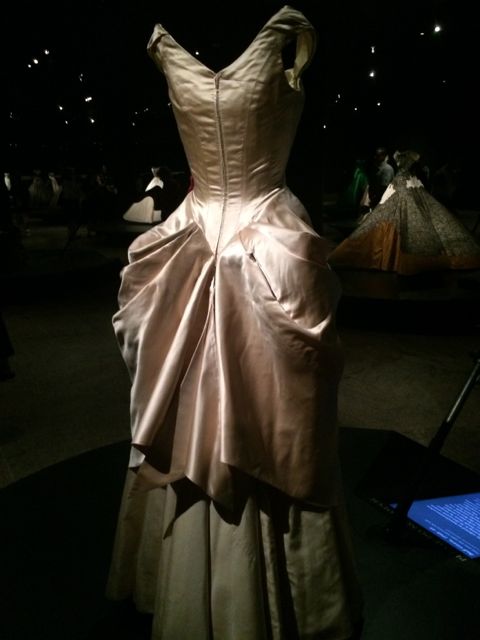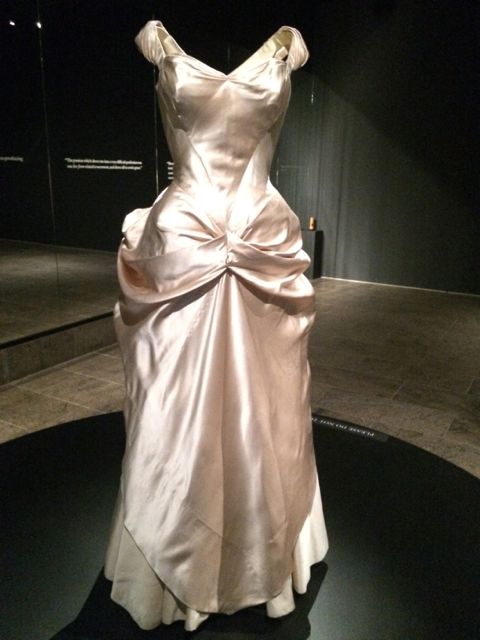 This dress was designed for the opening of a Georgia O'Keefe exhibit, and is meant to reference the female genitalia. Can I just say? I am no prude but I don't need any literal references to the vajayjay running down the front of my dress.
There's a reason that look never caught on, Chuck, trust me.
After the Iconic Gowns, the exhibit continues.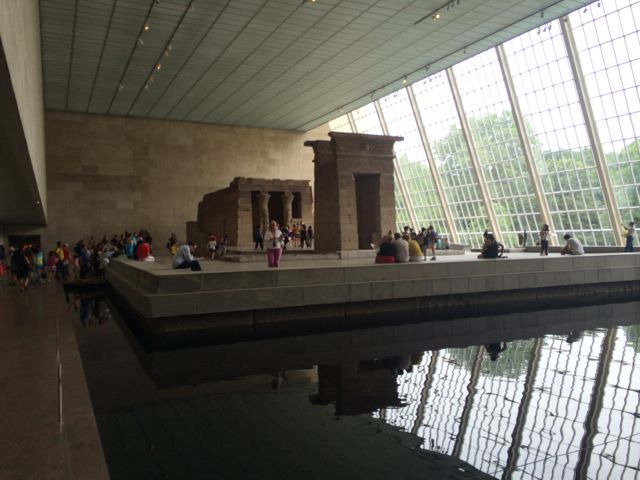 On the other side of the museum, behind the Temple of Dendur (which is so cool, BTW) and down in the basement!
Seriously, the gowns are front and center, and the rest of his work is consigned to the cellar. The curators were trying to say something here. Maybe the curators were inadvertently imagining the wearers of his other outfits to be traveling by subway? Who knows. But in the (basement) Anna Wintour Costume Institute, the works displayed were in many cases, remarkably pedestrian. Coats, day and evening dresses, worn by the socialites of the day, and no doubt worn beautifully, but they were not iconic. They are not notable. They are not even memorable.
As I said to Phyllis, 'These reminded me of Ethel Mertz and Mamie Eisenhower.' I said earlier that the show was outstanding for the most part. The part that was outstanding was on the first floor, not in the basement. The coats, dresses and outfits – even the gowns, are of their time. They are a wonderful diorama of postwar chic. James is considered visionary, but his vision doesn't translate across time. They are costumes that were worn by our grandmothers. Beautiful costumes, but costumes nonetheless.
While this may be more of an historical reference, the show is really worth seeing. If you can get to New York to see this exhibit, by all means do! It's a great snapshot of American fashion history.
Happy sewing!