Pattern Review: BWoF 6-2009 120 Shorts
Wherein fabric gets switched, mistakes get made, saves are performed and ultimately all ends well…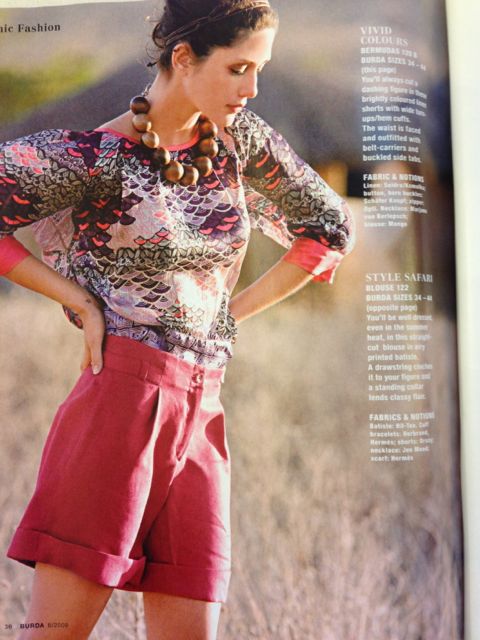 A funny thing happened on my way to the sewing machine. Fabric alchemy of sorts – linen changed to piqué!
Seriously, I went downstairs to put a load of laundry on, including my gray linen for these shorts, when what confronts me in front of the washing machine, but about 2 weeks' worth of teenaged sons' laundry. I was (and still am) unconvinced that said teenaged sons' laundry would get done without maternal intervention, and since both of them were out of the house, I started doing load after load. Which meant that my laundry, along with my gray linen, got shuffled to the back of the laundry queue, and didn't get done for a couple of days.
But I did have a yard of Blue Aster Stretch Cotton Piqué that was pre-washed and waiting for a project, so all worked out. The linen is now washed, and it will be the next piece I cut into, probably after I finish this post. Allons-y!
Pattern Description: Pleated, cuffed shorts with faced waistband and mock-fly front.
Sizing: 34 to 44. I made a 40.
Fabric Used: Stretch Cotton Piqué (sold out, sorry) from Gorgeous Fabrics (of course). A remnant of a long-sold-out floral cotton voile for the pockets.
Machines and Tools Used: Juki DDL8700 industrial straight stitch to start, then I finished it at home on my Pfaff and my Juki home serger.
Needle/Notions Used: Universal 70/10 needle, 7 inch zipper, 1 metal snap, 2 pairs of D-rings, thread.
Tips Used during Construction: Press that Bad Mamma Jamma and Anything by the Pressinatrix, "J"? or "L"?, Stabilize a Crotch Curve with Clear Elastic.
Did it look like the photo or drawing when you got through? Yes, for the most part.
How were the instructions? Standard issue Burda, meaning they suck. These shorts are pretty well drafted, and as long as you don't make any boneheaded errors (see below) then you'll get good results. As it is, even with the boneheaded error it turned out okay.
Construction Notes: I made the shorts more or less according to the directions, though I threw up my hands and pulled out my 1980 edition of the Vogue Sewing Book to remind myself how to do things like mock flies and turn back cuffs, rather than trying to figure out Burda-speak.
I changed the curve on the crotch to more of an "L", per usual for me. I used a length of clear elastic (not stretched) to stay the CB seam and the crotch curve.
I added ½ inch seam allowances all around, except for the waistline/facing, which were ¼ inch SAs. I sewed all the seams on a straight stitch machine. Because this particular piqué is rather loosely woven, I used my serger to finish all the raw edges.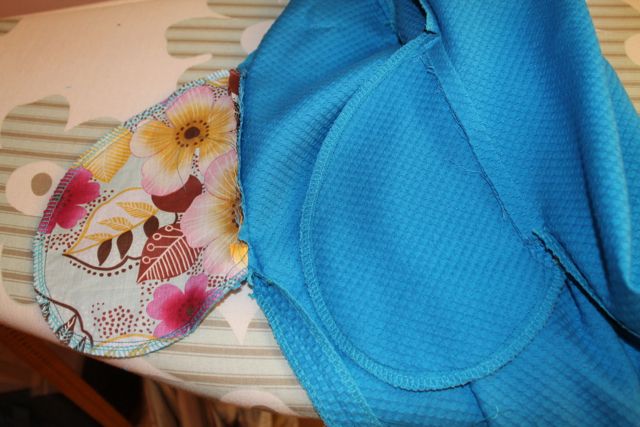 To reduce bulk, I used pique for the pocket that is visible, and a remnant of a lightweight cotton for the pocket piece that isn't.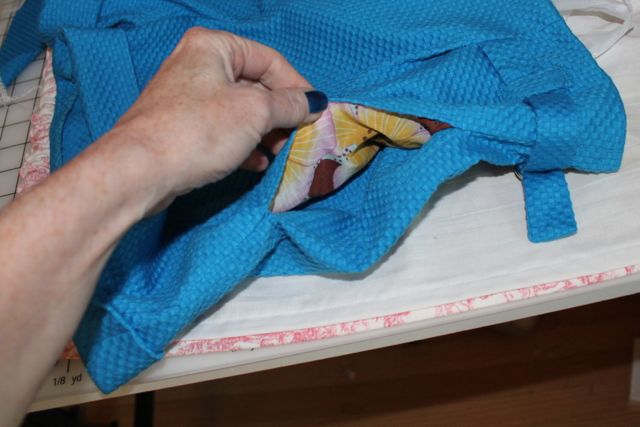 Bonehead Alert! I know that I'm (in Boston parlance) wickid smahht. Hell, I got a 100 on the Mensa test. As an aside – really? Come on people, if I can ace that test a monkey can get into Mensa. But of course, I wouldn't be a member of a club that would have me for a member.
Where was I? Ah yes – bonehead! I was happily chugging away, completely ignoring these pretty red tailor tacks I had put at the center front. I installed the zipper and fly, and I was pretty darned pleased with myself and my progress. Then I happened to look at the picture of the shorts. Hey, what's that button doing at the top? Riiiiight. Faced waistband. Fly zip. Geometric awkwardness at best. Hmmmmm. That's a boatload of stitching to rip out, and I didn't have any more of the piqué to cut a new piece. So I improvised. I ripped out part of the facing and redid it.

To keep things neat, I added a snap at the top. It's not the most elegant solution, but it worked, and as Jim Blinn once memorably stated in a panel discussion at Siggraph, "Brute force is a wonderful methodology."
The other thing to note is that for this pattern Burda actually gives you a hem allowance. The problem is that, with a fabric like this pique, if you turn the hem under, then when you do the turn back cuffs, you have 5 layers of fabric at one point. And when you're wearing shorts with cuffs, that can be a lot of bulk in an uncomfortable place. So I cut the hem allowance off, serged the raw edge, sewed it using my sewing machine, then turned the cuffs. That helped a lot.

Finally, Burda calls for belt buckles for the side belt-tabs. I have several, but none of them were the right size, or the ones that were the right size clashed with the blue. So instead, I used D-rings for the time being. I'm going to New York this week, So I'll get buckles there. Or maybe not, we'll see.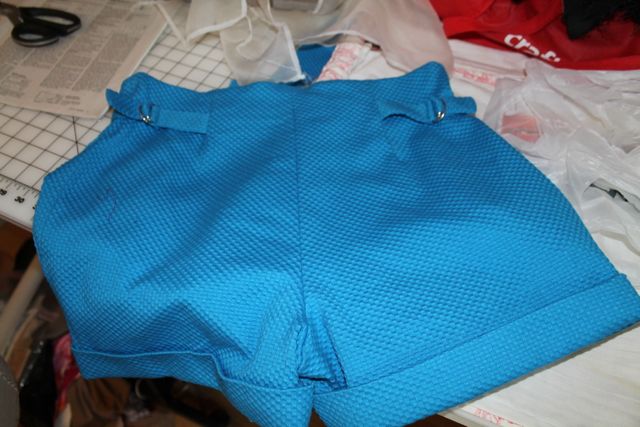 Likes/Dislikes: These are very cute. My husband really likes them. They are very comfortable to wear. They go together well, as long as you pay attention to your markings. :\
Would you do it again? Would you recommend it? I would recommend it. I'm not sure if I'll do it again. JoAnn had a $1.40 sale on McCalls patterns this weekend, so I picked up a couple of shorts patterns that I might use on the linen instead. But I do like this pattern.
Here's a sucky selfie. I never wear my shirt tucked in, but this gives you an idea of how they look on me.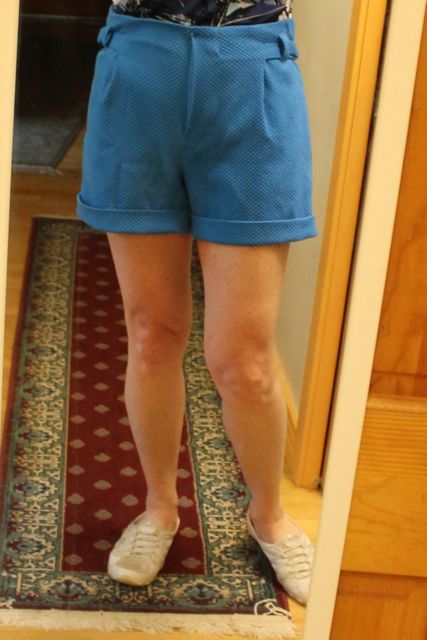 I realized after I took this pattern that the fly stitching had not caught the entire length of the facing – that's why the fly flares out a bit. I hand-stitched the facing down invisibly after I saw that. Now there's no flare-out.
Conclusion: A good, cute, summer basic that will work for lots of figures.
Happy sewing!