StyleArc Jacinta Maxi Dress, Take Two
I love the Jacinta pattern so well that I decided to make another version. This time I made the sleeveless view. You can see the pattern review for the sleeved version In This Blog Post. So what follows is a mini review that highlights the differences.
Fabric Used: Golden Snake Smooth Faced Jersey from Gorgeous Fabrics. It's the Fabric of the Weekend, so it is 40% off our regular price, but only through today.
Machines and Tools Used: Juki home serger.
Needle/Notions Used: 70/10 needles, pro-tricot interfacing from Fashion Sewing Supply, thread.
Construction Notes: I did a few things differently this time. I used the bias layout, which caused me some headaches. It has nothing to do with the pattern, it has to do with the fact that I cut out the right back three times before I got it right. The first time, I cut it geometrically perfectly but I didn't realize that the "stripe" on the fabric is directional, so the sides were 180º flipped from each other. The second time, I cut it out a small but annoyingly noticeable offset. Third time was the charm. Thank god I own a fabric store! :/
Instead of making the neckline and armhole stays, as directed in the pattern, I interfaced the bindings with Pro-Tricot. This stabilizes the openings quite satisfactorily. I also did a rolled hem on my serger. I'm not entirely in love with it. I may re-hem it with a zigzag stitch later. We'll see.
Likes/Dislikes: I love the fact that StyleArc drafts different armhole pieces for sleeveless versus sleeved. This one has no gaposis in the armhole. Yay! Now why can't the Big 4 do that? It would reduce much frustration, and it doesn't take up that much more paper.
Would you do it again? Would you recommend it? I definitely recommend this pattern! I've made two of them, and I'm thrilled with how comfortable it is. I'm wearing it right now! I'll try to get pictures on me later, but meanwhile here are a couple on Shelley.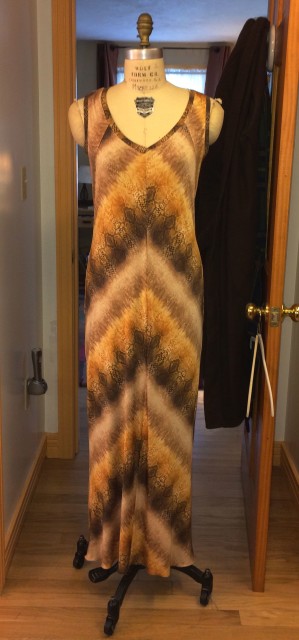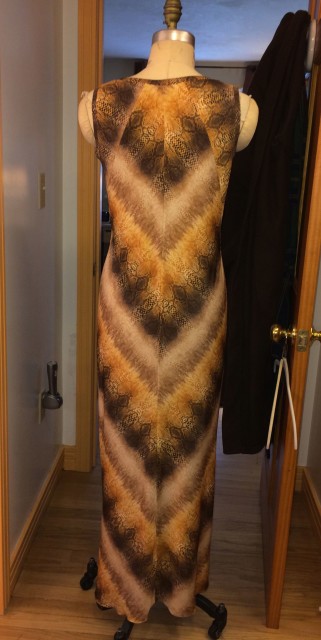 Conclusion: This dress is so comfortable to wear. I just love this pattern! I may cut it down and make a couple more street-length dresses with it.