A Tour of the New Gorgeous Fabrics
Howdy, campers! As most of you know, the GorgeousFabrics.com website was revamped and updated in March of this year. We've been tweaking it since then, and we'll continue to make slight changes over time, but it's pretty much settled in place.
Before I begin, I just want to give a huge shout out to the team at Gazungle, who did all the work on our site. It was no mean feat to migrate from our previous website to the current one. Thousands of fabrics and customers had to be moved. It's kind of like living in a house for 7 years, then moving to a bigger, better, more modern house. There's lots to move, lots of decisions to make, lots to throw away and lots to keep! Gazungle did a great job, and I heartily recommend them. Professional, fast, thorough. Yup, I can't say enough good things about them.
Our new website has got some really cool features, so let me show them to you!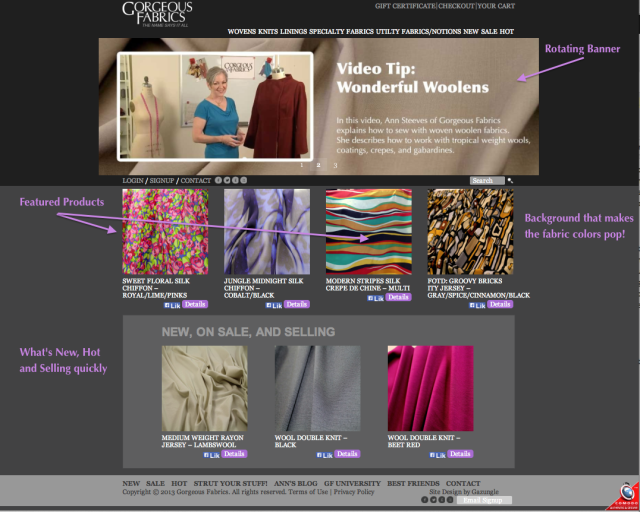 On the home page, there are rotating banners that highlight sales, videos, products and whatever comes to my mind at any given time. Then there's a bar that has products that we're featuring. There you will find the FotD, as well as cool fabrics that we're really excited to show you. Below that are featured products that are new, selling like hotcakes or nearly gone, so you can stay on top of the trending fabrics easily!
At the bottom of every page are links to pages that show you the newest fabrics, sale fabrics, Best Friends (our professional peeps), this blog, Gorgeous Fabrics University (our videos) and my favorite, Strut Your Stuff, which is where our Gorgeous customers show off their Gorgeous creations.
Below the banner on the homepage and category pages, and below the logo on all other pages, are the links to allow you to log into your account, sign up for a new account if you don't have one, contact us, and access all our social media. There's also a search box on the right.


When you log in, you can see all your information and order history from the current site simply by clicking on your name, which replaces the "Login" link under the banner. That will show you your default address, your order history, and your wish list, all in one convenient place!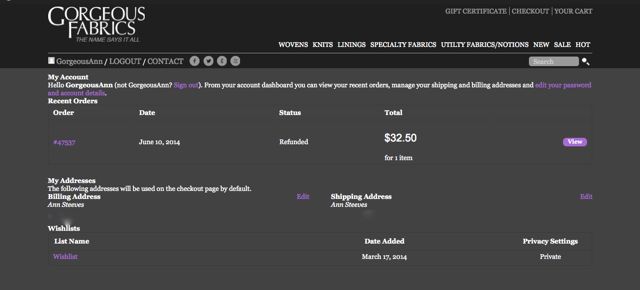 There are pull-down menus for all the major category types, so you can see just the types of fabrics you are interested in.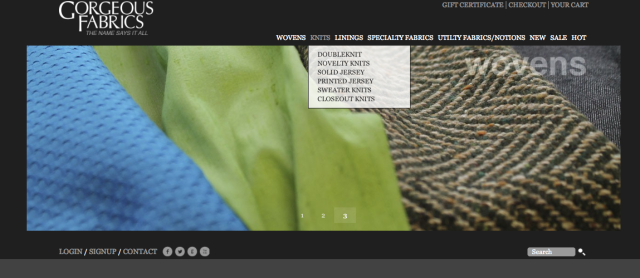 Each fabric has its own page, where we show both scans and photos to give you as much visual information about each fabric as we can. As always, we include recommended patterns for each fabric. The Elves and I have been working tirelessly to fix all the pattern links that got broken when we migrated. And on top of that, we've added hot links to the closest Pantone colors for each fabric, so you can get a good idea of the colors, even if you don't have a Pantone deck. Here's a funny story – the day after we implemented that feature, I saw that at least one other online fabric vendor copied us. I'll take that as a high compliment – I are a trendstarter! 🙂

Well, that's a lot for today. I'll be adding tons more fabrics later. I just got in a big shipment of linings from one of the best menswear designers out there. And speaking of menswear, we're having a nod to Father's Day sale. 20% off wools, linens, denims and cottons through Sunday. So go check it out!
Happy sewing!