Pattern Review: Puppy Dress, And…
The pattern is also known as BurdaStyle Spring 2014-102
Pattern Description: "The delicate pleating and handmade fabric flowers turn this dress into a true work of art." Yeah, whatevs. Sleeveless, bateau-neck dress with shoulder and waistline pleats. Optional self-fabric flowers.
Sizing: Petite sizes 17-21. I made a de-petited size 20 (equivalent to a regular Burda size 40)
Fabric Used: French bulldog print silk crepe de chine that I got from the designer. Sorry, it's not available on Gorgeous Fabrics. Silk habotai in Oyster (sold out, sorry) from Gorgeous Fabrics.
Machine(s) and Tools Used: My Pfaff, Ham, Shoulder Press, Naomi the Naomoto Iron
Needle/Notions Used: Universal 60/8 needle, silk organza for interfacing, 14 inch invisible zipper, petersham ribbon and hook/eyes for the waist stay, hook and eye at the top for the zipper, thread, an old brooch for the back of the flower pin.
Tips Used during Construction: Anything by The Pressinatrix. The Right Bra Makes All the Difference. Make the Lining First. The What and Whys of Waist Stays.
Did it look like the photo or drawing when you got through? Yes
How were the instructions? Sucked. I know BurdaStyle says they have revamped the instructions, but they are still pretty bad. Fortunately, I made a muslin, and the pattern is drafted well, so I didn't need them.
Note that there is an error in the pattern instructions. It says to use a 9 inch invisible zipper in the instructions, but the pattern is marked for a 16 inch zipper. If you use a 9 inch, you either won't be able to get into the dress or you'll have a humongous gap. I used a 14 inch invisible zip because I didn't have the right color in a longer zip. The 14 inch worked fine.
Construction Notes: I made a FBA, which you can see In This Blog Post. I added shoulder darts in the back. I also underlined the bodice (the pattern is unlined) and lined the skirt. I finished the bodice seams and the facing edges with a Hong Kong finish:
I inserted a waist stay, made of rayon petersham ribbon and two hooks and eyes. It's attached to the dress at the side seams, the darts, the center front waistline seam allowance and on either side of the zipper, where it emerges from between the lining and the outer fabric:
I machine hemmed the lining, but I wanted a really smooth, elegant finish on the outer skirt, so I hand hemmed that.
The shoulder pleats add a lot of bulk at the seam. You really need to use a lightweight fabric for this dress. Even a cotton would be too bulky. I think that's why Burda put the flower pin there: to camouflage the seam, since it is noticeably thicker than the other side. Even with thoughtful pressing and grading, you can see it.
Likes/Dislikes: Love it! It's very comfortable to wear, and the print is darling without being twee. What's not to love?
Would you do it again? Would you recommend it? I probably won't do it again, but I do recommend it.
Conclusion: A great dress. This is one that would make a great dancing dress. Here's a picture on Shelley. Sorry it's wrinkly – I took it this morning, after wearing it last night.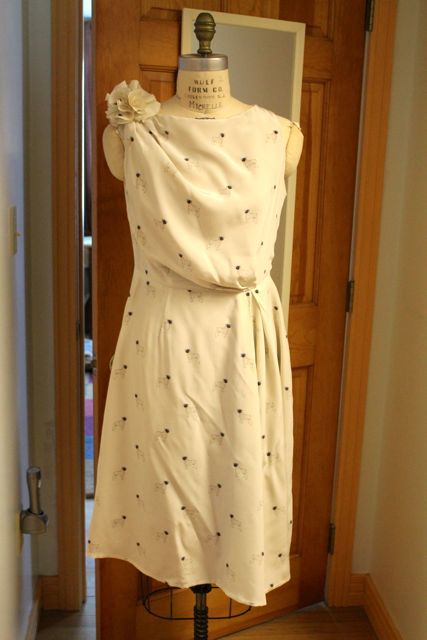 And here it is on the hoof. I accessorized it with a black patent leather belt, ivory silk peep-toe pumps that you can't see, alas, (Phyllis, I liked them better for this occasion than the pink Giuseppi Zannotti shoes) and a Milly clutch. I wore the dress to dinner last night, and our waitress kept exclaiming that she loved it. She was floored when my husband told her that I made it. It's a winner!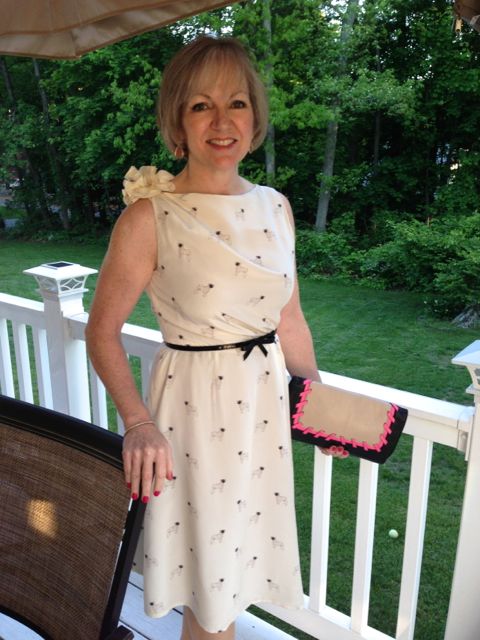 And…
The reason we went out to dinner? Because 29 years ago today…
Like the first picture in this post says, "Love Story"
Happy sewing!