Memorial Day Miscellany
First up, a very big Thank You to those who serve or have served our country. Memorial Day is meant to commemorate the service of our veterans. Thank you, thank you, thank you. As part of the celebration of Memorial Day, our high school marching band plays at the ceremony that takes place at the local cemetery. The vets and other attendees always appreciate it, and the kids love to do it. It's the last band event for the seniors, so it's a poignant moment.
After the ceremony, the band goes back to the high school, where the band director posts the results of the drum major competition. In the fall, any sophomores who are interested in becoming drum major submit their names, and for the remainder of the year, each candidate has many opportunities to conduct the band, do march-offs, and partake in other activities that will help the band director decide who will be the drum major for the next two years. DS the Elder was the drum major, and he led the band during their march at Disney, which was one of the highlights of his high school career. This year, DS the Younger threw his name in the ring. When DS the Elder applied, there were only 4 candidates. This year, there was a field of 10 very qualified sophomores – it was a very, very tight competition. When he left to go to the high school this morning, I gave him a big hug and told him to be gracious to whomever won, and to know that he did his absolute best and should be proud of himself regardless of the outcome.
Well, guess who's the next drum major!?
That's right – he did it!! DH and I looked at each other in vague disbelief when DS the Elder texted us to let us know (he was with his brother, and I think he was as proud and pleased as could be, though he won't admit it). Then we said, "Sh*t, that means we have to go to football games on Friday night AND Saturday, doesn't it?" (DS the Elder plays in the UMass Marching Band). I guess that's not such a bad problem. 🙂
On another note, here's a picture of me in the Jacinta Maxi. It's really comfortable, and is perfect for casual entertaining. Both sons have friends over for dinner – DH is slow-grilling ribs. Have I told you I love long weekends?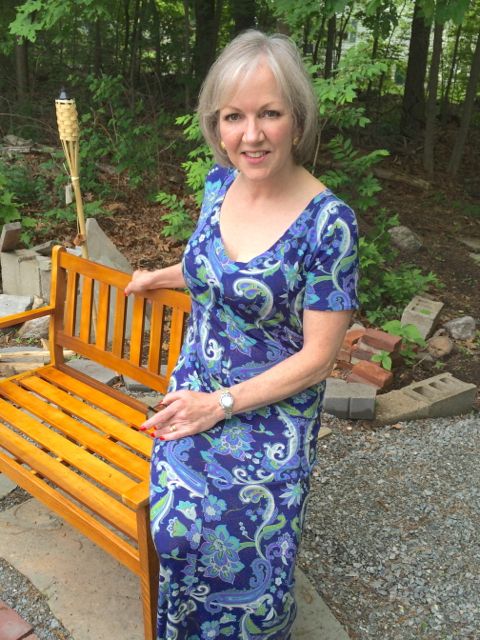 The other thing I worked on today was the Puppy Dress. I sewed the front and back, and right now they are pinned on Shelley at the shoulders. Our wedding anniversary is a week from today, and I hope to have this ready to wear to dinner to celebrate.

That's enough excitement for one day.
Happy sewing!