Pattern Review: StyleArc's Jacinta Maxi
Subtitle: I just LOVE long weekends!
Phyllis came up yesterday and we worked on various projects. I underlined the Puppy Dress, but I also decided to make a little amuse bouche, and here you go…

Pattern Description: From the StyleArc website – This sought after look is style arc's interpretation of the current maxi dress trend. This design is comfortable, yet so stylish. Front and back angled yokes give this dress a slimming effect. The pattern provides for a sleeveless or a short sleeve version. This pattern is made for a knit fabric.
Sizing: 6-30. I made a 10
Fabric Used: Raji Uomo Rayon Paisley Jersey (sold out, sorry) from Gorgeous Fabrics. If you want something similar in drape, This One is from the same mill:
Machine(s) Used: Juki Industrial Serger for the seams, Bernina for the hems.
Needle/Notions Used: 70/10 Needle, Pro-Tricot Fusible Interfacing from Fashion Sewing Supply, Thread.
Tips Used during Construction: Anything by The Pressinatrix
Did it look like the photo or drawing when you got through? Yes
How were the instructions? They were fine for me. StyleArc assumes that you know what you are doing. If you have been sewing for a little while, you can figure this one out easily. It's beautifully drafted and goes together with no problems. StyleArc added illustrations to their instructions, which helps a lot, and they are very good about noting the ability level for their patterns. They rate this pattern as medium, but I think it is good for advanced beginners as well.
Construction Notes: I read on several blogs that this pattern is really long. It is. I took 4 inches off the hem, and it is a great length for me (I'm 5'6″). Also, it is pretty low cut, which is mentioned in all the reviews I read. I changed the width of the neckband to 2 inches.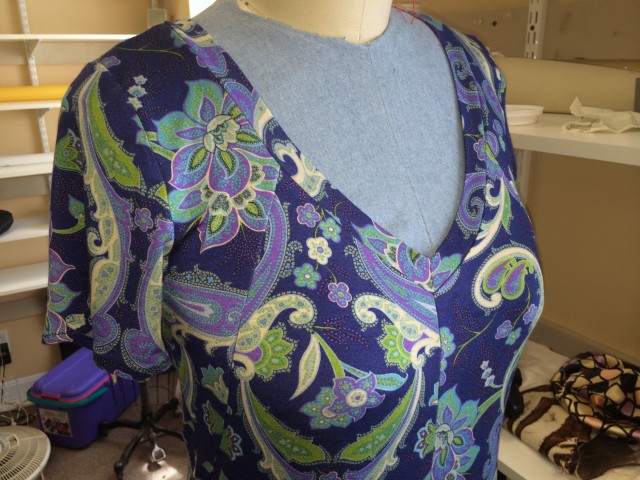 I will probably Raise the Neckline when I make it next and use the narrower neckband.
Likes/Dislikes: LOVE the fact that, unlike other pattern companies, StyleArc gives you different armhole pieces for sleeveless vs. sleeved versions of their patterns. This eliminates the armhole gaposis that plagues other patterns. Thank you, StyleArc! I am giving you a standing ovation for this one.
Would you do it again? Would you recommend it? I would definitely do it again, in fact, I plan to. And yes, I recommend it.
Conclusion: Great pattern, goes together in a trice, and it looks great on. I'll get DH to take pictures of me in it tomorrow. Meanwhile, here it is on my dress form double:
I'll work on the Puppy Dress tomorrow. Now that it's underlined, the rest is easy. Til then,
Happy sewing!