Muslin for the Puppy Dress
… or "Un-Petite-ing a Petite Pattern"
I made the first muslin for the puppy dress last weekend, and it required a few adjustments. First, I added about an inch to the torso length, then I did a full bust adjustment. This is what the pattern looked like when I'd finished slicing and dicing: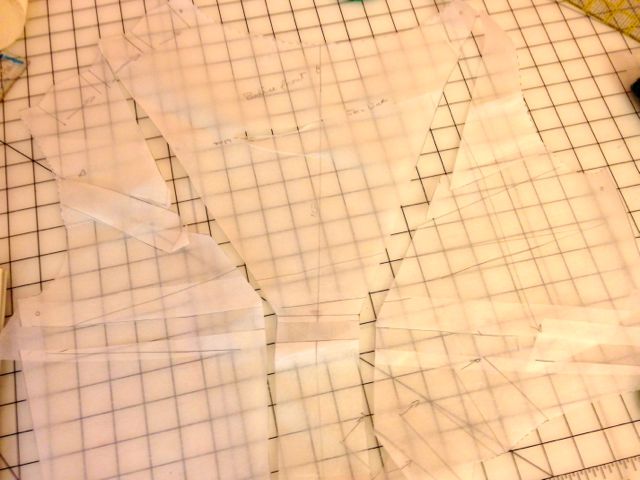 Rather than futz with floppy and fragile pattern pieces, I just decided to trace off the adjusted pattern to a new piece of paper.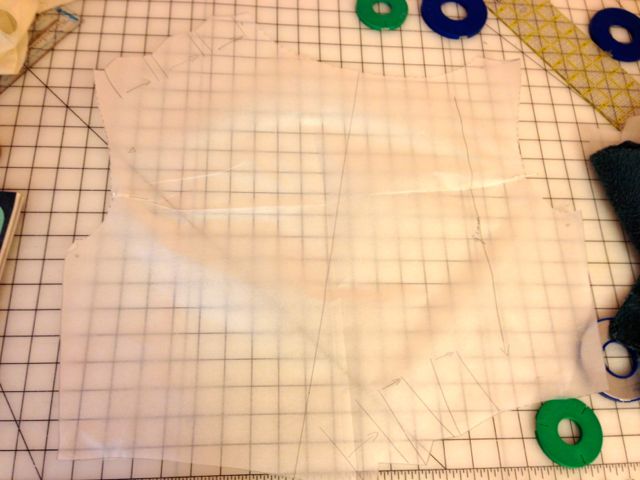 When I make standard (non-petite) patterns, I often have to do a swayback adjustment. I didn't need that here. The back length is perfect for me. But I did have to adjust the side back piece to match up to the adjusted front torso length:
I sliced it open to add length at the side front seam, tapering to nothing at the side back.
Here you can see the front and back of the second muslin:
After trying it on, I added darts to the back and back facing, to get it to lay better against my shoulders. I have pretty erect posture most of the time, but I find that adding darts makes a big difference,even for me.
In the picture on the model (who has no boobs), the dress is very sweet looking. On me, I noticed two things. First, the dress looks very "Joan Holloway", which I rather like. Second, the bra I wear with this dress makes a HUGE difference. I was wearing a tee-shirt bra when I first tried it on, and I didn't like the fit, so I changed to one that hoists the girls higher and closer together. That will be the bra I wear with this dress from now on.
And speaking of bras, if you haven't already read it, go Read This Post. Now. It's just as important as ever.
I'm happy with the fit of the muslin, so next step is to cut into my puppy silk and lining habotai. More soon!
Happy sewing!