Of Weekends, Doggies, Friends and Fabrics
Grab a cuppa or a glass of something refreshing and settle in. This is going to be a long one…

Well, this has been a whirlwind couple of weeks! I'll let the pictures do most of the talking.
First, the Fiberly Train pulled into the Station in Santa Fe, NM last weekend! This is an annual get together of women who love to talk sewing, eat, drink, enjoy each other's company and have a wonderful time! There are 5 of us who are "series regulars" – Nancy, Patti, who doesn't blog, Liana Jan (Hey Jan, do you blog? I don't have a blog for you), and me. It's a wonderful time, with wonderful people. For the past three years, we have congregated in Chicago, but this year Nancy suggested we visit her home state of New Mexico. Also this year, Shams and Margy joined us. What wonderful ladies!!! I have to admit, I felt a little like the Tasmanian Devil (not the hungry for Bugs Bunny part, but the entrance):

I had the farthest journey, and when I made my reservations way back last year, I wasn't sure what the state of Gorgeous Fabrics would be (new website launch, dontcha know). So I made my arrangements to fly to Santa Fe on Friday, and home on Sunday. It was whirlwind, but it was WONDERFUL! You can see more pictures on my cohorts' blogs, because I was so caught up in meeting, talking and having so much fun with everyone, then blasting out like one of the Santa Ana winds, that I didn't take many pictures. But here are a couple:
You can see better pictures on everyone else's blogs. I was so intent on visiting with everyone that I didn't bring my good camera, so I didn't get a lot of pictures, sorry!
That was last weekend. This weekend, I was in New York. I had to go down Friday for a buying trip (woop woop!), and it coincided with the book signing party for my darling Tom & Lorenzo, which took place at my BFAM Emmett's store! Their book, "Everyone Wants to Be Me or Do Me" is a fun, fun read. Of course, I had to be there! I tended bar, met with other Bitter Kittens, acted at times as semi-official photographer. I had a great time! Here are some choice pictures (I did have my good camera for this one):
I realized this week that I'm not lacking sewing mojo. I just have had no blogging mojo for the last several weeks. But I may have just found something to change that. I found some fabric that is not going on the site. There were only three yards of it at the designer's showroom, and when she offered it to me, I just had to grab it! Anyone who knows me knows that I love dogs, and this is a fabulous silk crepe de chine print of French Bulldogs. If I can find more, I promise I'll put it up on the site. But this one is mine, bwahahahahahaha!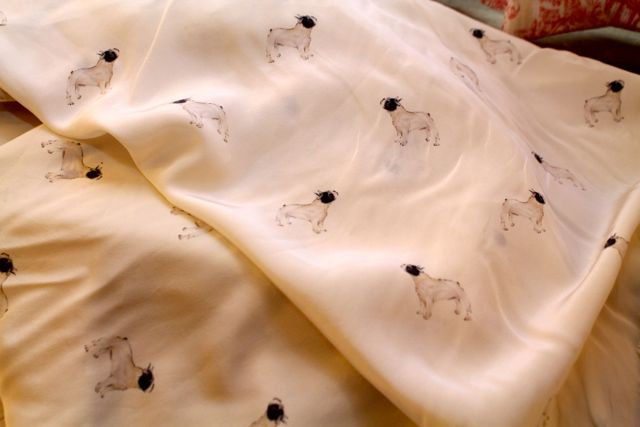 I bought some patterns today. The first one I'm going to make is Burda 7378. I've cut it out of muslin for a test garment. That's going to be the puppy dress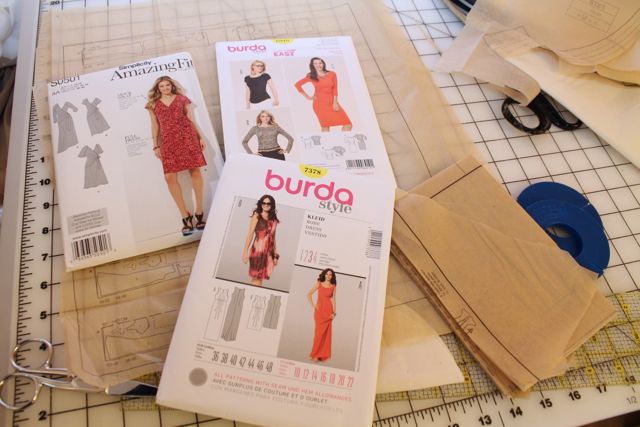 A couple of end-shots. First is Emmett's dog, Gizmo: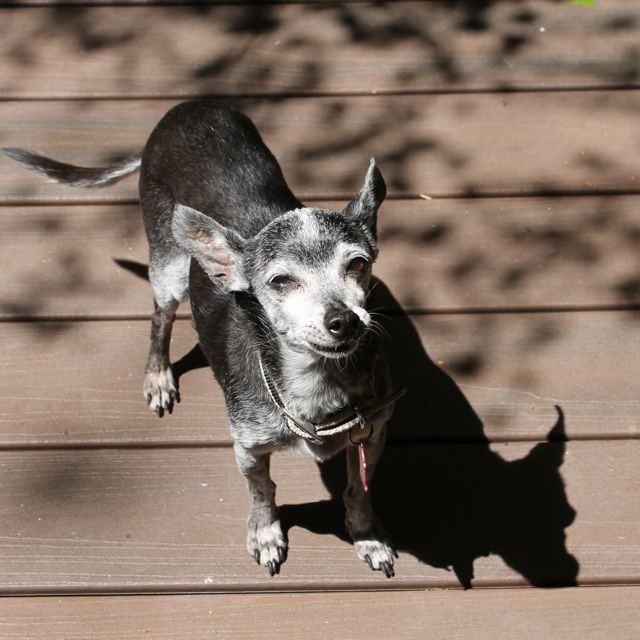 And finally – Really people?? Really???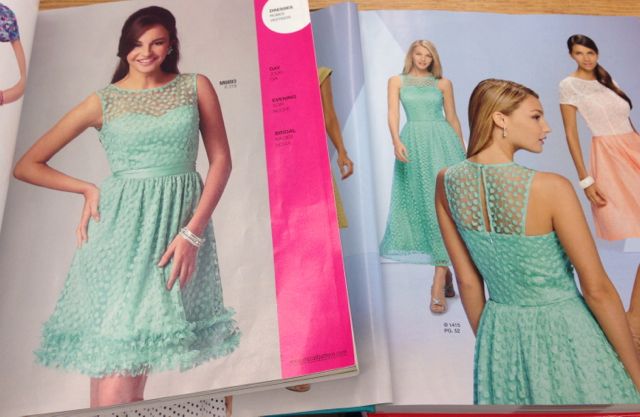 I mean. Really??? Yes, Simplicity and McCalls, you are big ol' pattern companies. And yes, you are both located on the Isle of Manhattan. But really? You couldn't manage to find two different fabrics for like, the same prom dress? Really?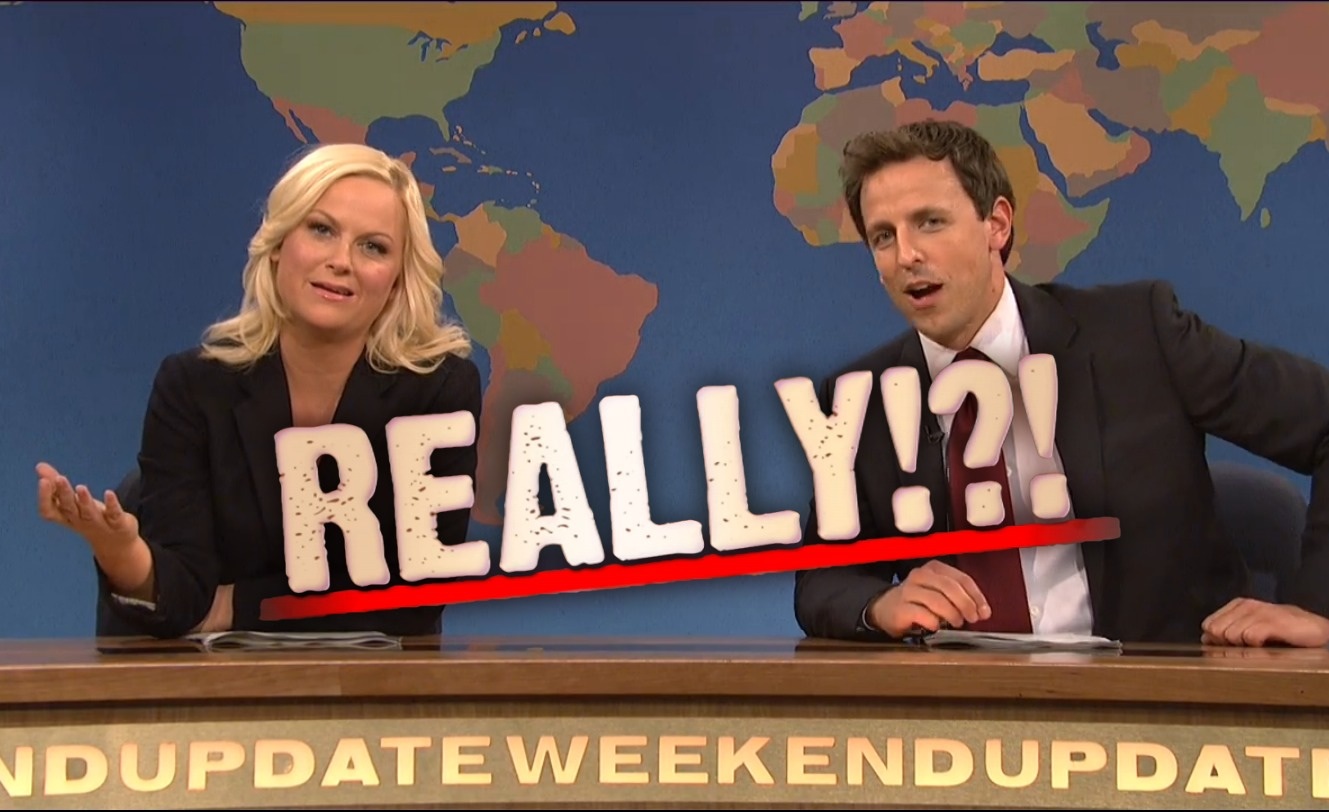 BTW, Amy's from my hometown. Just sayin'
PS, if you have the chance to see "Mothers and Sons", do it! It's awesome. And I'm not kidding about that one.
Happy sewing!